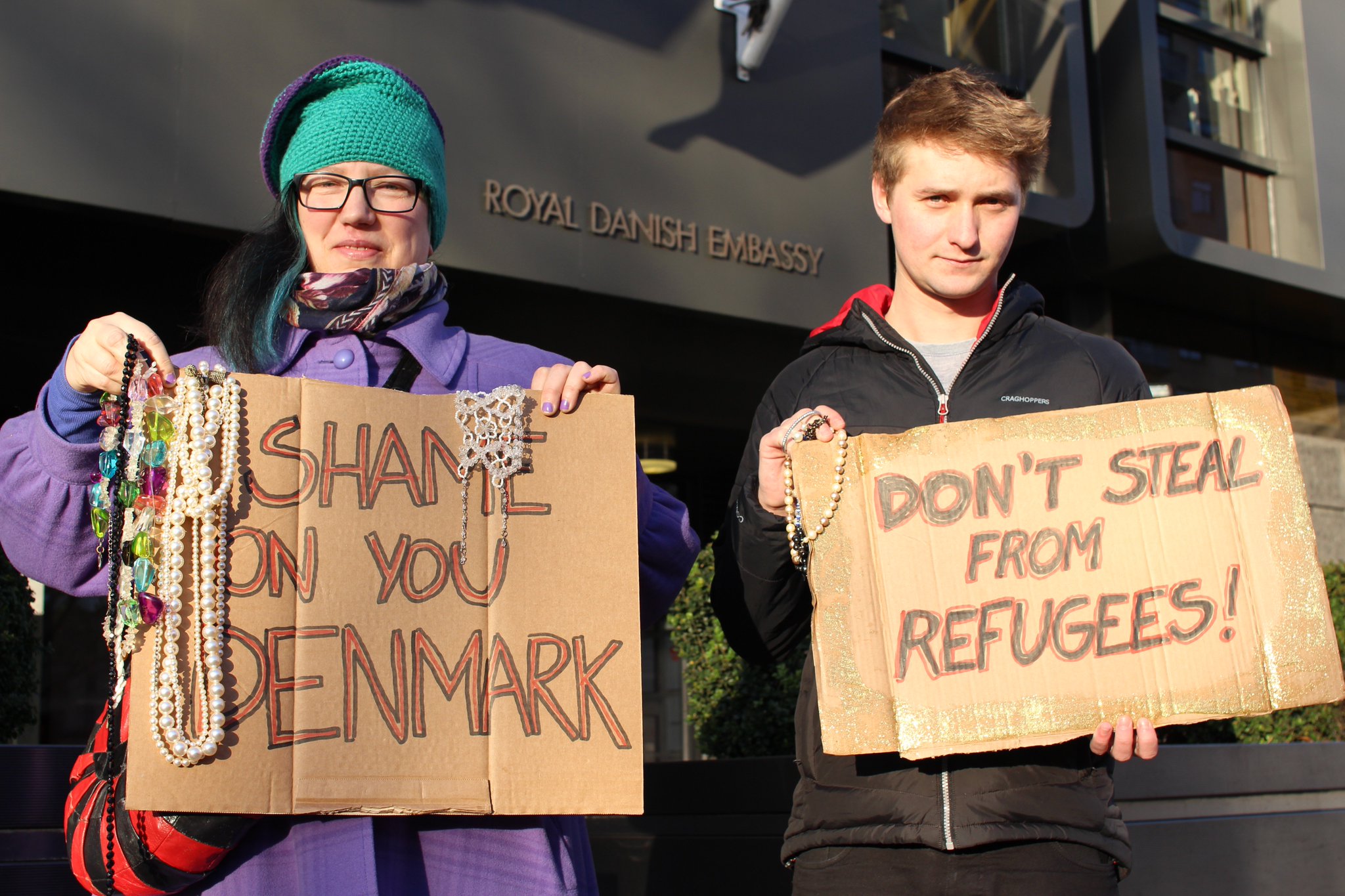 Where is fictional British pilot and jewel thievery crime fighter Biggles, now that we need him in reality to arrest the Danish governmental jewel thieves?
From daily The Morning Star in Britain:
Thefts from refugees are sparking a popular resistance

Saturday 19th March 2016

[Danish daily] Dagbladet Arbejderen editor-in-chief Birthe Sorensen looks at the effect of state racism

IT CAUSED a stir in the world when Denmark in January this year adopted the socalled Jewellery Act.

It is a law that requires Danish police to seize refugees' belongings if they have a value in excess of 10,000 Danish kroner (approximately £1,050) while having no special sentimental value to the person in question either.

When the law was named Jewellery Act, it was due to the fact that the Danish government originally had planned for the authorities to confiscate asylum-seekers' jewellery, including wedding rings, if they cost more than 3,000 kroner.

But after some debate, the law was changed. Now jewellery with sentimental value cannot be confiscated. In practical terms the Jewellery Act has hardly any significance. None of the refugees coming to Denmark carry large values with them.

Far worse, however, are all the other measures that the Danish government has carried out. It has now been allowed to detain asylumseekers as well as rejected asylumseekers indefinitely. The waiting period for the right to family reunification of refugees with temporary protection has been extended from one to three years after arrival in Denmark.

Cash allowances for asylumseekers have been reduced by 10 per cent to 57 kroner (£6) a day (for food, clothing, toiletries, telephone, etc), and it has become a lot harder to get permanent residency.

The government justifies all its restrictive measures with the argument that they should act as a disincentive to apply for asylum in Denmark. Thus the government hopes to reduce the number of new asylumseekers.

To this end, the government is also beginning to accommodate the refugees in tent camps, despite the fact that Denmark has plenty of empty houses that could easily be converted into asylum centres.

In 2015, Denmark received 21,225 asylum-seekers, which is the highest number to date. Denmark has historically received many refugees, without our society collapsing.

In 1990, for example, Denmark received 18,994 applications for asylum, Iranians and stateless Palestinians being the largest groups. Two years later, in 1992, 20,071 people requested asylum in Denmark. The high figure was due mainly to a surge in asylum-seekers from ex-Yugoslav states.

The Danish government (a one party, neoliberal cabinet) has been backed by a large majority in parliament for its harsh line against foreigners. Both the bourgeois minority government and its supporting parties, as well as the Social Democrats, have supported the government on these matters.

This should all be seen in light of the fact that the right-populist and anti-immigration Danish People's Party during the past several years has enjoyed increasing success among voters. Today it is the second largest party in parliament with 37 out of 179 seats. The party's success has meant that the other parties have competed to implement austerity measures on immigration matters.

At the same time, however, a large popular movement has been growing, working to offer the refugees welcome in Denmark just as there have been several demonstrations, both to welcome refugees and to protest against the government's anti-immigration measures.

The biggest movement is by far Venligboerne, which translated into English means Friendly Habitants. Originally started in a small town in northern Jutland three years ago, when the town received 500 asylumseekers in a short timespan, the movement today is still growing.

Along with 10 other Facebook groups, 44-year-old nurse Merete Bonde Pilgaard created Venligboerne Refugee Council, which was intended to welcome the then newly arrived refugees.

Today, no less than 80 cities in Denmark have their own group of Venligboerne with volunteers and active citizens who assist and help refugees with the small and large challenges of everyday life. All the groups are organised around different local Facebook pages, and together there are now more than 130,000 Friendly Habitants evenly represented in various cities around the country, including a couple of European cities as well.

"We see the meeting with the new citizens as an opportunity to add some extra joy and insight into life. We want to welcome them to this country, and we will do our utmost to be friendly when meeting them. Hence the name Friendly Habitants," the group emphasises on its Facebook page. Local initiatives are ever emerging.

In Djursland (the eastern part of the Jutland peninsula), a woman launched a collection aimed to fund a new bus to be used by the local asylum centre Lyngbygard, which in September last year was subjected to an arson attack.

In Copenhagen, locals among other activities have organised legal advice for asylum-seekers and created groups for collecting money for the refugees, and most recently has opened a cafe in Vesterbro in the centre of the Danish capital. Furthermore, Venligboerne organises activities at detention centres all over the country.

Among many other things, people participate in social events with refugees such as barbecues and communal eating, and set up groups where locals invite residents in asylum centres on outings as well as arranging dinners and play dates for children.

Anyone who wants to contribute and show kindness can sign up via the Facebook groups and thus be part of the movement.

"There must be room for everyone in our groups, regardless of political leanings, as long as they want to help create friendships, show kindness and build bridges," writes Venligboerne Refugee Council.
Danish police seize valuables from asylum seekers for first time. Cash seized from two men and three women under law that allows police to confiscate valuables worth over 10,000 kroner: here.
As a result of the Danish government's response to a recent European Court of Human Rights (ECHR) ruling, it will now be more difficult for Danes to bring foreign spouses and other family members into the country: here.
Related articles