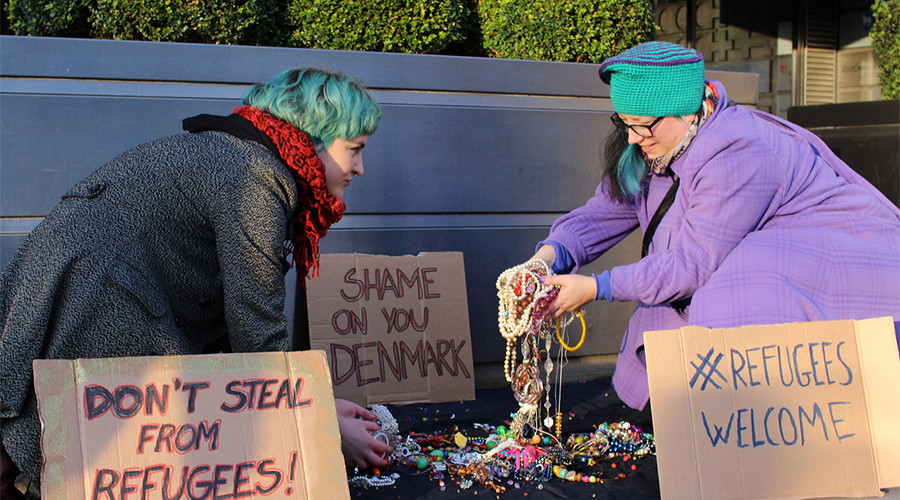 Where is fictional British pilot and jewel thievery crime fighter Biggles, now that we need him in reality to arrest the Danish governmental jewel thieves?
By Lamiat Sabin in Britain:
Refugees' supporters make their point with some sparkle at Danish embassy

Friday 29th January 2016

JEWELLERY was dumped outside the Danish embassy yesterday in protest against its government's new law allowing authorities to seize refugees' valuables.

Members of Lesbians and Gays Support the Migrants (LGSM) left jewellery outside the building in Kensington, west London, with placards saying: "Shame on you, Denmark" and "Don't steal from refugees."

Danish police will be able to seize personal belongings over a £1,000 (10,000 kroner) limit from refugees in a rotten proposal backed by the country's parliament on Tuesday.

…

MPs also approved plans to extend delaying family reunions for asylum-seekers from one year to three.

LGSM member and Danish citizen Morten Thaysen said: "If Denmark needs it so badly, they can have our jewellery as long as they stop stealing from refugees.

"Denmark is one of the richest countries in the world and there can be no doubt that this new law is not about economy but about scapegoating migrants."

Prime Minister Lars Lokke Rasmussen's increasingly hard-line government claims the policy is to help pay for refugees' housing and food and brings them in line with unemployed Danish people.
Unemployed Danish people should not be humiliated either.
Critics say that many Danes will not have to undergo the kind of searches proposed under the new law and they would have unemployment insurance that prevents them having to sell valuables to claim benefits.

The new law was criticised by the UN, the Council of Europe commissioner for human rights and world-famous Chinese artist Ai Weiwei, who announced on Wednesday that he was cancelling exhibitions in Denmark because of its treatment of refugees.

More than 21,000 refugees arrived in Denmark last year.
From RT.com:
LGSM activists also criticized the treatment of refugees currently seeking asylum in the UK.

Donna Riddington said: "Just this week it was revealed that asylum seekers in the UK were forced to wear red wristbands, and now the Danish government wants to rip jewelry off refugees. We're already horrified by the treatment of migrants across Europe, but Denmark is stooping to a new low. Yesterday was Holocaust Memorial Day, have we learned nothing?"

Lesbians and Gays Support the Migrants describe themselves as "a queer activist group that takes up the mantle from the 1980s Lesbians and Gays Support the Miners to stand in solidarity with migrants and refugees."

"The group supports migrants and refugees through fundraising activities and use creative action to disrupt the prevailing right-wing media narrative which pits LGBTQIA+ people against migrants."
Related articles