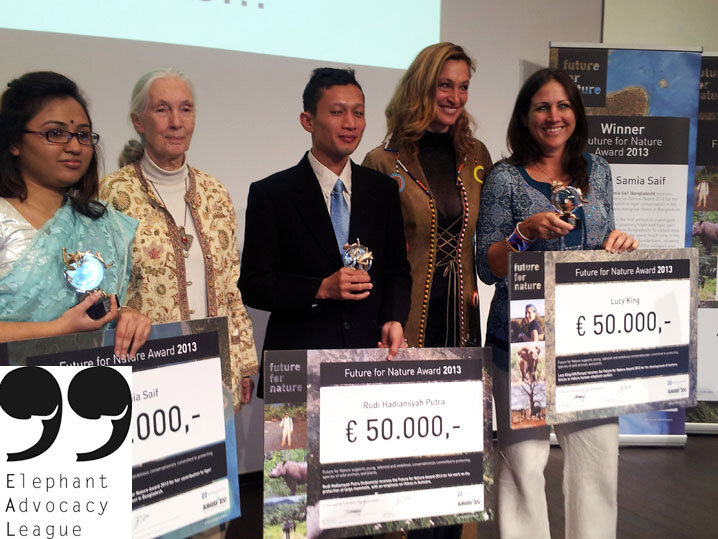 Translated from the Dutch of Warner Strategy & Fundraising in the Netherlands:
Presentation Future for Nature Awards, a success

Friday, 22/02/2013 5:39 p.m.

The Future for Nature Awards 2013 this Friday were issued at Burgers' Zoo in Arnhem. Three young talented conservationists Lucy King, Samia Saif and Rudy H. Putra received the Future for Nature Awards from the world-famous chimpanzee protector Jane Goodall. The winners received a check for 50,000 euros to continue their work. More than 500 interested people were present at the ceremony in Burgers' Zoo.

…

About the winners

Samia Saif (27) from Bangladesh won the award for her research into tiger poaching in the Sundarbans in Bangladesh. Risking her own life, she charted how the poachers in the area work.

Rudy H. Putra (35) from Indonesia is committed to the rhinos in Indonesia. For his work in the Leuser region he won the Future for Nature Award. In the field he is trying to develop a better habitat for the rhinos so that the population in the area will expand again.

Lucy King (35) from Kenya receives her award for her work with elephants and bees in Kenya. They proved that elephants are afraid of swarms of honeybees. Strategically making beehive fences around fields will make elephants walk around fields instead of going through them and thus destroying everything.
Related articles