From the Washington Post in the USA:
Netanyahu's son removes anti-Semitic meme from Facebook following outcry

By Ruth Eglash, September 10 at 8:14 AM

JERUSALEM — Yair Netanyahu, the son of Israeli Prime Minister Benjamin Netanyahu, removed an anti-Semitic meme from his Facebook page on Sunday after an outcry from Israeli politicians and Jewish community leaders in the United States.

The image, posted by Yair Netanyahu on Friday, appeared to be a local take on a classic anti-Semitic cartoon suggesting that Jews control the United States. It has appeared widely on extreme alt-right websites.

In this instance, it depicted his father's perceived foes: American Jewish billionaire philanthropist and investor George Soros, outspoken former Israeli prime minister Ehud Barak, activist Eldad Yaniv, and Meni Naftali, a former housekeeper for the Netanyahus who successfully sued them for mistreatment.

Yair Netanyahu, who goes by the name "Yair Hun" on Facebook, had captioned the meme "the food chain."

Over the weekend, his actions drew praise from neo-Nazi groups in the United States as well as from Holocaust denier David Duke, a former grand wizard of the Ku Klux Klan.

"Yair Netanyahu is a total bro[ther]," wrote Andrew Anglin in the neo-Nazi Daily Stormer. "Next he's going to call for gassings."

Duke tweeted about it.

But many in Israel and the United States condemned it, expressing shock that the prime minister's son would share such an image.

The Israeli office of the Anti-Defamation League tweeted in Hebrew that "the cartoon posted by Yair Netanyahu blatantly contains anti-Semitic elements."

Former prime minister Barak suggested that the younger Netanyahu see a psychiatrist.

"Is this what the kid hears at home?" Barak wrote on Twitter. "Is it genetics, or a spontaneous mental illness? It doesn't matter. In any case, we should fund his psychiatrist instead of security guards and a driver."

Yair Netanyahu responded to Barak by telling him to get a geriatric nurse: "I hope Ehud Barach [a play on words meaning "Ehud ran away"] didn't tweet about me from his seat in Boston (between one shady deal or another) while drunk on whiskey (as I well recall). Time to get a geriatric nurse, Ehud."

He also responded to an article about his post in the left-leaning newspaper Haaretz, calling the publication anti-Semitic.

"It's a particularly sad day for Israel when a caricature endorsed by the head of the KKK emerges from the home of the prime minister of the Jewish state," wrote recently elected Labor leader Avi Gabbay on Twitter.

"Every Jew should feel a sense of shame that a Der Stürmer-style cartoon has come out of the Israeli Prime Minister's residence and was embraced by one of the great anti-Semites. Erase, apologize and condemn!" opposition chairman Isaac Herzog wrote on Twitter.

"This post was not put up by mistake, this is in keeping with the views of his father", activist Eldad Yaniv told The Washington Post. "He wants to set Israeli society on fire, pitching people against each other, so he can hide the suspicions that are against him."

On Twitter, Yaniv shared the image posted by Yair Netanyahu together with the original, which he called the inspiration behind a post from "the son of the prime minister of the Jewish people."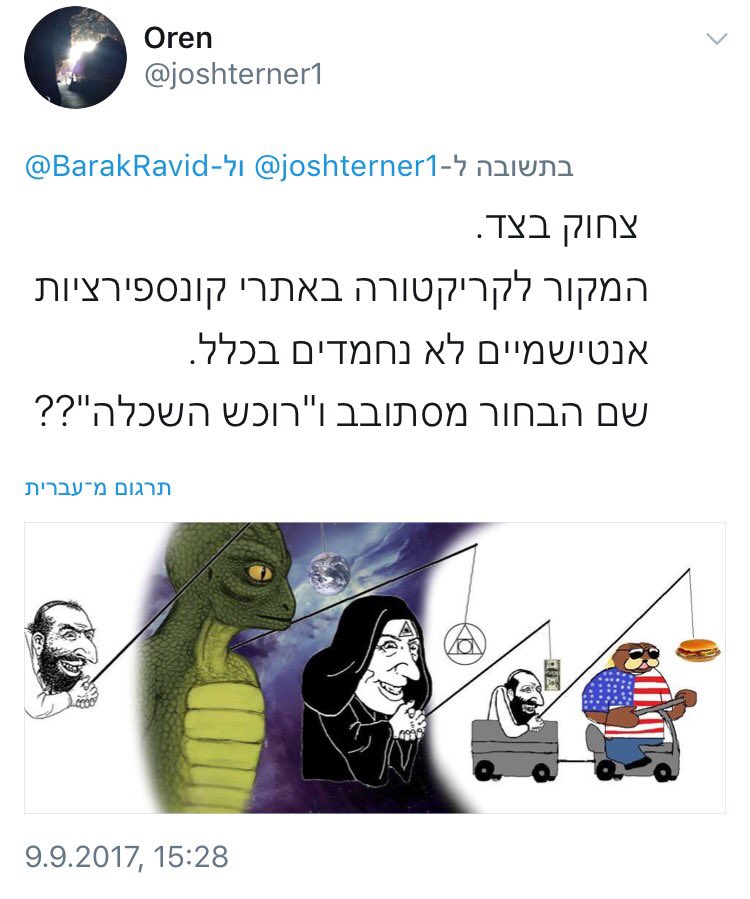 Yaniv and former housekeeper Naftali have been leading weekly protests against the prime minister and the attorney general over what they see as a failure to issue indictments against the prime minister in at least two cases of alleged corruption.

Three weeks ago, Yaniv and Naftali were violently arrested and held overnight by police for Facebook posts calling on the public to join them. Last week, in a speech to his supporters, Benjamin Netanyahu publicly attacked the two men, calling them anarchists and criminals.

On Friday, the prime minister's wife, Sara, was informed by the attorney general that she will probably face charges for excessive spending, ordering — against protocol — ready-made food and hiring private chefs to the prime minister's residence in Jerusalem.

"If that wasn't clear then along came this cartoon to demonstrate that something bad, very bad, is happening in the [prime minister's] residence on Balfour Street. When an anti-Semitic cartoon gets posted there, that is no longer just the problem of the people who reside in the residence. It is the State of Israel's problem," he wrote.

Last month, at the time of the neo-Nazi march in Charlottesville, Yair Netanyahu also caused controversy by equating neo-Nazis with activists from the far-left anti-fascist movement antifa.

"I'm a Jew, I'm an Israeli, the neo nazi scums in Virginia hate me and my country. But they belong to the past. Their breed is dying out," the 26-year-old wrote on Facebook. "However the thugs of Antifa and BLM [Black Lives Matter] who hate my country (and America too in my view) just as much are getting stronger and stronger and becoming super dominant in American universities and public life."
Unfortunately, this behaviour by Yair Netanyahu is not totally surprising; if we know that Yair's Prime Minister of Israel father, helping Holocaust deniers, has exculpated Adolf Hitler from blame for the World War II mass murder of Jews; supposedly, it was the Palestinians' fault.
Netanyahu's Son Met With Former Trump Aide With Ties To Nazi-Allied Group: here.
Crime in Israel: here.
Related articles