This 2 April 2020 video was made by a drone flying over the Netherlands. Empty streets, empty railway stations, no tourists at attractions, because of the coronavirus.
The world has passed several grim milestones overnight in the coronavirus pandemic. The total number of people infected worldwide has hit one million. More than 50,000 people have died, and in the United States, where COVID-19 seems to be spreading most rapidly, there were more than 25,000 new cases and the death toll passed 5,000: here.
European countries, including Spain and the UK, announced record-high daily coronavirus death tolls Thursday. With the 4,199 new deaths yesterday, 37,864 have already perished in Europe. There have been more than 521,000 cases of COVID-19 infections on the continent including 33,661 new cases. In Spain, 950 died—the third consecutive day of a record high: here.
For emergency action against the destruction of jobs! Full financial and social support for all working people impacted by the COVID-19 pandemic: here.
WILDCAT strikes by postal workers at three Scottish sorting offices over serious health and safety issues has forced Royal Mail to change its policy on delivering junk mail during the coronavirus crisis. Further walkouts are on the cards as issues surrounding protective equipment have not been resolved: here.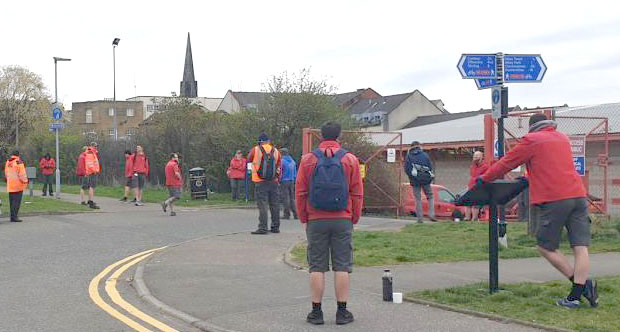 This photo shows striking postal workers, CWU members 'safe distancing' on the picket line at the Alloa Royal Mail sorting office, Scotland.
From the World Socialist Web Site, 3 April 2020:
This week, postal workers walked out of the Royal Mail delivery office in Alloa in Clackmannanshire, Scotland. The Communication Workers Union (CWU) members were protesting the lack of protective equipment and failure of Royal Mail to ensure safe social distancing of workers in the office. They were also protesting having to deliver unnecessary junk mail leaflets, increasing their risk and that of the public to coronavirus exposure. One striker talking to the Daily Record explained, "We work on top of each other in the sorting office and it hasn't got any better since the outbreak. The managers don't seem to be bothered by it and just want us to continue working as normal".

Fifteen postal workers at the Lochgelly delivery office in Fife went on strike over the same issues.

French lorry drivers threaten walkout over coronavirus

From Monday, French lorry drivers may walk out because of fears around the coronavirus outbreak.

The CFDT, FO and CFTC union members are concerned over lack of facilities to eat and clean up, as many roadside service facilities have closed as a result of the infection. They are also worried about not having protective clothing when carrying out deliveries. To date, only a few drivers have refused to take out their lorries.

Health staff at Spanish coronavirus hospital speak out against lack of resources

Staff at a 6,000-bed capacity field hospital set up at the Ifema convention centre in Madrid to deal with coronavirus patients have spoken out over conditions at the site. They told El Pais newspaper there is inadequate protection equipment and patients are confined within less than two metres of each other.

A nurse explained, "The patients are overcrowded…there are barely two steps between beds…There are no stands to hold up drips, we are using broomsticks."

The health and administrative staff at the field hospital have voluntarily offered to work there rather than their usual workplaces. However, many are now reconsidering their decision, alarmed at the terrible conditions.

A doctor said, "[The] first day was devastating… it is a sad site, a grey concrete hangar…We are all volunteers except for the internists who coordinate… we came to give our all." A nurse added that "enthusiasm doesn't protect you and willpower doesn't cure."

Portuguese medics coronavirus concerns

Portuguese doctors are concerned at the level of coronavirus infections among health staff. According to a theportugalnews website article of April 1, 853 Portuguese health professionals, including 209 doctors and 177 nurses, have contracted the disease. There are also concerns over the lack of PPE.

The National Federation of Doctors (FNAM) and the Independent Doctors Union (SIM) have requested an urgent meeting with the Health Minister to raise the medics' concerns.

Italian supermarket workers stressed out over coronavirus

Supermarket workers in Italy are worried over conditions as they try to cope with the impact of coronavirus. The virus claimed the life of a 48-year old cashier at a supermarket in Brescia in northern Italy last month. A 33-year-old supermarket guard has also died.

Some supermarkets have now installed Plexiglass shields and dispensed disinfectant gel and gloves, but workers know more should be being done.

Reported in the AFP/The Local news website April 1 a Rome supermarket cashier explained, "We're also stressed out, but we can see they're [the customers] pretty stressed too… You start thinking Oh God I have just touched my face, you get kind of paranoid."

The report noted staff numbers at some supermarkets had been cut by a third because of sickness.
Britain: VENTILATORS are to be rationed, using tactics employed on the battlefield, where army medics choose who to treat and who to leave to bleed out depending on patients' survival odds, doctors warn. New guidance from the British Medical Association (BMA) which will mean doctors deciding who will live and who will die states: 'Health professionals may be obliged to withdraw treatment from some patients to enable treatment of other patients with a higher survival probability': here.
Julian Assange still held on remand as coronavirus spreads through UK prisons. By Thomas Scripps, 3 April 2020. The WikiLeaks founder, held in Belmarsh prison and facing extradition to the US for exposing war crimes, has a chronic lung condition and has had his health destroyed by a decade of mistreatment by the British state: here.
Polish government insists on holding presidential elections in May despite coronavirus lockdown. By Clara Weiss, 3 April 2020. In polls taken last week, 73 percent opposed holding the elections as planned.
Experts criticise Swedish government for failing to prevent COVID-19 spread. By Jordan Shilton, 3 April 2020. As the government refuses to issue shelter-at-home orders, medical personnel are asking how many lives it intends to sacrifice to keep up production and profits: here.