From daily The Guardian in Britain:
More than 2,000 refugees stranded at Croatian border town

Train that was due to take people west from first town after Serbian border is sitting at station, as Croatia also closes all but one of its road border crossings

Patrick Kingsley in Tovarnik

Friday 18 September 2015 08.07 BST

More than 2,000 refugees were left stranded overnight in a border town near Croatia's border with Serbia, as Slovenia prevented hundreds of others from leaving north-west Croatia, leading to fears that the latest refugee route into the European Union may turn out to be a dead-end.

Early on Friday morning Croatia also closed seven of its eight road border crossings with Serbia after complaining of being overwhelmed by the arrival of more than 11,000 migrants and refugees.

Refugees began entering Croatia in large numbers on Wednesday, after Hungary closed its borders. Croatia's prime minister initially said his country was ready to provide a safe passage for people trying to reach Slovenia, and the stability of northern Europe beyond.

But within hours it became clear that Croatia had underestimated the scale of the challenge it had taken on, failing to provide enough transport to speed thousands of newcomers away from Serbia and towards Slovenia. A logjam stretching west to east across northern Croatia was created after Slovenia blocked the onwards transit of refugees, stopping about 150 people from crossing in by train. On Thursday, Slovenia had said it was ready to provide immediate shelter and humanitarian care for 5,000 refugees.

At least 2,000 people were stuck in Tovarnik, the first Croatian town after the border with Serbia. While a specially commissioned train arrived to pick many of them up at about midnight, the train was still waiting in the station at 7am, its 10 carriages packed with about 1,000 restless refugees largely from Syria, Afghanistan and Iraq.

More than 1,000 others were left sleeping on the station platforms, and in the streets of Tovarnik, a small and sleepy rural town that has no hotels. Small children slept on cold stone slabs, and a baby was placed inside a small suitcase to keep it warm. …

As Croatia considered whether to close its border with Serbia entirely, Hungary began building a fence and deploying hundreds of soldiers and police on its border with Croatia. Its prime minister, Viktor Orbán, said the fence would be finished on the 26 miles (41km) stretch of the border not divided by a river by the end of Friday.

Hundreds more refugees arrived at Tovarnik during the night, after being bussed straight from Macedonia to the Croatian border by the Serbian government. Several were not quite sure where they were. "What's the name of this country?" asked Ali Sadoun, a 40-year-old baker who fled Iraq after receiving a death threat from the militia.

Sitting next to the train-tracks at 4am, one of the night-time arrivals, Syrian undergraduate Zahraa Daoud, spoke out at yet another obstacle being placed in her path. "They don't want us to pass," said Daoud, who is travelling with her mother. "Why? We are humans. We are Syrians, and there is a war in our country that even we don't really understand."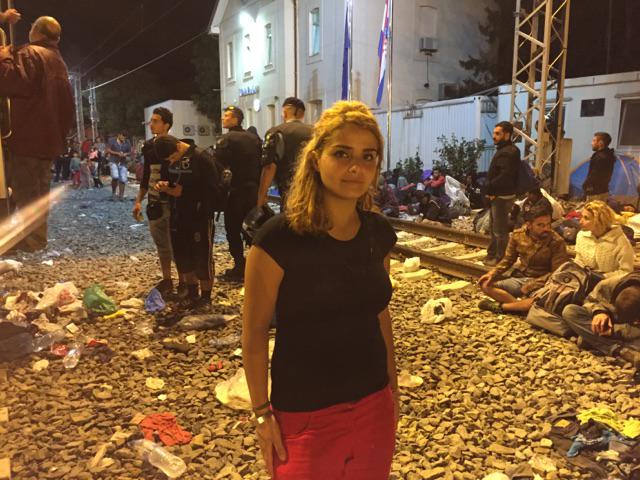 But despite her frustration, Daoud also said that she was determined to carry on, whatever the challenges Europe places in front of her – a view often expressed by the protagonists of the continent's biggest wave of mass-migration since the second world war.

"I don't have anything to lose, so I fear nothing," said Daoud, a 23-year-old literature student who asked to be described as from the Ismaili faith.

Daoud added: "I've been thinking about leaving for two years. But for a long time I thought: there is still hope [of peace], I will wait. But when you leave home every day and you don't know whether you'll see your mum again at night, because you might be killed by a bomb or taken [by a militia], you have to run. So I will not go back. I will run, run, run. Even if they will not allow me to, I will keep on running."
This video says about itself
Refugees enraged at inhumane treatment as Croatia prepares to close border

18 September 2015

Many of the people hoping to travel through Croatia have instead been taken to camps, on buses provided by the Croatian authorities. And as Mohammed Jamjoom reports from Beli Manastir, for some it has been a frustrating journey.
12 pictures that capture the chaos of Europe's refugee crisis: here.
TURKEY HAS SPENT ALMOST $8 BILLION ON REFUGEES A Turkish deputy prime minister said the country, which has an "open-door policy" for Syrian refugees, has spent $7.6 billion on over 2.2 million refugees. [Reuters]
Related articles