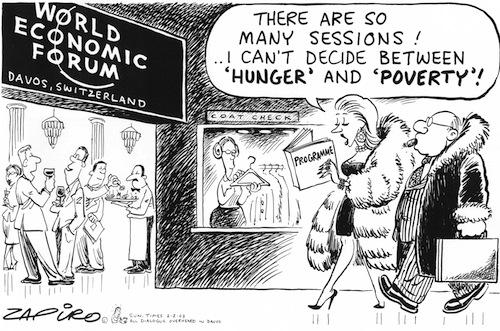 From the blog of Arianna Huffington in the USA:
Davos Notes: HuffPost Brings You Your All-Access Pass (16 comments )

I'm heading to Europe on Saturday to take part in two international conferences.

The first, DLD07 (aka the Munich Digital Conference, hosted by Burda Media), is a New Media baby — born two years ago to bring together those leading the charge into the increasingly digitalized world of the 21st Century.
It depends how one defines New Media.
Burda Media is based on a big German fashion magazine, that has been around for decades before most people knew anything about computers.
Among those speaking at DLD07 will be Skype's Niklas Zennström, Google's Marissa Mayer, filmmaker Luc Besson, and Craigslist founder Craig Newmark.

The other conference — the annual meeting of the World Economic Forum in Davos, Switzerland — was created in the Paleolithic era of media communications. 1971.

As such, the conference has traditionally been a closed-door gathering of the world's business, political, media, and cultural leaders.

The elite meeting on the mountain top — literally — to network and hash out the problems of the world.

But the elite has clearly gotten the message that we're living in a Google/YouTube world and — even before Time magazine put "You" on its cover — decided to open the doors of Davos to bloggers and blogging.
Time magazine had a poll on its website on about who should become Person of the Year for 2006.
"You" (the Time website visitors) chose President Hugo Chavez of Venezuela.
But Time neglected "You".
The World Economic Forum "open to bloggers and blogging"?
Only to some of them. Like to Arianna Huffington, a millionairess even though sometimes sharply critical of George W Bush or other politicians.
Not to radical opponents of the World Economic Forum participants and their system.
Year after year, Swiss police takes massive repressive measures to prevent WEF critics from demonstrating in Davos. Whether those critics are bloggers or not.
Also this year, there will be many anti WEF actions.
Will Arianna Huffington blog on them?
World Social Forum in Kenya: here.