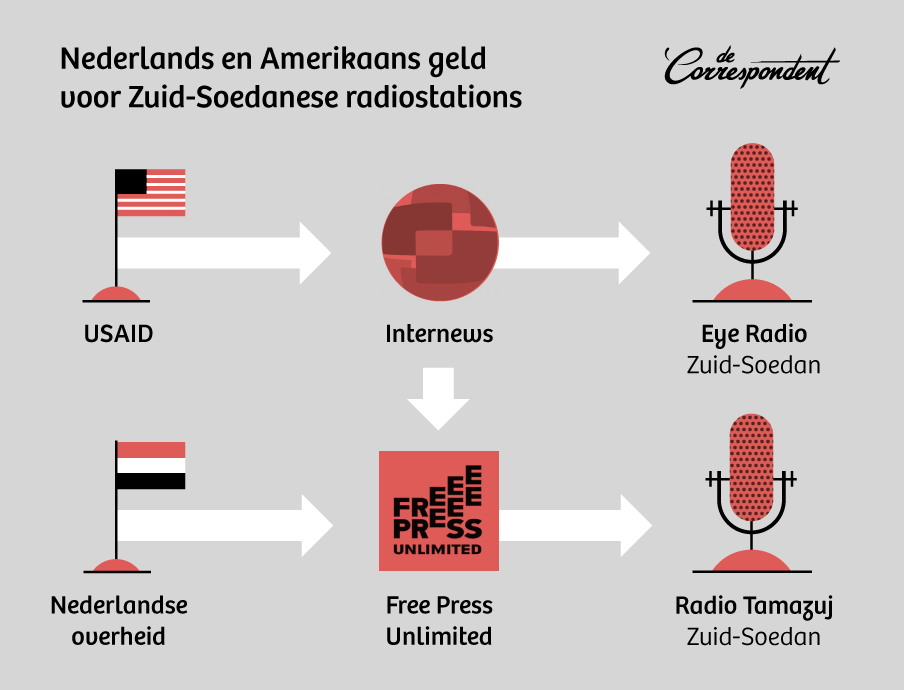 This picture shows the financing of supposedly independent media in South Sudan. On the left, the governments of the USA and the Netherlands. In the middle, the non(?)-governmental organisations Internews and Free Press Unlimited. On the right, the South Sudanese radio stations Eye Radio and Radio Tamazuj.
This week, there is a report by Maite Vermeulen on Dutch Internet site De Correspondent.
It says (translated):
Free Press Unlimited supports independent media worldwide. But when their South Sudanese radio station was critical about a sponsor, Free Press Unlimited clamped down. "Do not try to bite the hand which feeds you."

The Dutch aid organization Free Press Unlimited censored their own journalists.

It's early in the morning, December 2, 2016. Somewhere in East Africa, the editors of Radio Tamazuj start up their computers. One of the journalists types automatically his password to complete the first news reports on the website. 'Sorry, unrecognized username or password. Have you forgotten your password?'

He tries again, letter after letter. No, the password is not recognized.

"I can not log in …" he hears a colleague next to him.

No-one on Radio Tamazuj's editorial board can log in on the morning of December 2, 2016. Because the Dutch aid organisation Free Press Unlimited, which founded and used to support Radio Tamazuj, has changed their passwords.

Free Press Unlimited – an organization which fights for press freedom worldwide – censors its own radio station. The reason: money. Radio Tamazuj had a critical message about Internews, a sponsor of Free Press Unlimited.
The budget of Free Press Unlimited is paid overwhelmingly by the Dutch government; NATO military allies of the United States government. Meanwhile, USAID, that is, the United States government, pays some 75 million dollars to a project of the United States non(?)-governmental organisation Internews called i-STREAM: Strengthening Free and Independent Media in South Sudan. 1,5 million dollars of that goes to Free Press Unlimited.
There is bloody war in South Sudan between several militias. There are foreign soldiers, from the USA, Japan and elsewhere, attracted by South Sudanese oil. Civilians are massacred. Human rights are violated.
Radio Tamazuj reports about that. However, they find out that Eye Radio, paid by the United States government through Internews, practices self-censorship on atrocities and parrots government propaganda. Radio Tamazuj reports on that self-censorship on their Internet site.
And then the Free Press Unlimited bosses in the Netherlands clamped down on Radio Tamazuj, because they said Radio Tamazuj endangered their getting United States government money by way of Internews.
Related articles