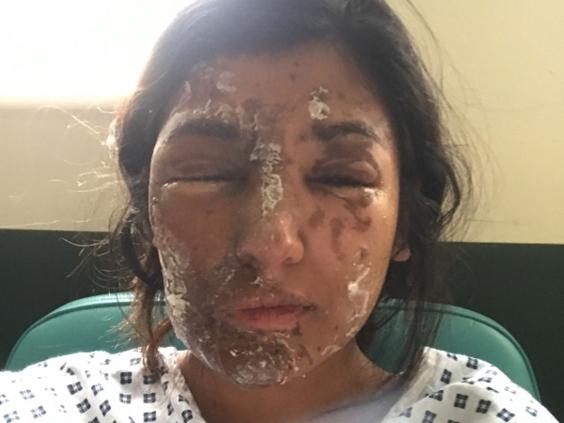 By Peter Lazenby in Britain:
Sick Acid Attack Threats Sent to Muslims

Thursday 31st August 2017

Police increase patrols in Bradford after violent letters posted to homes

POLICE have increased street patrols in Bradford after leaflets containing threats of acid attacks were sent to Muslim homes.

The leaflets were posted through letterboxes in the predominantly Muslim area of Hanover Square where two attacks were reported last week.

One of the letters features an image of a sword over the English flag and reads: "Kill Muslim scum".

It goes on to spew hateful and threatening comments including that women wear burkas because they are "ugly" and accuses men of grooming white girls in the area.

"We are now going to do acid attacks on anyone who wears the funny black masks around your square and Bradford and other places," it reads.

"In your square there are three of ur [sic] male pigs who are grooming four white girls.

"We know who the three male pigs are. They are walking dead pigs."

The letters were sent ahead of an English Defence League (EDL) march which was planned for this Saturday — the same day as the Islamic festival of Eid. West Yorkshire police confirmed yesterday that the event has now been cancelled but an EDL demo in nearby Keighley will still take place on the same day.

Anti-racism campaign group JUST Yorkshire's chairman Nadeem Murtuja said there was a "correlation" between the leaflets and racist opinions expressed in the Sun newspaper by columnists Sarah Champion and Trevor Kavanagh.

He said: "We wrote at the time that such incendiary comments from prominent politicians, including perceived champions fighting against abuse, could inflame tensions, and though I accept that this material cannot be directly attributed to those columns, the themes between what is written in this racist material and those columns seem to show a correlation."

Ms Champion was forced to resign from the Labour front bench earlier this month after she wrote that "Britain has a problem with British Pakistani men raping and exploiting white girls," in the right-wing rag.

The JUST Yorkshire chairman also raised concerns that some Muslims are removing visible signs of their faith such as beards and headscarves to avoid abuse, pointing out that this "takes away the very freedoms that form the cornerstone of British values."

The recent threats come after reports that Islamophobic incidents increased by 500 per cent following the Manchester Arena bombing.

West Yorkshire police said they are taking the threats "extremely seriously" and have launched a hate crime investigation into the incident.
Related articles