Translated from Dutch NOS radio, by Frank Renout, today:
Human Rights Watch: French police officers discriminate and engage in ethnic profiling
If even an often pro-establishment organisation like Human Rights Watch says that …
The French police are guilty of abuse of power and discrimination. "Young people with a black or North African appearance are more often than average arrested for identity checks, especially in certain deprived neighborhoods," said director Bénédicte Jeannerod of human rights organization Human Rights Watch in France. "It seems that the police do ethnic profiling. That is illegal. Young people tell us that they are also racially treated by police officers."

Human Rights Watch is publishing a report on the French police this morning. The organization conducted a year of research in France, listed studies and spoke to more than 90 victims.

A few years ago, the French Ombudsman published a study that found that young people with a black or North African appearance are up to 20 times more likely to be stopped by the police.

Also minors

In its report, Human Rights Watch lets the young people speak for themselves. "Many of them say they were arrested because of their appearance or where they live and not because of their behaviour," the organization said.

It is remarkable that minors are also victims. "Even children from 10 to 12 years old are arrested on the street for no reason, and searched by force, just because their skin colour is different," says Jeannerod.

Children are placed with their hands against a wall by policemen in front of their friends or in front of their school. Their genitals or buttocks are touched, reports the human rights organization. Young people have to show their wallets and explain where their money comes from. Photos on their phone are viewed to make sure it is not a stolen phone.

"They treat us like dogs," says one of the children in the report.

Jeannerod: "Such actions are very frightening for the children involved. But it also drives a huge wedge between population groups and the police. Confidence in police officers has disappeared. And that undermines the work of the police in some districts."

Sensitive moment

Human Rights Watch's criticism comes at a sensitive time. Following the United States, France has been demonstrating on a large scale against police brutality and racism for weeks. The government therefore announced measures earlier this month. Racism would be tackled strongly and the controversial chokehold was banned.
…

[After police pressure], the government backtracked: the chokehold may still be used for the time being.

…

"The government must come up with stricter rules," said director Jeannerod. Now police officers are allowed to stop someone for an investigation at their own discretion. Then prejudice can play a role.

Moreover, the arrest is not recorded anywhere on paper. "As a result, victims have no guidance or evidence, and the authorities have no idea how often it happens and whether such an identity check is effective in tackling crime."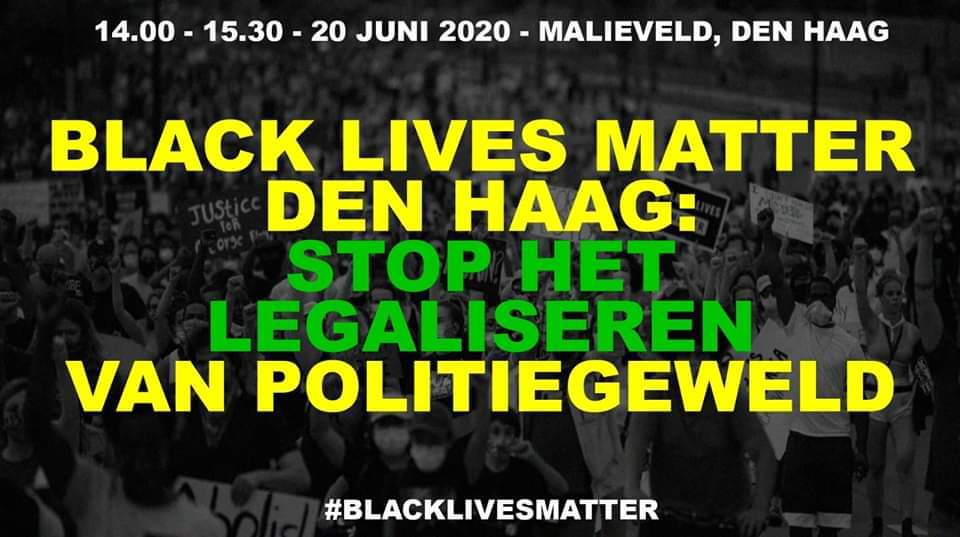 This banner is about a Black Lives demonstration on the Malieveld in The Hague, the Netherlands, on 20 June. It is against a new law which makes prosecuting police officers for violence more difficult.
On Friday 19 June, 17.00-19.00 there is a demonstration in Zutphen in the Netherlands, Hanzehal parking lot, Fanny Blankers-Koenweg.