This 29 May 2020 video from the USA says about itself:
New Details Of Deadly No-Knock Warrant Shows Just How Reckless Police Can Be

PAR uncovers new information on the dangers of serving no-knock warrants and analyzes the raid that killed 26-year-old EMT Breonna Taylor. Cop watcher Kenneth Dunham alleges continued intimidation from local Oregon police.
Trump threatens to mobilize the military to shoot protesters. Mass anger erupts throughout the US in protests against police murder of George Floyd. By Anthony Bertolt, 29 May 2020. The police murder of George Floyd in Minneapolis has set off a wave of social anger, sparking demonstrations in Kentucky, Colorado, California, Ohio and other states throughout the country.
TRUMP CALLS PROTESTERS THUGS, THREATENS VIOLENCE President Donald Trump raged against those demonstrating in Minneapolis over the death of George Floyd. Trump called protestors "thugs" and threatened a violent intervention in a series of after-midnight tweets. "Either the very weak Radical Left Mayor, Jacob Frey, get his act together and bring the City under control, or I will send in the National Guard & get the job done right," Trump wrote. "I won't let that happen…. when the looting starts, the shooting starts." [HuffPost]
Early today, Twitter applied a warning label on a Trump tweet about the death of George Floyd, in which the president called protesters "THUGS" and threatened to send troops to "get the job done right." Twitter's label said the tweet "violated Twitter Rules about glorifying violence." [HuffPost]
TRUMP SAYS 'THANK YOU' TO VIDEO SAYING 'ONLY GOOD DEMOCRAT IS A DEAD DEMOCRAT' The president quote-tweeted a video shared by Cowboys for Trump. In the video, the group's founder, Couy Griffin, is speaking in front of a New Mexico church, encouraging his audience to violate stay-at-home orders during the coronavirus pandemic. "I've come to a conclusion where the only good Democrat is a dead Democrat," says Griffin, going on to add that he doesn't mean that in a "physical sense," but in a "political sense." Trump then responded to the video by thanking them and saying that he'd see the group in New Mexico. [HuffPost]
DENVER DRIVER APPEARS TO TARGET MAN WITH CAR Protests in Denver over the death of George Floyd turned violent after an unknown person fired a gun several times near those gathered outside the Colorado Capitol. No one was injured, but a Denver resident at the protest uploaded a video of demonstrators walking toward the Statehouse after reports of the gunshots subsided. During a tense moment, a man can be seen jumping on the hood of a moving car, which then speeds away with him on the vehicle. The man eventually falls off the car and the driver appears to swerve toward him before speeding away. [HuffPost]
Protests broke out for the third day in a row over the death of George Floyd, a handcuffed Black man who died after a Minneapolis police officer kneeled on his neck. … Some protesters broke into the Minneapolis Police Department's 3rd Precinct Station, setting part of the building on fire. As protests spread nationwide, Floyd's brother, Philonese Floyd, stressed that protests should be peaceful, but he said people were acting out because they are "torn and hurt because they're tired of seeing Black men die."  [HuffPost]
Cop who killed George Floyd in Minneapolis had record of brutality. By Kristina Betinis, 29 May 2020.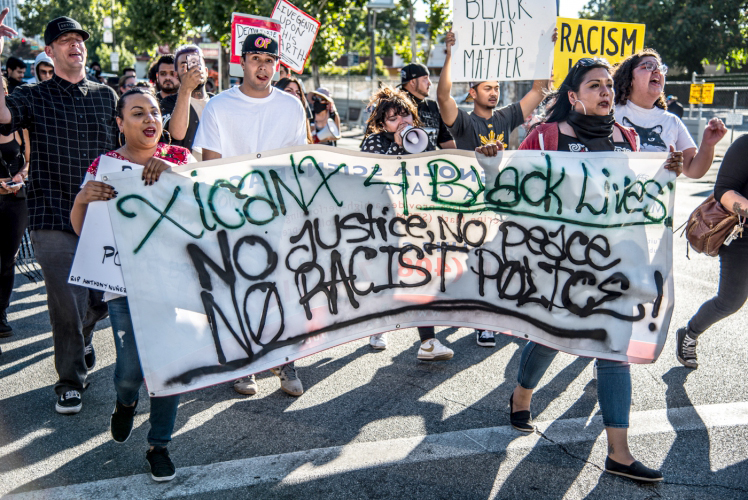 'Charge police with murder' say family of George Floyd: here.
FLOYD'S DEATH RESURFACES KLOBUCHAR'S EASY-ON-COPS RECORD The death of George Floyd has resurrected Democratic Sen. Amy Klobuchar's record as a prosecutor in the state ― including her tense relationship with the Black community there ― at the politically sensitive time that she's being considered by Joe Biden to be his running mate. "There is absolutely no way that she is qualified to become Biden's VP nominee," said Nekima Levy Armstrong, a civil rights lawyer who served as head of the Minneapolis NAACP from 2015 to 2016.  [HuffPost]
This 14 May 2020 video from the USA says about itself:
Why Breonna Taylor's Death & Kenneth Walker's Arrest Are So Upsetting

I really hope there's justice for Breonna Taylor and her boyfriend. Do you think the police officers who shot her will be charged??
7 PEOPLE SHOT AT LOUISVILLE PROTEST OVER THE DEATH OF BREONNA TAYLOR Seven people were struck by gunfire at a protest in Louisville, Kentucky, on Thursday night as tensions there continued to escalate over the fatal shooting of a black woman by three white police officers in March. Of those reported injured in the demonstration, two were taken for surgery and five were in good condition, [New York Times]
This 29 May 2020 video from the USA is called Michigan Sheriff's Deputy Filmed Punching Black Woman During Arrest | NowThis.
Police attack on unarmed woman in Ypsilanti, Michigan sparks three days of protests. By James Brookfield, 29 May 2020.
Attorney Lee Merritt speaks on conspiracy to cover-up Ahmaud Arbery's murder. By Matthew MacEgan, 29 May 2020. Merritt spoke to the WSWS Wednesday about developments in the Arbery case and what has been exposed about the efforts of the police and prosecutors to whitewash the killing.