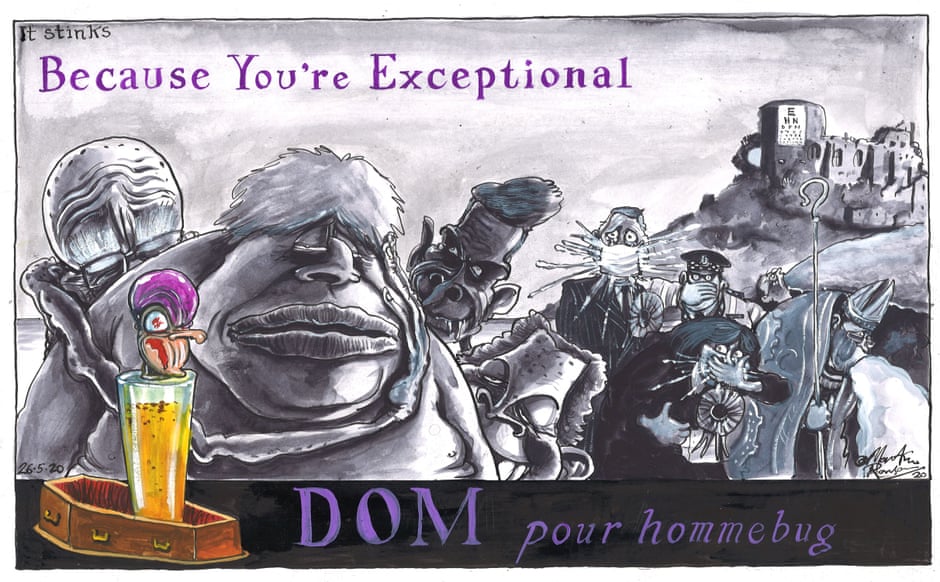 This cartoon by Martin Rowson in the Guardian in Britain is about Conservative Prime Minister Boris Johnson defending the behaviour of his adviser Dominic Cummings.
From daily The Morning Star in Britain 26 May 2020:
Parents' group calls for boycott of government plans to reopen schools

PARENTS around the country organised and called for a boycott of the wider reopening of schools yesterday amid concerns for safety amid the coronavirus pandemic.

The decision to call for a boycott by Parents4SafeReturn follows "exasperation at the failure" of the government to manage the reopening of schools and nurseries effectively.

In a statement, the group said: "We support our schools and want them to move to a wider opening as soon as it is safe. But the Prime Minister has now made clear he has no intention of listening to the science."
By David Rosenberg in Britain, 26 May 2020:
Labour must resist the Tories' reckless plan for schools

I TAUGHT in an Islington primary school for 23 years and was NUT rep there for most of those.

My biggest struggle was persuading teachers who were clearly too ill to teach to go home and recover.

It was a struggle because the only teachers I encountered were those whose care for children's safety and wellbeing was absolutely paramount. I'm sure that hasn't changed since I retired in 2015.
By Lamiat Sabin in Britain, 26 May 2020:
Crisis hits Tory government as minister resigns over Dominic Cummings' lockdown road-trip

BORIS JOHNSON's government was rocked this morning by a ministerial resignation over the Prime Minister's senior adviser Dominic Cummings's conduct during the coronavirus lockdown.

Scotland parliamentary under-secretary Douglas Ross said that he was quitting after hearing Mr Cummings's statement on Monday, in which he defended his 260-mile road trip from London to Durham while the nation was told not to travel.

Mr Cummings said that he and his wife, journalist Mary Wakefield, both felt ill from suspected Covid-19 and had driven with their son to Durham on March 27 to stay on his father's farm.
From daily The Morning Star in Britain 26 May 2020:
Editorial: The politics of the Cummings scandal

THERE'S an irony to the Dominic Cummings scandal. Britain's death toll climbing to the highest in Europe, revelations that the Prime Minister skipped five emergency Cobra meetings as the pandemic threat approached and the appalling failure to supply front-line workers with life-saving personal protective equipment have all done less to dent the government's reputation than a lockdown breach by a political adviser.

The impact on Boris Johnson's approval ratings has been dramatic, falling 20 points in just four days. The government's ratings are down 16 points in just 24 hours.

Polls can be misleading, but these swings show that the commanding leads the Tories have enjoyed over Labour since the pandemic struck are less than secure.

The reasons Cummings's misbehaviour has prompted such anger are not hard to grasp.

Johnson's claim that he "followed the instincts of every father" are irrelevant, when the lockdown policy imposed by government — "an instruction, not a request", as Health Secretary Matt Hancock emphasised in the early press briefings — has forced the whole country to act against instinct.

Serious sacrifices have been made — generally willingly — by people who understand that lockdown is the only way to stem the spread of coronavirus.

Families have been forced to choose which member gets to attend the death bed of a loved one. People have been forced to keep their distance from relatives and friends however worried they might be about them.

Cummings's actions, and the decision of the Prime Minister to defend them, seem like a slap in the face to millions.

And that means the government's real failings may begin to hit home. It cannot plausibly claim to have tackled the Covid-19 pandemic effectively.

The death count rose above 47,000 yesterday, dangerously close to the 50,000 figure ministers cited last month as a worst-case scenario.

What it had going for it was that much-abused phrase, "we're all in it together."

While many on the left were understandably irritated at Johnson's adulation by the papers as he fell sick with the virus himself, his illness fed a narrative that ministers were steering the nation through an unprecedented crisis and deserved our loyalty.

The Cummings saga has exposed the double standards at the heart of this fairy tale.

How should the left respond? Demanding individual resignations is not usually an approach that reflects class politics. But there are reasons why pressure for Cummings to go should be intensified.

The most immediate is the risk that failing to punish the adviser risks leading to widespread lapse in observing the safety advice which is still essential to try to limit the number who die from this deadly virus. His defenestration would underline the importance of everyone following the rules.

Ministers' reluctance to let him go is explained by Cummings's indispensability as a strategist to Johnson, who without him lacks a coherent political project and who has numerous bitter enemies within the Tory Party itself.

They are also seeking to relax lockdown anyway, quickly and with inadequate preparation, and may not be overly concerned at a dilution of the message at this stage.

That only strengthens the case for going for the jugular. The crisis leaves the status quo vulnerable. Britain is transparently ill-equipped to cope with emergencies, and the role privatisation and outsourcing have played in crippling the ability of our public services to deliver has been exposed.

Trade unions are demanding a better deal for millions of "key workers" whose true value to society is clearer than ever.

That is why the left needs to go beyond calls for Cummings's head, demanding a reckoning for the entire government's handling of the crisis and for the system that has crippled its response.

The labour movement is in a position to influence the world of work after lockdown. We cannot afford to miss the opportunity.
Men's rugby league: NRL's plan to have fans in stadiums slammed by medical body: here.
Men's golf: 'Majority of players want to see Ryder Cup pushed back until 2021,' says Rory McIlroy: here.