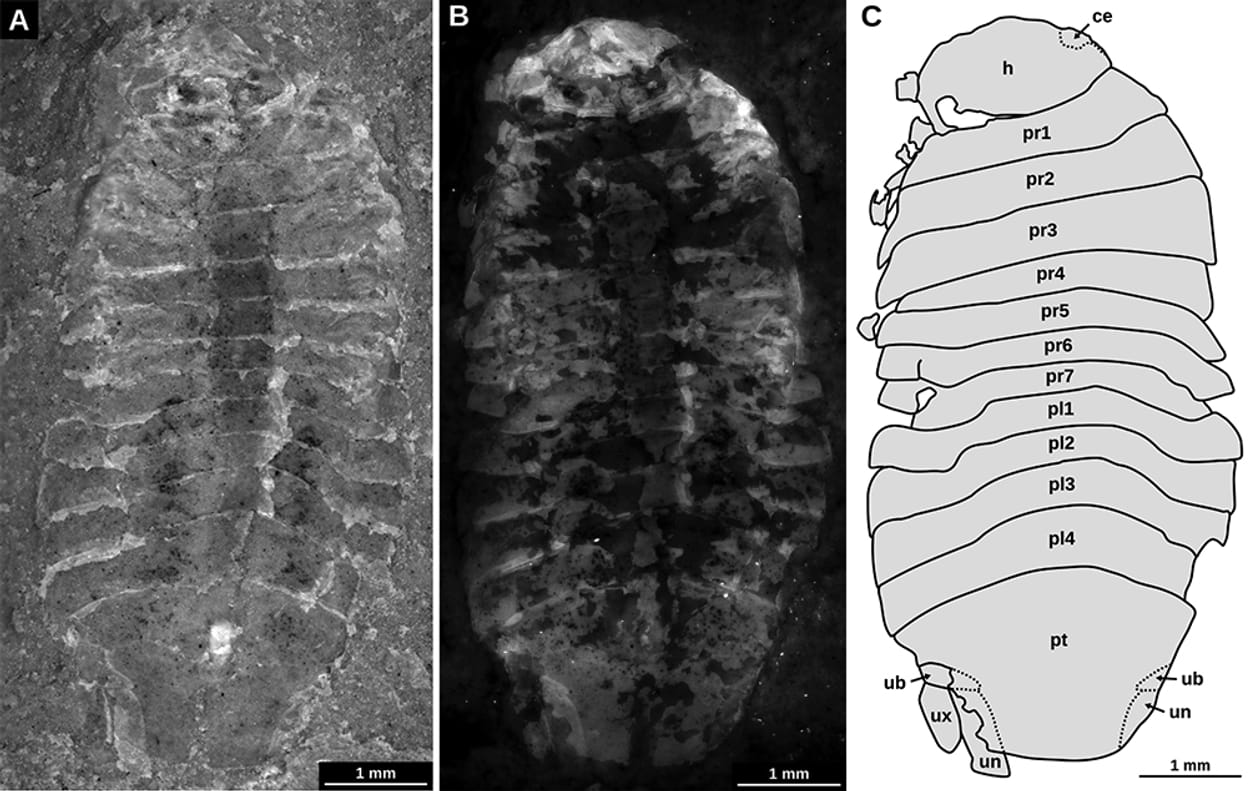 Translated from Utrecht University in the Netherlands today:
Oldest woodlouse in the Netherlands discovered in Winterswijk quarry

A fossil woodlouse from the Triassic age, aged between 247 and 242 million years, has been discovered in the Winterswijk quarry. Never before has such an old woodlouse fossil been found in the Netherlands. It also turns out to be a new species. The find is extra special because fossil woodlice are extremely rare: until recently only nine species from the Triassic were known worldwide. The special fossil can be admired from 8 June on in Naturalis Biodiversity Center.

Woodlice do not only live in dark places or under stones: about half of all woodlouse species live in the sea. This in itself is not remarkable since woodlice are closely related to crabs and lobsters. The Winterswijk woodlouse also lived in the sea. The researchers named the new species Gelrincola winterswijkensis after the fossil site.
Gelrincola means 'inhabitant of Gelderland province'.
The first woodlice appeared about 300 million years ago, during the Carboniferous. There are not many remains as ancient as Gelrincola winterswijkensis. Only ten species of woodlice are known from before the Triassic. More woodlice species are known from the eras after the Triassic. Today, more than ten thousand species of these crustaceans live.

The Winterswijk animal originates from the middle Triassic, a period of 247 to 242 million years ago. Back then Winterswijk was located on the edge of a large inland sea, the so-called Muschelkalk Sea. Along the coast of this Muschelkalk Sea there were extensive tidal plains where many remains of animals have been preserved in the lime mud. In Winterswijk you will find fossils from the sea as well as remains of animals that lived on land.

This yields a wide variety of fossils, including marine reptiles (such as Nothosaurus), fish, seashells, snails, ammonites, lobsters, a horseshoe crab, plant remains, pollen grains, footprints of terrestrial reptiles, and even fossil insects. So now a marine woodlouse can be added to this fossil biodiversity. This creates an increasingly complete picture of the ecosystem of the time. …

In our country, rocks from that interesting period only occur in the Winterswijk quarry.

This summer Naturalis Biodiversity Center and Utrecht University will continue to search for fossils there. A new visitors centre will be built next to the quarry, where the most important fossils from the quarry will be exhibited.