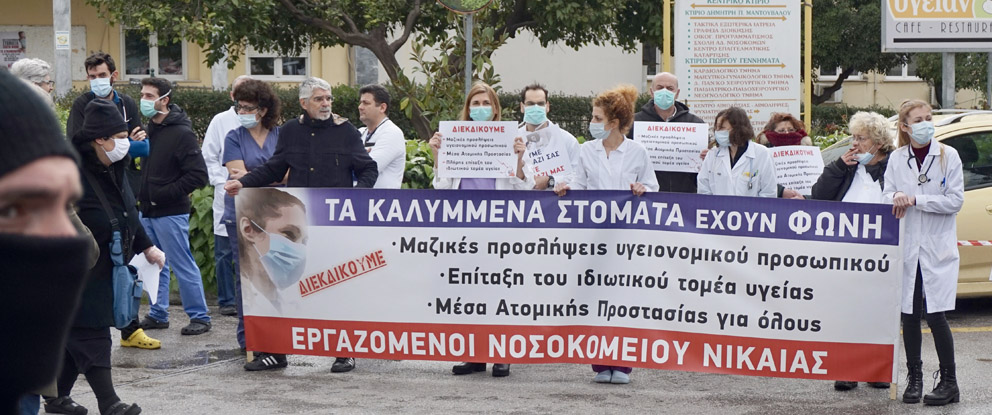 Doctors and nurses demonstrate at the Nikes General Hospital, Piraeus, Greece, yesterday morning against Greek government policies. Banner slogans demand mass employment of health staff, requisition of the health private sector, protection for all.
From daily News Line in Britain today:
Greek doctors & nurses protest

DOCTORS, nurses, trade unionists, workers and youth took part in protests at the entrances of many hospitals throughout Greece yesterday morning against the government's inability to provide mass tests, protective clothing and masks and appoint the necessary doctors and nurses to combat the coronavirus pandemic.

The action was called by the Greek National Health Service doctors' union OENGE as a Day of Action on World Health Day 7th April.

Hundreds took part at each protest at the hospitals in Athens and the industrial port and city of Piraeus.

At the Evagelismos hospital in the centre of Athens, police squads attempted to break up the doctors, health staff and trade unionists participating in the meeting. But they were forced to turn away booed by doctors and workers.

Some 150 workers, youth and trade unions delegations with their banners held a meeting yesterday lunchtime at the Nikea General Hospital in the working-class district of Piraeus.

Surgeon Panos Papanikolaou of the OENGE Executive, speaking at the meeting, strongly condemned the police action against doctors and nurses at the Evagelismos Hospital and demanded the resignation of the Public Order Minister Khrisokhoides.

Papanikolaou said: 'They applaud us for our work, but when doctors stand up and demand anti-coronavirus protection for the people and for themselves and demonstrate, then we are terrorists.'

The President of the PENEN trade union (seafarers' crews) Andonis Delakeoyiorghos said that many ferry crew members have been taken ill as they were not provided with the necessary equipment. He agreed with the OENGE's demand for the requisition of the private hospitals and of the private health sector.

PENEN and Athens-Piraeus hospital staff and doctors trade union branches are organising another protest next Tuesday.
Worker revolt spreads, demanding protections from coronavirus. By Marcus Day, 8 April 2020. Expanding layers of the working class throughout the world are being drawn into the struggle for lifesaving necessities.
British prime minister: A victim of his "herd immunity" policy. By Robert Stevens, 8 April 2020. Whatever Johnson's personal fate, the herd immunity policy that landed him seriously ill in hospital has already contributed to many infections and deaths nationwide.
UK: Health workers threatened for wearing PPE and reporting danger to their lives. By Tony Robson, 8 April 2020. The threats to health workers have been particularly directed at any use of social media platforms such as Twitter and Instagram.
Vindictive court rulings prove British state wants Assange dead. 8 April 2020. Judge Vanessa Baraitser has decreed that Assange will remain behind bars and that his extradition show-trial will proceed in May, even as the coronavirus pandemic spreads rapidly in British prisons: here.
UK postal workers take unofficial strike action over lack of safety measures. By Paul Lee, 8 April 2020. Weeks into the pandemic, postal workers are still not able to social distance and have a lack of personal protection equipment when out delivering mail.
One out of three patients cared for by the Cuban medical brigade in Lombardy, Italy, has already been discharged, Granma newspaper reported: here.