This 25 November 2019 Dutch video is about the exhibition Young Rembrandt, rising star in the Lakenhal museum in Leiden, the Netherlands: the city where Rembrandt was born.
There are about 40 paintings, 70 etches and 10 drawings in the exhibition.
Besides work by Rembrandt, there is also work by his teachers Lastman and Van Swanenburg. And by his colleague Jan Lievens, and by Rembrandt pupils.
It is the first-ever exhibition about Rembrandt's time from 1624, when he made his first painting; till 1634, when he married Saskia van Uylenburgh and had definitely left Leiden for Amsterdam.
I visited this exhibition on 11 January 2019.
On my way to the museum, I saw four great cormorants sitting on a sail of the reconstructed windmill of Rembrandt's father. A fifth cormorant flew towards them, landing on the same sail.
In the Lakenhal now, two paintings depicting ancient Greek mythology, as told by Roman poet Ovid, hang side by side.
The oldest of the two was The abduction of Proserpina, from 1630-1631. The picture depicts Pluto, the god of the underworld, abducting Proserpina (Persephone in Greek), daughter of Ceres (Demeter in Greek), the goddess of agriculture.
Pieter Lastman, who taught the young Rembrandt, had inspired his pupil to make paintings about biblical history, antique history and mythology. Yet, if we compare what Rembrandt painted about and what his older contemporary and inspiration Rubens painted about, then we see a striking difference. 75% of Rubens' work had religious or antique historical and mythological subjects. With Rembrandt, only 25% of his work fitted into these categories. While 70% of Rembrandt's work were portraits, including self-portraits. Only 15% of Rubens' work were portraits; 0% self-portraits.
So, Rembrandt painted far less historical and mythological paintings than Rubens. Five of his works have themes from Ovid; less than many other 17th century artists.
In countries other than the Dutch Republic, these types of paintings often made complimentary allusions to contemporary princes and nobles, and/or were often commissioned by them.
In The Netherlands, there was no monarchical court comparable to this.
There was only the Stadhouder's court.
Which would have liked very much to be a princely court like elsewhere in Europe; but constitutionally wasn't.
Rembrandt got a commission from that princely court (princely, as the Stadhouders were also absolute monarchs in the tiny statelet of Orange in southern France).
But when his portrait of Princess Amalia von Solms, wife of Stadhouder Frederik Hendrik, turned out to be not flattering enough, his relationship to that court deteriorated.
An Hermitage Amsterdam exhibition noted that Stadhouder Frederik Hendrik prefered painters from the feudal southern Netherlands, though that region was the military enemy, to "bourgeois" northern painters like Rembrandt. He also prefered Gerard van Honthorst to Rembrandt as a painter of portraits of his wife. Honthorst was not from the Spanish occupied southern Netherlands. However, his home province Utrecht in the central Netherlands was less bourgeois rebellious than Rembrandt's Holland. And Honthorst had spent much time in feudal Italy.
Nevertheless, if compared to Rubens, Rembrandt painted many more portraits.
The sky in the Abduction of Proserpina painting is a special blue: lapis lazuli, which is expensive. He could afford that as the painting was commissioned by Frederik Hendrik; in 1630-1631, before that 1632 conflict on the portrait of Princess Amalia von Solms.
The Amalia van Solms portrait is not in Leiden. A Lakenhal worker explained to me that it had been complex to borrow Rembrandt works from other museums. It had not been possible to borrow the Amalia portrait from Paris in France.
Which is a pity, as that painting and its history are important for understanding the relationship between Rembrandt and his clients, whether princely aristocrats or urban bourgeois.
The Dutch weekly Leids Nieuwsblad of 18 July 2006 has a report by Werner Zonderop of a lecture, by Christopher Brown, of the Ashmolean Museum in Oxford, England, in Leiden. Chistopher Brown has put together this 2019-2020 Leiden rembrandt exhibition.
Brown's subject in 2006 was Rembrandt, then born 400 years ago in Leiden.
From the report (translated):
[Constantijn] Huygens [private secretary of Prince and Stadhouder Frederik Hendrik] made it possible for Rembrandt to get his first commissions at the Stadhouder's court [in The Hague].

In this way, in 1632, Rembrandt was allowed to paint the portrait of Amalia von Solms [1602-1675], the wife of Frederik Hendrik.

[She was thirty years old then; eighteen years younger than her husband].

However, the princess of Orange, [nee Countess of Solms-Braunfels], did not like the portrait as it turned out, at all.

She thought her appearance had not been idealized.

To her indignation, Rembrandt painted her too much as she really was: the mouth stiff and grim, knob-nosed and fat, with a rather stern look.
The Abduction of Proserpina painting, now in Leiden, is usually in the Gemäldegalerie, Berlin.
Next to it in the Leiden exhibition is a Rembrandt painting of one year later: The Abduction of Europa. No longer commissioned by the Stadhouder, but by an Amsterdam businessman.
It is about the Phoenician princess Europa being abducted by the Greek god Zeus (Jupiter in Latin), disguised as a bull.
Normally, that work is in the J. Paul Getty Museum in the USA. The two museums were only willing to send these two similar paintings to Leiden, because now for the first time ever they would hang next to each other.
Another conspicuous 1631 painting in the Lakenhal was a depiction of then 12-year-old German Prince Rupert and his tutor. An article suggests that the prince's father was not satisfied with the portrait, thinking there was too little emphasis on his son and too much on the non-princely tutor. So, Rembrandt left Leiden for Amsterdam and had his artist pupil Gerrit Dou finish the Prince Rupert painting. Prince Rupert would later play a role in the English civil war.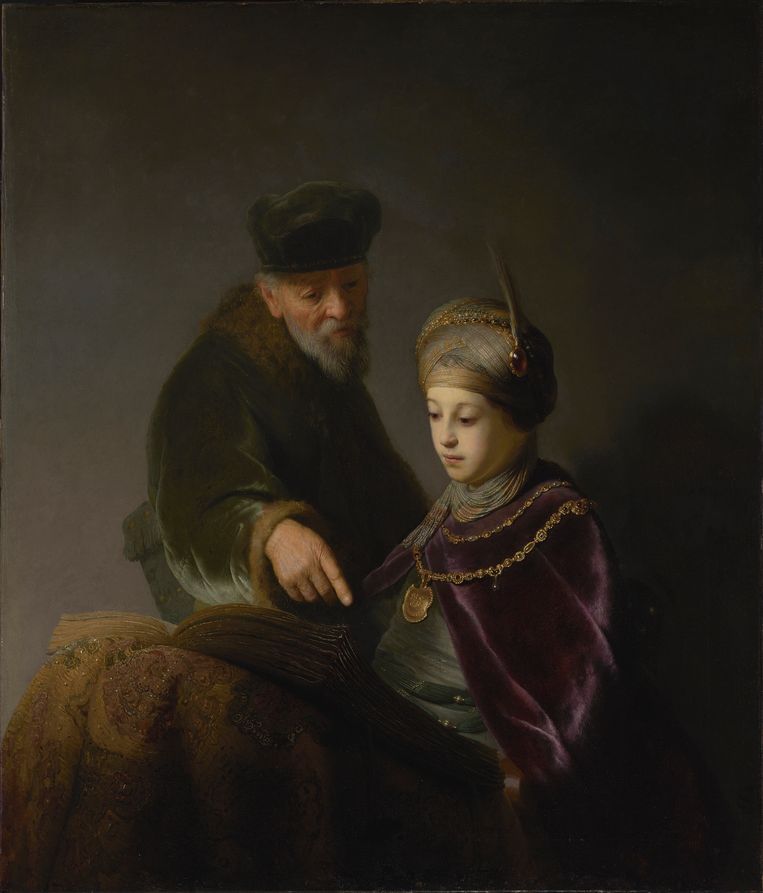 The Ashmolean Museum in Oxford, England will show this exhibition from 27 February till 7 June 2020.