This video from Grece is called Athens 6th December 2019/ 11th anniversary of the assassination of teenager boy Alexis Grigoropoulos.
From daily The Morning Star in Britain:
Sunday, December 8, 2019

Investigations after police brutality in Athens demo

GREEK police face investigations after being accused of brutality and forcibly stripping at least two people after a march marking the 11th anniversary of the murder of Alexis Grigoropoulos.

The ombudsman will examine files and video footage of the clashes that took place after Friday's rally in Athens, handed in by the Hellenic Police today.

More than 1,000 people took part in the march in memory of the teenager, who was shot dead in 2008 by an off-duty police officer, Epaminondas Korkoneas. He was released earlier this year following the introduction of a new penal code in June.

Footage of police brutality and humiliation began circulating on social media shortly after the demonstration. This included a man being stripped of his shirt before officers were seen to put their hand down his trousers, yanking at his underwear. He was taken to the police station and, according to Eurokinissi photographer Tatiana Bolari, was released without being charged.

A woman was seen having her clothing pulled up to her neck, while another appeared to be roughed up while yelling that she had nothing to do with the demonstration.

"These are photographs of remands, not arrests. Being remanded means being held until proven to have done something. Being remanded, or being arrested, does not mean being humiliated," Ms Bolari said.

Protesters marched to parliament, before some made their way to the spot in the Exarcheia district of the capital where the 15-year-old was murdered.

They were confronted by riot police and clashes followed, … after the demonstration was fired on with tear gas.

At least 50 people were detained by police, with 10 of them arrested.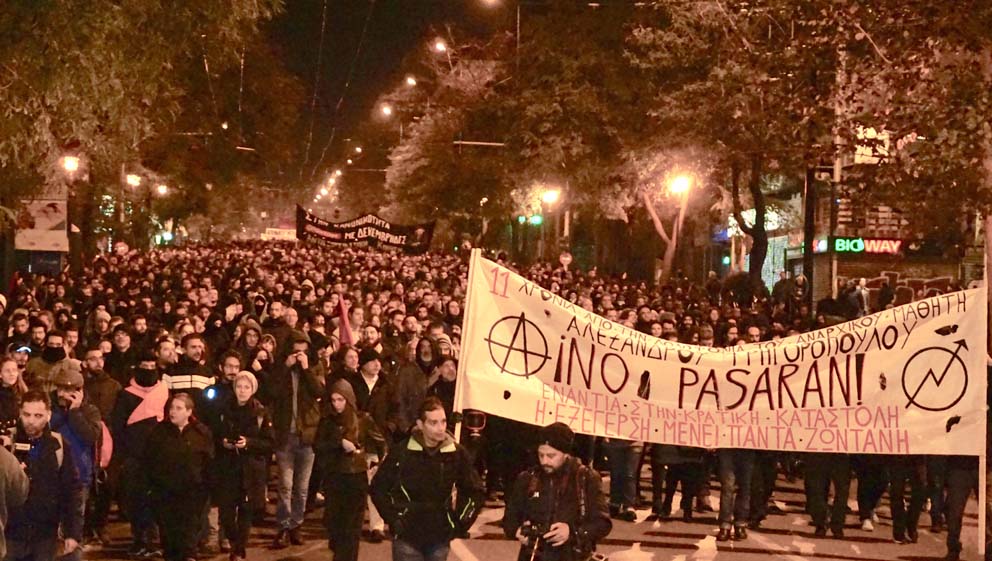 TENS of thousands of school and university students demonstrated last Friday in Athens and in all Greek major cities against the oppression and violence campaign carried out by the riot-police of the right-wing government: here.