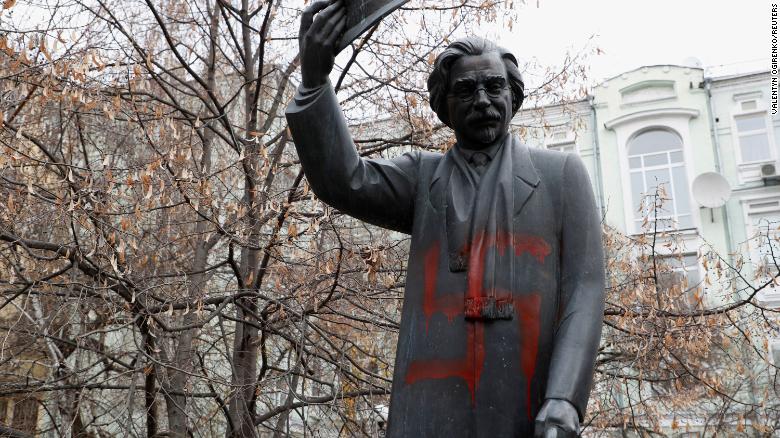 From CNN in the USA, 25 November 2019:
Ukrainian police are investigating a case of anti-Semitic vandalism after a monument to a prominent Jewish writer was vandalized with swastikas. …

Images on Ukrainian social media showed the monument, located across from the Brodsky Synagogue in central Kiev …

Ukraine has a large and thriving Jewish community, but community activists also report frequent cases of anti-Semitic vandalism. …

Born in 1859 in Russia, Sholem Aleichem was a Yiddish author and playwright known in the United States as the "Yiddish Mark Twain", according to Encyclopaedia Britannica.

Americans would know his writing best from the musical "Fiddler on the Roof". His works were adapted into the script surrounding the musical numbers.

Several of his other works were adapted and instrumental in the founding of the Yiddish Art Theatre in New York City.

Before his death in 1916, Aleichem published more than 40 novels, stories, and plays in Yiddish.

Last November, a man caused a commotion in a Baltimore theater last week by yelling "Heil Hitler! Heil Trump!" during a "Fiddler on the Roof" performance.
UKRAINIAN courts were today condemned for upholding a ban on the only newspaper opposing the country's "oligarch-nazi regime." Founded in 1897, Rabochaya Gazeta was banned earlier this year under Ukraine's reactionary anti-communist laws after it published articles quoting Karl Marx: here.