This 6 November 2019 video says about itself:
Bolivia Protests 2019 – victims of massacre
From daily The Morning Star in Britain:
Sunday, November 17, 2019

Argentina's president-elect calls on UN to intervene over massacres by Bolivia's coup regime

ARGENTINA'S president-elect Alberto Fernandez called on the UN to do something about the massacre of anti-coup protesters in Bolivia at the weekend.

He spoke out after Bolivia's self-proclaimed president Jeanine Anez granted immunity to soldiers who commit crimes while suppressing the demonstrations that have erupted against the overthrow of former leader Evo Morales by the military.

"The personnel of the armed forces who participate in operations for the restoration of order and public stability will be exempt from criminal responsibility when they act in legitimate defence," the decree reads. It also specifies that security forces may use firearms to put down protests.

"The de-facto government that has usurped power in Bolivia has conferred to the armed forces the right to act without having to answer for their crimes. The number of deaths grows. The Argentinian government [of Mauricio Macri, who will remain in office until December 10 despite losing the last election] is silent. The Organisation of American States endorses it. [UN human rights chief] Michelle Bachelet and the UN must intervene," Mr Fernandez tweeted.

At least nine Bolivians were killed over the weekend, with four protesters shot dead in La Paz and five in Sacaba, where a march on Cochabamba by thousands of coca farmers in protest at the coup was intercepted by the military. More than 30 people were injured and over 160 arrested.

Ms Bachelet's office expressed "concern" at what it said was evidence of 17 protesters' deaths and hundreds of arrests and called on Bolivian authorities to respect human rights.

And the Inter-American Commission on Human Rights condemned the "excessive use of force" against protesters.

A statistical analysis of last month's election has now been published by the Centre for Economic & Policy Research in Washington.

It confirmed that there is "no evidence that irregularities or fraud affected the official result that gave president Evo Morales a first-round victory."

In Venezuela, tens of thousands marched in the capital against "fascism in Latin America", condemning the coup against Mr Morales as well as the repeated attempts by Venezuela's self-declared "president" Juan Guaido to do something similar.

Mr Guaido also called for demonstrations in Caracas to demand the removal of President Nicolas Maduro from office.
Bolivia's racist coup is trying to drown resistance in blood: here.
FAR-RIGHT USES CRISIS TO SEIZE CONTROL OF BOLIVIA When Bolivia's socialist president, Evo Morales, stepped down last week after nearly a month of protests, it was right-wing opposition leader Luis Fernando Camacho who declared victory. Observers have debated whether the president was the victim of a coup, as he asserts, or a popular uprising. [HuffPost]
TENS of thousands of fake Twitter accounts were created to support the military coup against Bolivia's elected president Evo Morales, a new study suggests. Spanish party Podemos's head of social networks Julian Macias Tovar said that over 68,000 false accounts were set up to try to legitimise the army's overthrow of Mr Morales following his re-election last month and to justify the massacres of protesters against the coup that have followed: here.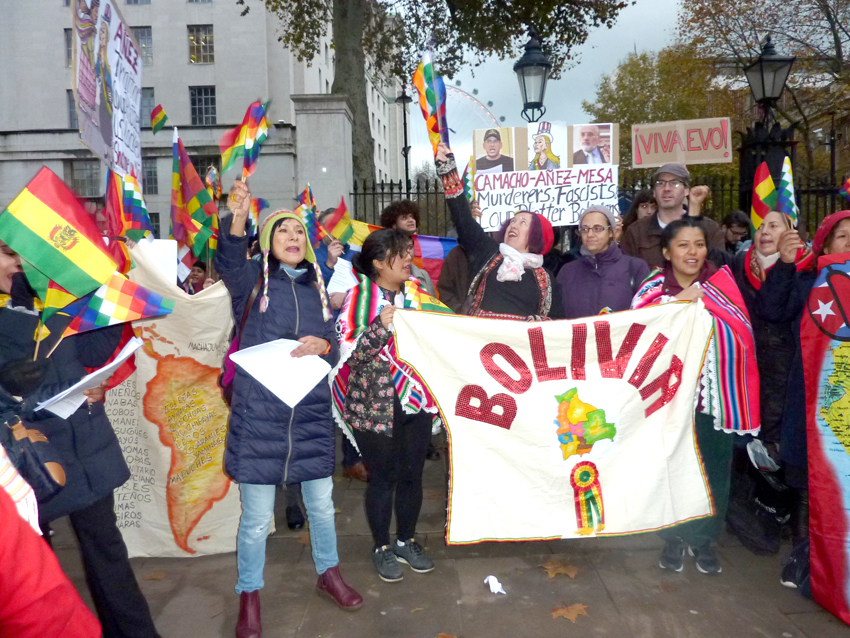 The coup d'etat in Bolivia – Statement by the Bartolina Sisa Resistance: here.
Eight more killed in Bolivian coup: here.
Bolivian police fire tear-gas at protesters bearing the coffins of their comrades: here.
As US-led capitalism declines, it's open season in the Americas. Alight with coups, counter-coups, and mass protest, our Latin America Conference comes at a most critical time for the continent, writes ROB MILLER.
The coup in Bolivia is an attack on democracy. The right-wing de facto dictatorship must be widely exposed, writes Matt Willgress.
'I saw the rise of a fascist state'. Speaking to the Adelante Latin America Conference, MIRIAM AMANCAY COLQUE describes the racist counter-revolution against the elections in Bolivia: here.
Argentina's President promises to legalise abortion: here.