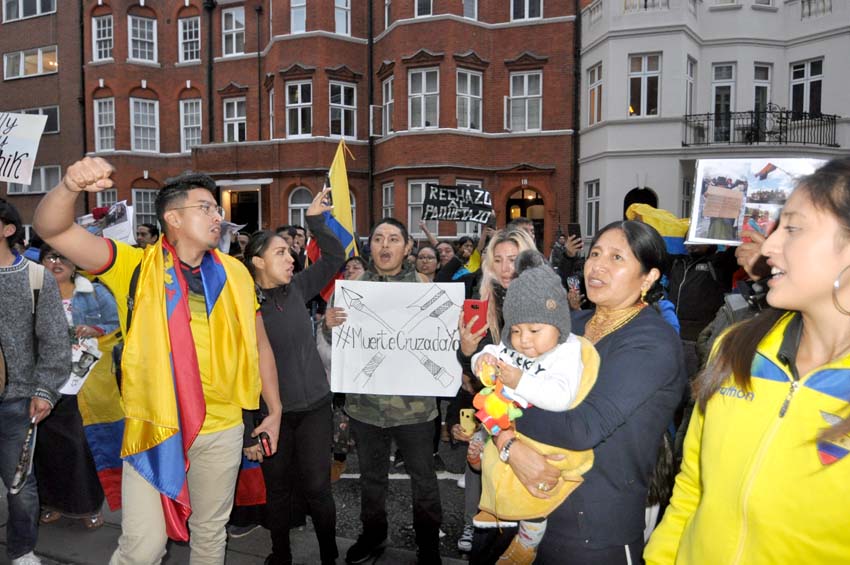 From daily News Line in Britain:
Ecuador revolutionary victory! Moreno forced to cancel IMF loan!

15th October 2019

ECUADOR'S President Lenin Moreno has been forced to back down and cancel the country's IMF loan after the revolutionary uprising sweeping the country won a historic victory.

Massive marches, fierce clashes with the police and action by the working class have taken place for nearly two weeks, paralysing the economy and forcing Moreno and his government to flee the capital Quito and move the government to the second city of Guayaquil.

The victory was announced just before 10.00pm local time on Sunday.

Moreno will now withdraw the International Monetary Fund (IMF) package that triggered a sharp rise in the price of gasoline and diesel by removing subsidies. The crippling debt meant savage austerity, job cuts and steep hikes in food and fuel.

The uprising, headed by indigenous leaders, held a live nationally broadcast 'negotiating session' with Moreno, during which the president of the Confederation of Indigenous Nations, Jaime Vargas, demanded the immediate cancellation of Moreno's October 1st decree ending fuel subsidies.

'This isn't a demand of the indigenous people, it's the demand of the country,' Vargas said. 'We haven't come to form negotiating commissions.'

A joint statement said the government had withdrawn the order removing the fuel subsidies.

'With this agreement, the mobilisations … across Ecuador are terminated and we commit ourselves to restoring peace in the country,' it said.

Government official Juan Sebastián Roldán said talks to start drafting a new law would start immediately.

Seven people died during the protests, more than 1,300 were injured, and 1,152 detained, according to official figures.

Protesters also took dozens of officers hostage in various locations throughout the country.

Indigenous-led protests have toppled three presidents in the past few decades.

But it was President Moreno himself who sparked the uprising by ending the $1.3bn (£1bn) annual fuel subsidy, claiming it was no longer affordable, and causing fuel prices to rocket by over 300%.

Moreno's government sacked thousands of public sector workers, slashed public spending and removed the fuel subsidy, all as part of a loan deal agreed with the IMF in March, which allowed Ecuador to borrow $4.2bn (£3.4bn).