This 2014 video says about itself:
Where Ships Go to Die, Workers Risk Everything | National Geographic

In Bangladesh, men desperate for work perform one of the world's most dangerous jobs. They demolish huge ships in grueling conditions, braving disease, pollution, and the threat of being crushed or stabbed by steel sliced from the hulls.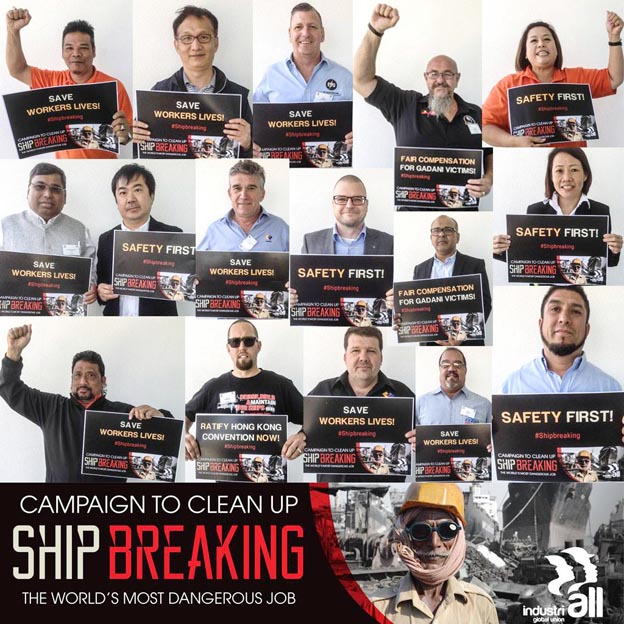 From daily News Line in Britain:
'Unceasing Fatalities' In Bangladesh Shipbreaking Industry

10th September 2019

'UNCEASING fatalities' continue in the Bangladesh shipbreaking industry, as two more workers were killed and thirteen injured in yet another incident at the Ziri Subedar Shipbreaking Yard at Sitakunda on 31 August.

The tragedy occurred at around 5.45pm as a heavy metal cable collapsed on the workers who were scrapping the ship CSL Virginia.

The deceased were Aminul Islam (50) and Tushar Chakma (25), meanwhile, the injured were admitted to hospitals in the city of Chittagong.

At the time of the accident at least 55 workers were deployed in the yard.

A police case has been filed at the Sitakunda Police Station.

On 31 July 2019, three workers were killed and another six were injured in an incident on the MT ATLAS ship at Mac Corporation, which is one of the oldest shipbreaking yards in Sitakunda.

The employer sent workers to scrap the ship's fuel tank without following appropriate safety procedures.

This led to a leakage of toxic gas which killed them.

On the same day another worker, Yousuf (45), was killed at Nazia Re-rolling mill at Gamariltol, North Shonaichori, after he was hit by a piece of iron.

On 23 July one worker, Shahidul Islam (30), died at the Kabir Steel shipbreaking yard in Sitakunda as he fell from the upper portion of a ship into an empty tank.

At least 14 workers have been killed in the shipbreaking industry so far in 2019 in Bangladesh, based on reports in the public domain.

A recent news article published by international trade unions federation IndustriALL in May 2019, provides details of accidents since January this year.

Kan Matsuzaki, IndustriALL shipbreaking director, said: 'We strongly condemn the unceasing fatalities in the Bangladesh shipbreaking industry.

These incidents show that lack of government supervision and employers' negligence continue to kill workers. The Bangladesh government must act quickly to implement the Bangladesh Ship Recycling Act of 2018 and ratify the Hong Kong International Convention for the Safe and Environmentally Sound Recycling of Ships.'

Apoorva Kaiwar, IndustriALL South Asia Regional secretary said: 'We clearly see that almost all of these accidents are absolutely avoidable. Laxity on the part of government and shipbreaking employers continues to kill workers. The government of Bangladesh should immediately step up the efforts to improve safety in Bangladesh shipbreaking yards.'

Over 150 shipbreaking members of IndustriALL affiliates benefited from a medical camp organised on 26 July at Shitakund, Chattogram.

The temporary clinic to provide a basic health check-up and free medical treatment to shipbreaking workers was organised by IndustriALL affiliates the Bangladesh Metal Workers' Federation (BMF) and the Bangladesh Metal, Chemical, Garments and Tailors Workers' Federation (BMCGTWF) as part of the IndustriALL and FNV shipbreaking workers projects.

It was observed that most of the shipbreaking workers face general health issues like body pain, fever and physical weakness, and a few workers presented with intense pain in the legs, knees and bones. Doctors provided prescriptions and advice for follow up diagnostics.

Mohammad Halim (27), a shipbreaking worker, said: 'Doctors at this medical camp were very friendly and they carefully explained my health problem. I am very happy that in addition to some health tips I also received medicines. We hope there will be more such medical camps in coming days, which will be very useful for me and hundreds of shipbreaking workers in this area.'

General physicians, orthopaedics and skin specialists from Chattogram Medical College Hospital participated in the camp and provided treatment for the shipbreaking workers.

Kan Matsuzaki, IndustriALL shipbuilding and shipbreaking director said: 'The health camp was organised to provide some basic medical support to shipbreaking workers in the absence of medical facilities near the yards.

'The government and employers need to take more meaningful steps to create good health infrastructure for shipbreaking workers.'

Apoorva Kaiwar, IndustriALL South Asia regional secretary said: 'We commend IndustriALL Bangladesh affiliates for taking this important solidarity initiative with the shipbreaking workers by organising health camps successively for the second year. We look forward to having similar fruitful interventions in future.'

Meanwhile, 701 workers have been laid off without any prior information at SF Denim Apparels in Dhaka, Bangladesh, as they came back after the Eid holiday on 18 August.

SF Denim Apparels cited 'work order shortage' and announced one of the largest terminations in Bangladeshi garment factories in recent times.

At least half of the 701 workers just fired wanted to form a trade union under the leadership of IndustriALL affiliate Sommilito Garments Sramik Federation (SGSF).

According to unions, SF Denim Apparels has consistently been obstructing efforts to organise and form a union.

In response to efforts to form a union in 2018 the company fired more than a hundred workers. 38 of them launched court cases against the employer, which are still ongoing.

The practice is continuing; in early August, days before the Eid vacation, five workers involved in union organising were laid off.

Nazma Akter, IndustriALL Executive Committee member and SGSF president, said: 'We are deeply concerned over the mass layoffs; the workers are obviously targeted over their involvement in union activities. To make matters worse, more than 30 of the terminated workers are pregnant and will now not receive any maternity benefits. We demand that SF Denim Apparels reinstate all the fired workers.'

SGSF has contacted brands that source from SF Denim, like C&A, H&M and Benetton, seeking their intervention to reinstate the terminated workers, but the union has yet to receive a response from them.