This 19 June 2019 South Korean TV video says about itself:
South Korean government proposes compensation for Japan's forced labor victims

After a 7-month review, the South Korean government now has a proposal in regards to a Supreme Court ruling on forced Korean laborers under Japanese colonial rule.

Our foreign affairs correspondent Lee Ji-won is on the phone for us.

Ji-won, tell us more.

Daeun, the government on Wednesday announced that it proposed to Japan, that the sued Japanese firms, Nippon Steel & Sumitomo Metal Corporation and Mitsubishi Heavy Industries should voluntarily contribute to a fund to compensate victims with the help of several unspecified Korean firms.

Korean victims of forced labor have won three court cases since last year, and the total compensation amount stands at 1-point-1-5 million U.S. dollars.

A foreign affairs official told reporters that they considered three factors, respect for judicial authority, the victims and the international regulation.

And should Japan accept this proposal, the government said it will consider accepting Tokyo's request for diplomatic talks.

Ji-won, any reaction from Japan or the firms? And how will the Korean and Japanese firms divide the payment?

Well, soon after the announcement was made, Japan's Kyodo news agency reported that Takeshi Osuga, the Foreign Press Secretary, held a press conference. He said that the proposal does not solve South Korea's violation of international law and thus cannot be a solution.

Japan has been arguing that it's already compensated the victims when the two sides normalized their ties back in 1965.
Japan rejects Korean fund plan to compensate forced wartime labor: here.
By Peter Symonds:
US alarmed over end to South Korea-Japan intelligence sharing

30 August 2019

The Trump administration has expressed serious concern over South Korea's announcement last week that it will abandon its intelligence-sharing agreement with Japan which is due for renewal in November. Seoul's decision is part of the deepening rift between Washington's two military allies in North-East Asia over economic and strategic issues.

On Wednesday, Randall Schriver, the Pentagon's top official for Asia, said the US was alarmed that South Korean President Moon Jae-in was ending the pact known as the General Security of Military Information Agreement (GSOMIA). He called on the two countries to ensure their disputes did not impact on security issues.

"The United States has repeatedly made clear to the Moon administration that this decision would have a negative effect on not only the bilateral relationship with Japan, but on US security interests and those of other friends and allies", Schriver stated. In a thinly-veiled shot at China, he added: "I would emphasise the only winners in the Japan and Korea feud are our competitors." …

While nominally aimed against North Korea, the GSOMIA is primarily directed against China. Japan and South Korea host large US military bases and are integral to the Pentagon's anti-ballistic missile system aimed at neutralizing any Chinese counterattack in the event of war. The agreement was designed to facilitate the type of rapid information transfer needed in high-intensity conflict involving missile exchanges. Previously, South Korea and Japan shared intelligence with the US, which then had to pass it on. …

Tensions between South Korea and Japan have been escalating since Tokyo imposed restrictions on July 4 on the export of three key chemicals critical to South Korea's production of semiconductors and digital displays. Japan has a virtual monopoly of one of the chemicals known as photoresist, which is crucial for many high-end electronic products. Without providing any evidence, Tokyo claimed to have security concerns about the practices of South Korean importers.

This month Japan removed South Korea from its so-called "white list" of trusted countries that are not required to apply for licences to import specified technologies from Japan. It includes more than 1,000 dual-used goods and technologies that could potentially be used in military production, but are essential for much of South Korean manufacturing. Japan again used security concerns as the pretext for its trade penalties. South Korea responded by removing Japan from its own preferential trade list.

While Tokyo has publicly denied it, the reason for its punitive measures is in retaliation for a decision by South Korea's Supreme Court last year ordering Japanese corporations to pay damages as compensation for forced Korean labour during World War II. The Japanese government has insisted that any such claims were settled in a 1965 treaty, under which compensation was paid to the South Korean government. Seoul declares that the treaty did not preclude individual legal claims.

The governments in both countries are exploiting the tensions to whip up nationalism in an effort to shore up support at home and divide the working class.
This 2015 South Korean TV video says about itself:
Japan′s hate speech rallies against Koreans rise sharply ′혐한 구호′ 또 등장…뒷짐 진 아

Ultra-right wing groups in Japan are going all out with hate speech rallies targeting ethnic Koreans.

While local governments are calling for legal measures to stop the rallies, skeptics accuse the Shinzo Abe administration of turning a blind eye.

Hwang Sung-hee reports. Insults against Koreans fly across the streets of the Japanese capital, Tokyo.

"Let′s get rid of cockroach-like Koreans."

"Japan should cut diplomatic ties with Korea."

The number of hate rallies against some 500-thousand ethnic Koreans has risen sharply in Japan.

The campaigners say they cannot tolerate the privileges, such as the right to vote and access to welfare, bestowed to Korean residents.

They justify the racial discrimination as their "right to freedom of speech".

"What I′m doing is politics. Some say politics and discrimination is different, but it′s all the same."

It′s a serious matter that has been taken to the international stage.

In August, the United Nations′ human rights committee demanded Japan add hate speech to legislation that bans racial discrimination.

In December, the Supreme Court upheld a ruling by Osaka′s high court, in the city with the largest Korean population, which ordered an ultra-right group pay a 120-thousand dollar fine for its hate-speech rally.

But the Abe administration has remained passive, saying the issue is under review.

Since the beginning of the year, 24 local governments have taken the matter into their own hands, pressuring the central government to take legal measures.
The Peter Symonds article continues:
Significantly Japan announced its first trade restrictions at the opening of the campaign for the upper house election, in which Prime Minister Shinzo Abe is pushing for support to revise the constitution and remove restrictions on the country's military. …

South Koreans have boycotted Japanese goods and held anti-Japanese protests in the wake of Tokyo's trade measures, under conditions of growing restiveness and strikes by workers.

Washington is particularly concerned that the South Korean government is proceeding to tear up the intelligence-sharing agreement despite entreaties from top American officials. Stephen Biegun, US special envoy on North Korea, and Allison Hooker, director of Korea policy on the White House National Security Council, met with South Korean officials in Seoul on August 21 to urge them to maintain the pact. They were not told that the South Korean government was about to announce its withdrawal from the agreement the following day.

The Trump administration, however, set the precedent for Japan's actions in its use of trade penalties based on so-called "national security considerations"—previously regarded as being out of bounds in international relations. It has used "national security" as the rationale for imposing tariffs on steel and aluminium, and threatened Mexico with tariffs if it did not bow to US demands to halt the flow of refugees.
That the US Trump administration sides with the right-wing Abe administration in Japan in this is not so surprising. As the Trump administration prefers Adolf Hitler-loving neo-nazis to anti-fascists.
As for the Abe administration and anti-Korean racist Adolf Hitler lovers: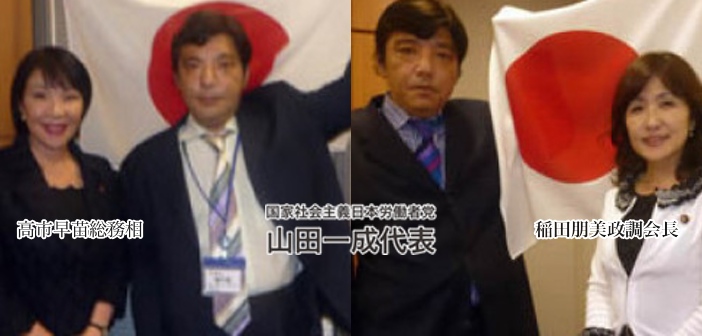 These pictures from Japanese neo-nazi leader Kazunari Yamada's Facebook website show him posing with Prime Minister Shinzo Abe's internal affairs minister, Sanae Takaichi, and Abe's party's then policy chief, Tomomi Inada; later minister of war … sorry for forgetting to use the euphemism 'defence' … of Japan.
TRUMP TWEETS VID WITH 'WHITE NATIONALIST' LOGO President Donald Trump tweeted an independently produced video touting his record that included a lion logo linked to an anti-Semitic and white nationalist site that the Southern Poverty Law Center characterizes as an anti-immigrant hate group. [HuffPost]