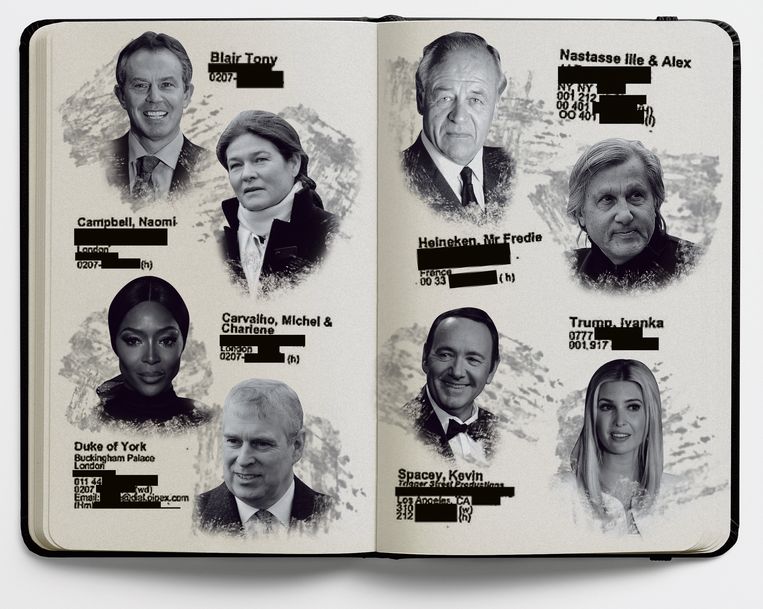 This picture shows a few pages from the 'black book' of recently deceased United States paedophilia billionaire Jeffrey Epstein: British ex-Prime Minister Tony Blair, British Prince Andrew, aka the duke of York, Donald Trump's daughter Ivanka, the late Dutch beer billionaire Freddy Heineken and his heiress daughter Charlene …
Translated from Dutch daily Algemeen Dagblad, 22 August 2019:
The Heineken family also had a place in Epstein's book

In Jeffrey Epstein's now infamous book, the names of two Dutch people appear among many hundreds of jet-setters: those of Freddy Heineken, who died in 2002 and his daughter Charlene. Did they know the US American multimillionaire accused of large-scale pedophilia?

By Sander van Mersbergen

… Further on [in Epstein's book] are the phone numbers of even more powerful people: Donald Trump, British Prince Andrew, Tony Blair. Princes, CEOs, former athletes. …

Jeffrey Epstein in his heyday had the telephone numbers of the entire world elite, and the Heinekens belonged to it, it now appears. Epstein's book has been called "Epstein's black book" in the USA. …

The document was put online in 2015, but attention was then limited to a lot of internet hits, Nick Bryant, the journalist who received a copy of the book in 2012 and shared it with Gawker, told Vanity Fair last month. American media paid little attention to the publication. The FBI had the book since 2009.

Jeffrey Epstein committed suicide
That is not the only possibility, dear Algemeen Dagblad.
Was it suicide by Epstein himself alone? Was it suicide, with 'help' by one or more other persons? Was it murder?
in his cell earlier this month. He had been arrested again on suspicion of large-scale abuse of underage girls. Earlier, in 2008, he had already been on trial, but that led to an extremely light prison sentence despite the strong allegations. At the beginning of this year, the judiciary in the USA ruled that the settlement on which this was based was illegal. Epstein was arrested at the beginning of July.

Now his address book has come to the forefront. Because Epstein had powerful friends. Did they know of his wrongdoing? Did they play a role in the highly controversial settlement that he reached with the judiciary in 2008? Why did ex-president Bill Clinton fly 26 times in the "Lolita Express", the private jet with which Epstein also flew minor girls to his private island?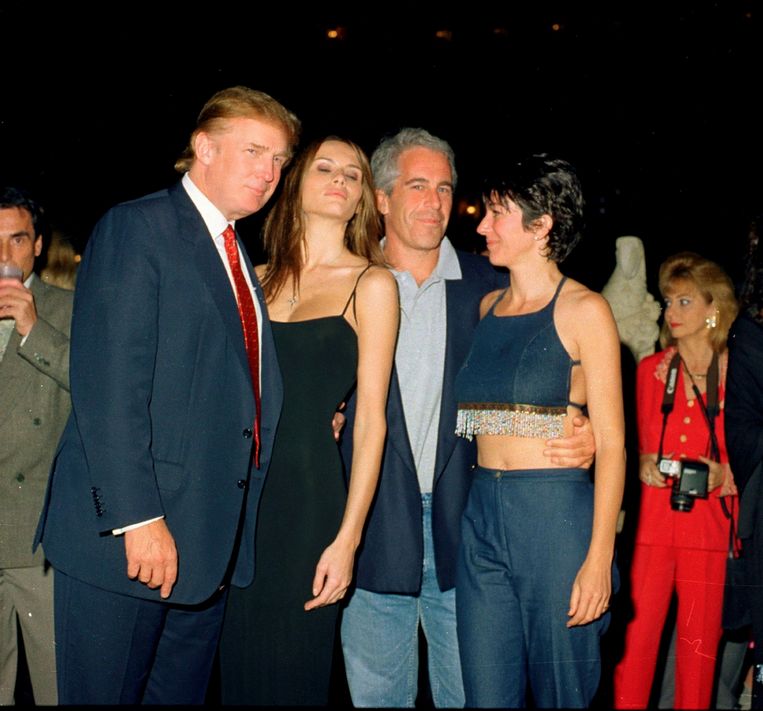 This Getty Images photo shows Donald Trump with Melania, now his wife, Jeffrey Epstein and his girlfriend and alleged procurer Ghislaine Maxwell, at Trump's Mar-a-Lago estate in Florida in 2000.
According to New York magazine, the address book shows that Epstein was deeply rooted in the highest social circles. But what exactly does it mean if you, being a celebrity, are in the Epstein booklet? Nick Bryant puts it this way: "The majority of individuals in the book are not criminal accomplices, but some of them will certainly have knowledge of uncomfortable truths about Epstein."

Until now, nothing was known about links between the Heineken dynasty and the late financier. …

Extremely rich

If the Heinekens and Epstein ever met, then there is a greater chance that this happened in Europe. A specific indication of a possible meeting place can also be found in Epstein's address book. Under the heading "Switzerland" there are two locations in the Swiss ski resort St. Moritz, including the world-famous Corviglia Club. That is a ski club for the nobility and wealthy people, of which Freddy Heineken was vice-president in the 1990s. …

On the wall were pictures of the winners of the Golden Girl ski competition. Among them Charlene Heineken, Princess Caroline of Monaco and Tina and Cristina Onassis. …

The fact is that Epstein had the data of many regular customers of the Corviglia Club in his address book. Relatives of the Rothschilds, of the brewery family Furstenberg and of the Greek shipowners Niarchos and Livanis were also on the list of members of Corviglia and in the address book of Epstein. The US American had an apartment in Paris anyway in Europe, where he often stayed for longer periods.

Heineken biographer Vermeulen also does not know whether Epstein and Heineken have met. "One thing is certain. Both had access to the highest jet set circles. Then, there is a good chance that your paths will cross each other at some moment."
Prince Andrew was seen getting foot massage from young woman at Epstein's apartment – report. Incident was recounted in an email exchange between a prominent US literary agent and author Evgeny Morozov: here.