This picture is a 1690 engraving by Johann Ulrich Krauß. It shows a story much older than 1690. It is an illustration to the long poem Metamorphoses by Roman poet Ovid.
In book V of Metamorphoses, Ovid writes about a minor god in Greek polytheism, Ascalaphus. He was the custodian of the orchard of Hades, the god of the underworld. Hades had abducted Persephone, the daughter of Demeter, the goddess of agriculture. The supreme god Zeus decided that Persephone had the right to return to her mother, if she had not eaten anything in the underworld. Persephone had just eaten a few pomegranate anils. The only one who has seen that was Ascalaphus. He told the other gods. That meant that Persephone had to stay in the underworld, at least for six months of the year.
Persephone was so angry that she changed Ascalaphus into an owl by sprinkling him with water of the underworld river Phlegethon. The Johann Ulrich Krauß engraving depicts this metamorphosis from humanish divine form to owl.
The engraving caption says that Ascalaphus becomes a 'Stein-Eule'. The modern German name for this owl species is Steinkauz. The English name is little owl. Ovid does not specify which owl species Ascalaphus became.
K. Sara Myers wrote in the American Journal of Philology that he became a screech owl. However, these American owls were unknown to Ovid and other Roman empire age Europeans.
Ovid writes in Metamorphoses, book V, lines 549-550 (translated):
So he became the vilest bird; a messenger of grief; the lazy owl; sad omen to mankind.
Deane Lewis writes:
Introduction

Throughout history and across many cultures, people have regarded Owls with fascination and awe. Few other creatures have so many different and contradictory beliefs about them. Owls have been both feared and venerated, despised and admired, considered wise and foolish, and associated with witchcraft and medicine, the weather, birth and death. Speculation about Owls began in earliest folklore, too long ago to date, but passed down by word of mouth over generations.

In early Indian folklore, Owls represent wisdom and helpfulness, and have powers of prophecy. This theme recurs in Aesop's fables and in Greek myths and beliefs. By the Middle Ages in Europe, the Owl had become the associate of witches and the inhabitant of dark, lonely and profane places, a foolish but feared spectre.
Unfortunately, at some times and places in human history, including India and Zimbabwe, superstitious prejudices have arisen against owls. These prejudices can be overcome by education about these interesting and useful birds. Apparently also in ancient Rome, when we read Ovid's lines, there was anti-owl prejudice.
Deane Lewis mentions differences between Greek and Roman mythology on owls:
In the mythology of ancient Greece, Athena, the Goddess of Wisdom, was so impressed by the great eyes and solemn appearance of the Owl that, having banished the mischievous crow, she honoured the night bird by making him her favourite among feathered creatures. Athena's bird was a Little Owl (Athene noctua). This Owl was protected and inhabited the Acropolis in great numbers. It was believed that a magical "inner light" gave Owls night vision. As the symbol of Athene, the Owl was a protector, accompanying Greek armies to war, and providing ornamental inspiration for their daily lives. If an Owl flew over Greek Soldiers before a battle, they took it as a sign of victory. The Little Owl also kept a watchful eye on Athenian trade and commerce from the reverse side of their coins.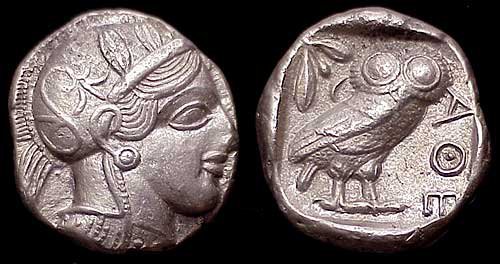 This photo shows a tetradrachm coin from ancient Athens, after 499 BCE. On one side, Athena, the protector goddess of the city. On the other side, the little owl, the goddess' bird.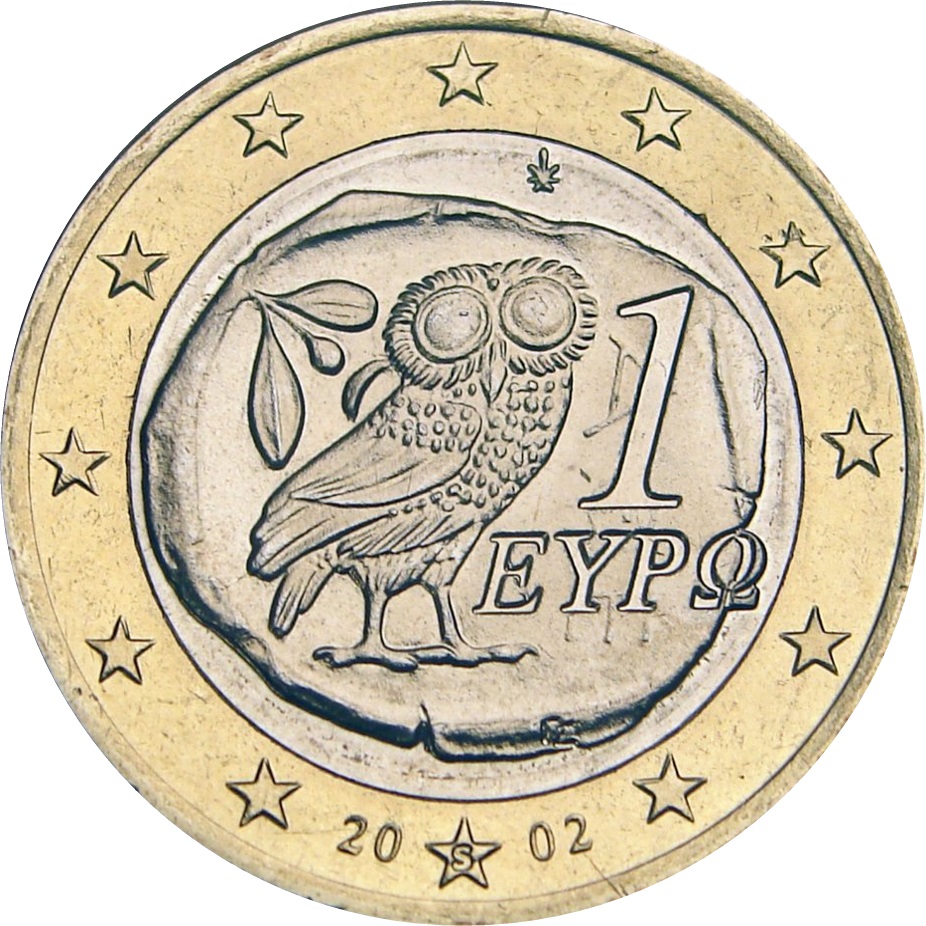 This photo shows a Greek 1 euro coin with a little owl, from 2002.
'While the owl was seen by the Greeks as a protector, the Romans saw it more as a harbinger of doom', this blog says. So says Paul D. Frost; and the British Bird Lovers site.
Diana Lewis also mentions ideas about owls in Ovid's Roman empire, different from ancient Greece:
The Roman army was warned of impending disaster by an owl before its defeat at Carrhae, on the plains between the Euphrates and Tigris rivers.

According to Artemidorus, a second century soothsayer, to dream of an owl meant that a traveller would be shipwrecked or robbed.

Another Roman superstition was that witches transformed into owls, and sucked the blood of babies.