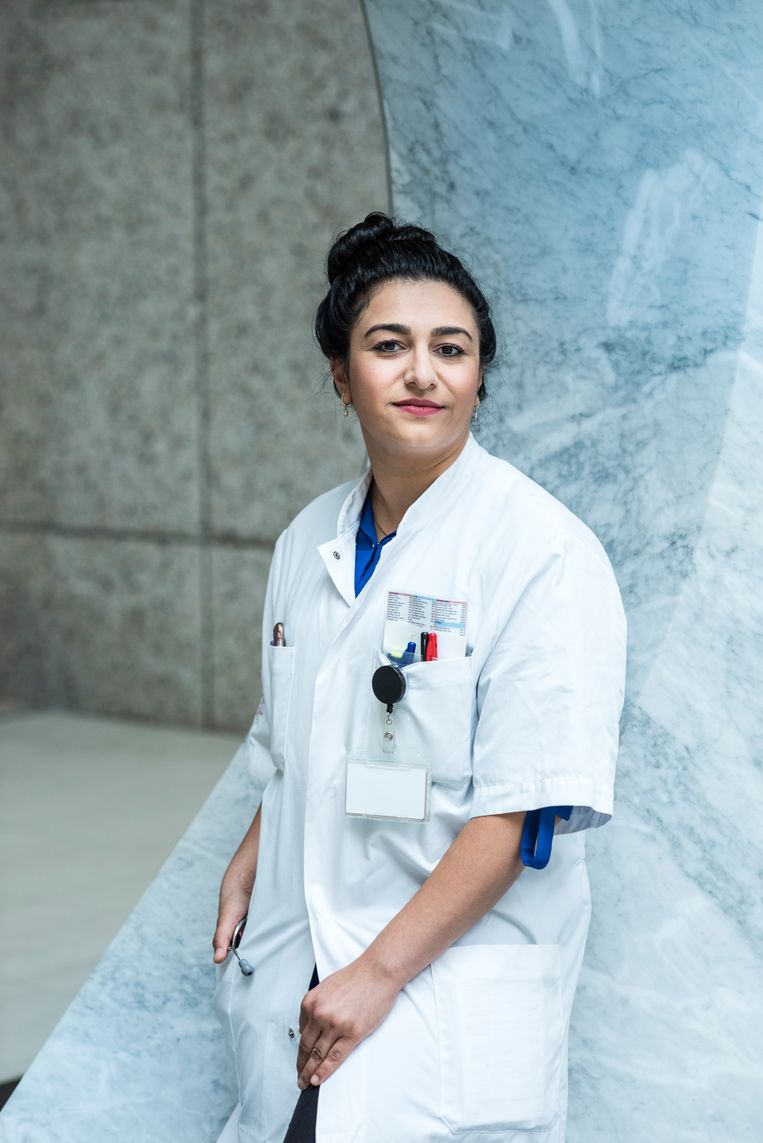 This photo shows Afghan refugee, Derakshan Beekzada, who recently became a doctor. Her Dutch friend Maartje saved Derakshan's life and education when she was a teenager; when the Dutch government tried to deport her refugee family back to the Afghan war.
Translated from Dutch daily De Volkskrant, 27 November 2018, by Ellen de Visser:
Living instead of Maartje

In 2004, 14-year-old Maartje knew: she is dying. Her friend Derakshan is in danger of being deported. Maartje writes a letter to Minister Rita Verdonk,
a bureaucratic and xenophobic right-winger
whether Derakshan would not be allowed to stay if Maartje would no longer be there. Fourteen years later, Derakshan, in the Netherlands, makes Maartje's dream come true.

In the fall of 2004, just after she heard that the cancer was back, 14-year-old Maartje van Winkel wrote a letter to Minister Verdonk in which she transfered her place in life. She will die, she will not live for much longer, so a place is available for her Afghan friend Derakshan.
Five years earlier, Derakshan and her parents and brother came to the Netherlands, fleeing the Taliban, but now she has been told that she must go back. She burst into tears in the classroom.

Two girlfriends, who both know how dangerous their lives are: the timid Derakshan, headscarf knotted under the chin, who still has to find her way, who startles when a man sits down next to her on the bus, at the Breukelen high school befriended the cheerful Maartje who gives her the feeling that she is welcome. After years of war, Derakshan knows what it feels like to face death; Maartje, defenseless against a disease that slowly destroys her, wants to make sure that her friend does have a future.

It is the year in which the conflict about the Dutch gpvernment's asylum policy started. The government has agreed with Minister for Immigration Affairs Rita Verdonk's plan to return 26 thousand asylum seekers who have exhausted all legal remedies to their country of origin. The decision leads to demonstrations, resistance by mayors, moving letters, protests by villages, school classes, football teams. Under the title "26 thousand faces", Dutch filmmakers film asylum seekers who are in danger of being deported, short films broadcast by the public broadcaster.

Derakshan is one of those 26 thousand faces. When the Jeugdjournaal (Youth News) TV show hears about the letter, the story of the two girlfriends becomes national news. On Christmas Eve, a heavily emaciated Maartje, a pink scarf around the bald head, looks into the television camera from the bed in her girl's room. "Derakshan could take my place if I will be no longer there", she says. "I always wanted to be a doctor, so she can do that for me." After the broadcast, 700 letters arrive at the Jeugdjournaal.

It is a reason for the minister to travel a month later to the coucil house home in Maarssen for a personal inquiry. Outside on the street, with a curious cat on the windowsill, the Jeugdjournaal catches her after the conversation. Verdonk understands the emotions, she says. "But we also have laws in the Netherlands. Derakshan has been safe here for a number of years and she can now return to Afghanistan."

Three months later, on a Monday morning in April, Maartje dies, unaware of the future of her best friend.

Thirteen years later, a weekday afternoon in April, a full lecture hall at the Emma Children's Hospital in Amsterdam. The same hospital where Maartje, after months of hope, once heard the fatal diagnosis: department F8 Noord, pediatric oncology. Her friends are there. The former neighbours. The vice-president of her school. Nurses from then. The radiotherapist who is already retired. The doctor. The music teacher from her old school wears the framed portrait that has hung with him in the classroom for so long.

Judith Koorn, the mother of Maartje, presents the book that she wrote about the life of her daughter, the heartbreaking story of a girl who, for all her inexplicable complaints, was not taken seriously for far too long. There were doctors who thought she was begging for attention, who referred her to a psychiatrist. When a thorough orthopedist finally had an MRI scan made, it turned out to be too late, there was a tumour in her spine that had caused metastases. The disease showed its cruel side, the cancer ran wild, Maartje had to endure a horrible dying process.

Just before she died, she told about her fear that no one would ever mention her name again. Her mother writes that everything she had said and had done might be erased over time. But ask her doctor, ask the teachers at her school, the doctors who treated her, the presenter of the Jeugdjournaal, the girls from her class, and the fellow villager who left a letter on her grave, and they all tell the same thing: that they have learned so much from Maartje. …

"When she realized that her world was finite, she wondered what else she could do."

"She could think beyond her own illness", recalls Liesbeth Staats, presenter of the Jeugdjournaal at the time. "She knew she wasn't going to make it but she remained clear and sober. Derakshan had to go back and the argument in the asylum discussion was always: there is no place here. Maartje's response was: then I give up my place, literally, then she can get my social security number and later my scholarship, she doesn't have to cost anything. There was nothing to argue against that except that Verdonk said no."…
Maartje's legacy has been decisive for one young woman. She sits in the front right of the lecture room that afternoon, attentively and confidently, the long dark hairs loose around her face: Derakshan Beekzada, 29, has made her best friend's dream come true. Every day she accompanies cancer patients as a doctor at the Antoni van Leeuwenhoek Hospital, the story of her friend is in the back of her mind. "I dedicate my success to her", she says. "Much later I read her letter, she wrote: I'm dying, can she be me? It can still silence me."

Escaping from Afghanistan had to be in a hurry, late at night. She hated that she could nottake her doll along. She remembers changing cars again and again, a boat which nealy capsized, endless nightly walks through mud and the last long part in a truck. Somewhere along a Dutch highway they are dropped.

She had never been to school, 11-year-old Derakshan; that was not allowed by the Taliban, who had taken over large parts of Afghanistan four years earlier. When she arrives at the asylum seekers' center in Driebergen, she can only write her name, but in a year and a half she will learn all the material of primary school. She might go to junior high school, but it became senior high school. She works hard, writes flawless Dutch, is one of the best students in the exact subjects. "I can't remember her ever scoring less than [maximum score] 10", her maths teacher says. Director Dick van Steenis can remember her flawlessly after all these years. "If all students would have 10 percent of her perseverance, then everyone would succeed here," he says in his office.

The first tests in her third high school year are only just finished when everything changes. The Taliban have been driven out, Afghanistan is once again considered a safe country, Derakshan has to return with her parents. She realizes what that means: her father has serious heart problems, her mother is being treated for ovarian cancer, not only will medical care will be lacking there, she will soon also have to earn a living in a country where she does not know her way. And although the Taliban are no longer in power, their influence is still great. Friends and relatives have fled or been killed, her parents are terrified.

The school takes action at the initiative of a few teachers involved. All a thousand students write on a card why Derakshan should stay, a local florist makes roses available and so the class goes on a Tuesday for the Christmas holidays with a thousand roses and a thousand tickets in a bus to The Hague. The camera of the Jeugdjournaal records how Derakshan pushes the wheelchair of the sick Maartje towards the Ministry of Justice, a bunch of roses on Maartje's lap.
It is an image that summarizes everything, says Van Steenis, deputy school principal: "A girl whose life would end and a girl whose life might very well end, in a different way." Only then does Derakshan hear of the letter by her female friend. "It is not easy to write in a letter: I am dying. It was very brave that she could put that on paper", she says a week later when the Jeugdjournaal comes to film at her home. …

Two years after Maartje's death, the fourth Balkenende government, of which Rita Verdonk is no longer a member, is putting an amnesty arrangement into effect. A year later, Derakshan hears that she can stay on the day when her father was able to leave intensive care. He had a heart attack in the courtroom during the last case he conducted against their deportation. …

Rita Verdonk says she has no need to look back on the case.

Judith Koorn, Maartje's mother, describes the Friday afternoon in November when her daughter gets her death sentence in the hos[ital. The chemotherapy that initially seemed to work is no longer effective. The treating oncologist is not there, his replacement tells Maartje that she still has ten weeks to live. It appears blunt and brusque. In the parking garage they discover that they have switched on the light of the car, the battery is empty, the car does not start. Much later they drive home in the dark, through the pouring rain, on the A2 highway, totally devastated.

It will prove symbolic for the misery to come. With the death of Maartje, friends and acquaintances disappear. "I saw people diving away, no one ever called again", she says. "The outside world will avoid you if you lose a child, that is a nasty loneliness."

The only one that keeps coming is Derakshan. "I unconsciously tried to take over tasks from Maartje after she died, to become a kind of new daughter. My parents really encouraged me in this. Friends told me they didn't know what to say to her mother. Could they still remind her of Maartje? Wasn't that too painful? Understandable. Then, looking away is easiest. …

Yet it is not strange that Maartje's cancer has gone unnoticed for a long time, says Utrecht orthopedic surgeon René Castelein. The Ewing sarcoma, the malignant bone tumor discovered in her, is rare, he says: every year it occurs in less than ten children. Usually that type of cancer reveals itself in the lower leg or arm, where a bump develops. You don't see anything on a back. Castelein is alarmed when he examines Maartje, has an MRI scan made and immediately sees what is happening a day later. "But I don't know," he says hesitantly, "if the disease had given such a convincing impression at an earlier stage." The last doctor, he says, the doctor who makes the diagnosis is always right. …

It is no coincidence that she wants to become an oncologist, says Derakshan, when, after her working day at the Antoni van Leeuwenhoek Hospital, she sits down at the restaurant. "What I experienced really plays a role. First my mother got cancer and I had to assist her as an interpreter while I barely spoke the language. And when my mother got well, my best friend died from the same disease. It's great that I now get the chance to cure people. Cancer patients realize that life can be short, they will appreciate everything so much more. I find that special."…

She no longer wears her headscarf, after a conversation with her father, she took it off in her last high school year. "I explained to him that it didn't make me a better Muslim and that the headscarf stopped me from being myself. People look at you differently, I noticed, it stood in the way of my development. That is also my fault, but my father said: if it feels better for you, you have to do it. From that moment on I suddenly succeeded in making it much easier to make contact."…

A year and a half after Maartje's death, her mother finds a rainy envelope on her grave. It contains a letter from a girl from the village. She is suffering from a major depression and she has recently attempted suicide. When she returned to school, she had heard that Maartje had died, and she found it so unfair that she had drawn strength from it. "You wanted to live so badly but it didn't work, I stayed alive while I didn't", she writes. "From your day of death I have always told myself that I should be happy with what I have, with who I am. I survoved thanks to you."…

For fourteen years, Derakshan was afraid she still had to return to Afghanistan, years in which it seemed impossible to become a Dutch citizen because she could not get the birth certificate that was required for this. Four years ago she was finally allowed to pick up her Dutch passport on a Monday morning in March. "Only then did I think: now I can really be someone here." Every day she puts on her white doctor's coat at the Antoni van Leeuwenhoek Hospital, she has her girlfriend in mind. "What she wanted to do for me was so great that I can never pay her back. I live my happiness in her name."