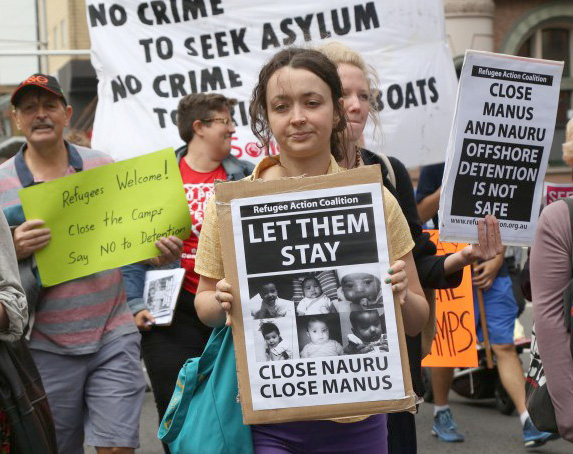 Translated from daily News Line in Britain, 23 July 2019:
'THE CRUELTY AND BRUTALITY ON MANUS AND NAURU HAS TO END' – Australian Refugee Action Coalition

'There is no good reason to keep these people on Manus and Nauru … The cruelty, the brutality has to end,' Chris Breen, co-organiser of Australia's Refugee Action Coalition (RAC), said last week.

He was speaking ahead of demonstrations and protests in towns and cities across the continent held over last weekend to mark six years since the then-prime minister, Kevin Rudd, announced that no asylum seeker who arrived by boat would be settled in Australia. Breen demanded an immediate end to the policy.

According to the UN High Commissioner for Human Rights, 'Australia's offshore processing centres are unsustainable, inhumane and contrary to human rights.'

Breen said: 'Enough is enough. We will be calling on the Morrison government to bring the refugees on Manus and Nauru to safety in Australia, where they can get the care and security they requested in 2013.'

Breen said his organisation and others are 'hugely concerned' about the post-election spike in self-harm incidents.

He said many of these individuals are 'vulnerable people who are fleeing torture, war, all sorts of persecution. And they have been imprisoned for six years.

Hundreds of asylum seekers, including scores of children, are still living in limbo on Manus Island and Nauru.

The sixth anniversary of Australia introducing 'offshore detention processing' should push the country to close a 'dark and bloody' chapter in its history, said Green Party Senator Nick McKim.

McKim travelled to Manus Island last Wednesday ahead of the anniversary of the introduction of the policy by the Rudd government on 19th July 2013, which stipulated that all asylum seekers who arrived by boat would not be resettled in Australia but be processed in Papua New Guinea and resettled there.

He was visiting those asylum seekers who remain on the island to check the conditions of the facilities there.

And last weekend thousands of people took part in protests around Australia at the weekend under the tagline 'six years too long'.

The Department of Home Affairs confirmed last week that 457 asylum seekers remain in Papua New Guinea.

'I'm going there to … remind the men on Manus, and the women and men on Nauru, that they've not been forgotten and that millions of Australians support them and don't support what's been done to them,' McKim said.

He said he expected to see conditions have deteriorated since his last visit in 2017, based on recent reports of a spike in suicide attempts.

'The situation is absolutely dire and it's been six long and bloody years for innocent people who stretched out a hand to Australia asking for our help,' he said.

'This is a dark and bloody chapter in Australia's story. It's time this chapter is drawn to a close and the men on Manus, and men and women on Nauru, get the freedom and safety they so desperately need and they so deserve.

'And the six-year anniversary, I hope, provides all Australians with a chance to reflect on lives that we have destroyed, and in some cases ended, in the pursuit of base domestic political agendas in this country.'

Kurdish refugee Behrouz Boochani said six years on Manus Island have fundamentally changed him.

'I was a hopeful and positive person but after living in circumstances like this, my body is damaged, my soul is damaged,' he said last week.

'But it's not only me – hundreds of people are physically and mentally damaged.'

The regional processing centre on Manus Island closed in 2017 but many asylum seekers, including Boochani, now live in camps in the main town of Lorengau.

He said the post-election spike in suicide attempts was just one of the reasons why the situation had become out of control.

'Most people are so depressed they are locked up in their rooms … They don't have hope.'

And Boochani said many asylum seekers on the island have become so desperate they don't even want to come to Australia anymore.

'What is important for us is to get freedom and it is not necessary that we go to Australia,' he said.

'Of course there are a few people who want to go to Australia because their families are living there but most people only want to get off this island.'

In 2016, the then-prime minister Malcolm Turnbull announced a new resettlement deal with the US where it would take 1,250 refugees held on Manus Island and Nauru in exchange for Central American refugees coming to Australia.

Advocates have criticised the rollout and pace of the deal, with around 580 refugees settled to date.

As for those who are not recognised refugees, they are forced to continue living in limbo on Manus and Nauru.

Although many asylum seekers claim these are not safe or realistic options.

'No one subject to regional processing arrangements will be resettled in Australia,' the Australian government spokesman said.

Asylum seeker advocates across Australia remain unconvinced that those in offshore facilities are receiving proper care and viable options to leave.

Eighteen different regional and metropolitan groups held actions around the country from Thursday to Sunday.
This 4 March 2015 Australian TV video says about itself:
Fight For Our Rights – National Protest March

Thousands of people have marched through central Melbourne as part of nationwide protests against what they call an attack on workers' rights by the Abbott government.
The News Line article continues:
The Morrison government's latest legislative attack on the rights of working people breaches two international conventions to which Australia is a signatory.

Research from the UK-based International Centre for Trade Union Rights has condemned the union-busting legislation, going under the name of the Ensuring Integrity bill.

The researchers found that the proposed Ensuring Integrity bill, which would allow the Minister, the government regulator and any person 'with sufficient interest' – which could include employer groups – to seek to have union officers disqualified or entire unions deregistered were 'incompatible with Australia's commitments under the ILO's Freedom of Association and Protection of the Right to Organise Convention, 1948 (No.87) and the Right to Organise and Collective Bargaining Convention, 1949 (No.98).'

It described the bill as 'harmful to workers, undermining to trade union democracy, and of no tangible benefit to the promotion of harmonious industrial relations.'

The researchers said no equivalent for the extreme measures could be found in any industrial democracy, noting: 'None of the industrialised democracies we surveyed entertain anything approximating to such a punitive regime.'

They said that the bill is even more oppressive than Turkey's laws that target working people's representatives, is most analogous to authoritarian regimes.

The nearest equivalent law identified is a 1943 act brought in under the Vargas dictatorship in Brazil.

The Australian Council of Trades Unions (ACTU) has repeatedly slammed the proposed laws as extreme, anti-democratic and ideologically motivated.

ACTU President Michele O'Neil said last week: 'This international research shows that the Morrison government is willing to break international law to pursue his extreme and dangerous agenda.

'Scott Morrison is willing to throw away more than 100 years of international cooperation so he can target the nurses, postal workers, public servants and teachers who hold voluntary officer positions in the body that represents them.

'Australia already has one of the most restrictive sets of regulations on workers' organisations among democratic nations.

'This extreme new law would align Australia with authoritarian, undemocratic countries.

'This bill will harm ordinary working people and lead to increases in wage theft and unsafe work.

'The only people who would benefit from these laws are the Morrison government and unethical employers,' said the International Centre for Trade Union Rights.