This 2019 photo shows six young pallid harriers in their nest in Groningen province in the Netherlands.
Translated from Dutch Vroege Vogels radio, 21 July 2019:
This summer, a pallid harrier couple has again succeeded in raising youngsters. In 2017, a breeding pair of pallid harriers was officially registered for the first time in the Netherlands. They raised four youngsters in a Groningen grain field in a protected nest. In 2018 there was a failed breeding attempt by the same female, but then paired, unusually, with a Montagu's harrier. And now in 2019 the story about the Dutch pallid harriers gets a very successful sequel.

Nest with six young birds

We had to wait and see if all six youngsters would make it. Large clutches like this are only possible in very good prey years. The male hunted in the fields and meadows in the area, but also flew through the backyards of local residents. And with success, because on the day the young harriers were ringed, measured and weighed, all six young birds were still present. At the beginning of July, just before the harvest of the nesting plot, all six youngsters fledged successfully.

This new success story about the pallid harriers in the Netherlands was only made possible thanks to the great cooperation by the farmer and the volunteers active at Collectief Midden Groningen with the help of our own experienced volunteers from Montagu's Harriers – Farmland Birds Knowledge Center (GKA).

News from Spain

In addition to this breeding success in the Netherlands, good news came from Spain. There, researchers found a pair of pallid harriers with a nest. For Spain this is the first officially established breeding pair of this species. And it turns out: the female of this breeding pair has a ring with the code C|3. A ring that she received in 2017 as one of the four youngsters of the first officially established pair [for the Netherlands and western Europe] of pallid harriers! And now she is half of the first breeding pair in Spain. She raised one young bird.
See also here.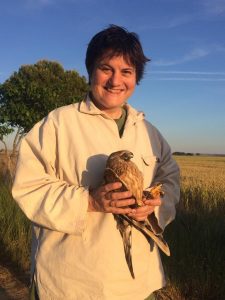 This photo shows Spanish harrier researcher and protector Ms Beatriz Arroyo with female pallid harrier C|3. C|3 was one of the four sisters which fledged in 2017 in Groningen province in the Netherlands; and now is the first mother pallid harrier which raised a young bird in Spain.
Ms Arroyo found the pallid harrier nest while looking for short-eared owl nests in northern Spain.