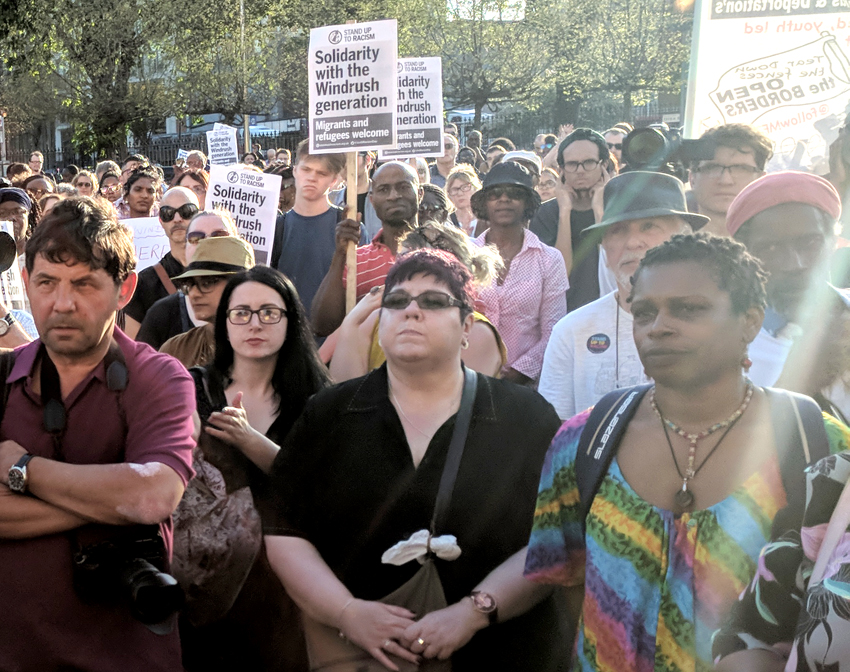 From daily News Line in Britain:
'INSULTING KICK IN THE TEETH FOR WINDRUSH GENERATION!' –David Lammy MP condemns knighthood to 'architect of Windrush policy'

13th June 2019

AS A PARTING shot and final 'kick in the teeth' to the Windrush Generation, Theresa May has awarded a knighthood to the Home Office official who was the architect of her 'Hostile Environment' policy against workers who emigrated to Britain from Commonwealth countries.

It was May who, as Home Secretary in 2012, declared that her aim was to 'create, here in Britain, a really hostile environment for illegal immigrants'.

May's department then sent out vans with messages telling 'undocumented migrants' to 'go home' emblazoned across them.

It was then under her premiership that the Windrush scandal subsequently erupted, when it finally came out that thousands of Commonwealth citizens had been targeted for deportation, with Home Office hit squads rounding them up, locking them up, deporting them, or leaving seriously ill people too afraid to access proper healthcare in case it led to their removal from the UK.

The health service was also recruited to implement May's 'hostile environment', with seriously ill cancer and other patients denied NHS care unless they could prove they were 'entitled' to it.

Glyn Williams, the Home Office's Head of Migration Policy between 2010 and 2013, and the current Director General for Border, Immigration and Citizenship, has been appointed Companion of the Order of the Bath for 'public service', in the Queen's Birthday Honours list under May's recommendation.

He had the key position in the Home Office when the hostile environment policy was developed and designed to make staying in the UK as difficult as possible for people without 'leave to remain'.

It emerged last year that many people have been wrongly detained, denied legal rights and threatened with deportation.

At least 83 were wrongly deported, with many being born British subjects who had arrived before 1973 from Caribbean countries.

Last year, Williams sat alongside May's successor as Home Secretary, Amber Rudd, while she was grilled by the Commons home affairs select committee over removal targets.

Rudd subsequently resigned after 'inadvertently' misleading MPs.

Responding to the news on Twitter, David Lammy, Labour MP for Tottenham, wrote: 'No words. Shameless. Insulting kick in the teeth for the Windrush generation. The government hasn't even confirmed how many British citizens were deported, imprisoned and denied their rights. Where are the knighthoods for the Windrush citizens abused by hostile environment?'

Other Twitter users were even more graphic.

'Well that's just a way to punch non EEA citizens who migrated or want to migrate legally with their families and loved ones right in the face. Horrifying to see this man being honoured. The reason why my husband's mother cannot stay with us.' – Uzma (@uzziwozzi)

'Action should have consequences but it seems that for those in politics whose actions destroy lives the opposite is true'….#Windrush – Minnie rolfe (@Minnierolfe1)

'You can colour me disgusted … but totally and utterly, unsurprised.' – Duncan Watkinson – ??- ?? (@dunkinzo)

'This is a disgrace. He's getting rewarded for racist policies that have ruined people's lives. This is so messed up.' https://t.co/l44KmiAskN — UK Uncut (@UKuncut)

'In UK racism reaps it own rewards. Chief architect of the #Tory "hostile environment" policy, racially targeting black people for illegal deportation, is given a Queens Award for ethnic cleansing services to the nation. Sickening.' https://t.co/ti9Opt11Em — Mr Lee Jasper (@LeeJasper)

Williams was one of a number of May's allies to be listed – which drew calls of hypocrisy after she previously slammed David Cameron for filling his list with cronies.

Nine other Home Office staff members have been awarded honours this year.

Current Home Secretary Sajid Javid admitted last November that 'at least' 11 people who had been wrongly deported had died since returning to the Caribbean.

Javid said officials had also been unable to contact many thought to have been caught up in the scandal, suggesting the toll could be higher.

He said there were 83 cases in which it had been confirmed people were wrongfully removed from the country and officials fear there may be a further 81.

The shadow home secretary, Diane Abbott, called the revelations a 'complete disgrace'.

Meanwhile, on Monday it was revealed that only 13 Windrush victims have been granted emergency support by the government so far.

Tory leadership contender and Home Secretary Javid trumpeted on Monday that he has apologised to another 49 victims of the scandal.

A total of 67 people have now received personal apology letters from Javid.

He said the experiences of some of the Windrush generation had been 'completely unacceptable' and he was 'committed to right the wrongs of successive governments'.

An estimated 500,000 people now living in the UK have been called the Windrush generation, in reference to the name of a ship which brought workers to the UK from Caribbean countries in 1948.

A review by a Home Office taskforce of 11,800 Caribbean cases in 2018 identified 164 who were deported or detained who might have been resident in the UK before 1973.

The Commonwealth Citizen Taskforce, which is open to all nationalities, was established by the Home Office last year to 'right the wrongs experienced by the Windrush generation'.

A compensation scheme for those affected opened in April and the government said there was 'no cap' on the amount victims could receive.

However, only 13 of the 91 victims who have applied under the scheme have been granted emergency support so far.

Ahead of the first official Windrush Day celebrations, two community organisations, BTWSC/African Histories Revisited and BritishBlackMusic.com/Black Music Congress, will mark Anti-University Now 2019, British Black Music Month 2019, Spirit Of AJY1987-88 and Windrush Day, by delivering two Windrush-themed presentations as part of this year's Anti-University Now alternative and radical education festival.

On June 17, music industry and history consultant Kwaku will deliver 'Windrush, Migration & Reggae', an interactive presentation which posits that the reggae genre or the global phenomenon that reggae has become, and which was recently accorded a place on UNESCO's cultural heritage list, may well not have happened had it not been for migration.

Firstly, that involved forced migration of Africans to the Caribbean, followed by voluntary migration within the Caribbean, and from the Caribbean to Britain.

The event at Conway Hall in Holborn, central London, will close with a formal acceptance on behalf of the Black Cultural Archives (BCA) by BCA chair Dawn Hill of an International Reggae Day award to the Windrush Generation, for their contributions to Britain's cultural landscape.

On June 19, Kwaku will present 'The Windrush Papers'.

This presentation puts Empire Windrush and the early Windrush Generation history into context by referencing circa 1945-1950 contemporaneous history, which contradicts some of the revisionist history currently presented as Windrush facts!

The aim of the event, which takes place at London Action Resource Centre in Whitechapel, east London, is both to celebrate the Windrush history whilst also pointing out historical inaccuracies within the received wisdom of the Windrush narrative.

Both events are free, and family-friendly. For more details or to book: www.BBM.eventbrite.com, www.AfricanHistoryPlus.eventbrite.com, and www.programme.antiuniversity.org.