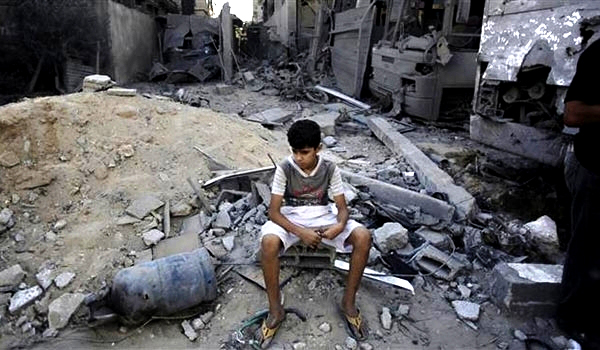 From daily News Line in Britain:
Nine Yemenis killed by Saudi airstrikes

27th May 2019

AT LEAST nine Yemenis were killed late last week as Saudi-led military aircraft carried out a string of airstrikes against an area in Yemen's southwestern province of Ta'izz.

Local sources, speaking on condition of anonymity, told the Arabic-language al-Masirah television network that the warplanes had struck a petroleum derivatives plant in the Mawiyah district of the province on Friday afternoon, leaving nine people dead and several others injured.

Earlier, Saudi-backed militiamen loyal to Yemen's former President Abd Rabbuh Mansur Hadi lobbed a barrage of mortar shells at a vegetable oil extraction workshop at Kilo 16 area of al-Hali district in the strategic western Yemeni province of Hudaydah.

There were no immediate reports about the extent of damage caused and possible casualties.

…

At the same time at least four civilians have been killed, and eleven others injured, in a Saudi airstrike in Yemen's north western province of Hajjah.

Saudi Arabia and a number of its regional allies launched a devastating campaign against Yemen in March 2015, with the goal of bringing the government of Hadi back to power and crushing the Houthi Ansarullah movement.

The US-based Armed Conflict Location and Event Data Project (ACLED), a nonprofit conflict-research organisation, estimates that the Saudi-led war has claimed the lives of over 60,000 Yemenis since January 2016.

The war has also taken a heavy toll on the country's infrastructure, destroying hospitals, schools, and factories. The United Nations (UN) says over 24 million Yemenis are in dire need of humanitarian aid, including 10 million suffering from extreme levels of hunger.

… Saudi Crown Prince Mohammed bin Salman has reportedly pledged to continue supporting Sudan's military transition council if Khartoum agrees to keep its forces in Yemen.

Bin Salman and General Mohamed Hamdan Dagalo, who goes by the nickname Hemedti, reached the agreement as they met in the Saudi city of Jeddah on Friday.

Last month, Sudan's military announced that it had unseated [dictator] Bashir and proceeded to imprison him. It then set up the Transitional Military Council (TMC) to rule the country and promised to hand over the power after elections.

But protests, the pressure of which forced Bashir out, have continued in Sudan, with people demanding that more civilians be on the council than military figures during the transition period.

Saudi Arabia and the United Arab Emirates have pledged $3 billion to Sudan, where protesters demand that the ruling junta hand power to civilians.

But Saudi Arabia and the United Arab Emirates have announced their support for the transitional military council. They have also expressed support for measures taken by the council following Bashir's ouster.

Last Tuesday, the leading Sudanese protest group Sudanese Professionals Association (SPA) called for a general strike as the ruling generals in the country refused to grant a demand for the establishment of a civilian-majority transitional body.

The SPA said that after two late-night negotiation sessions with the army generals, they failed to reach an agreement as the army was still insisting on directing the transition and keeping a military majority on the council.

Sudan, under Bashir, had forged close relations with Saudi Arabia after renouncing ties with Iran.