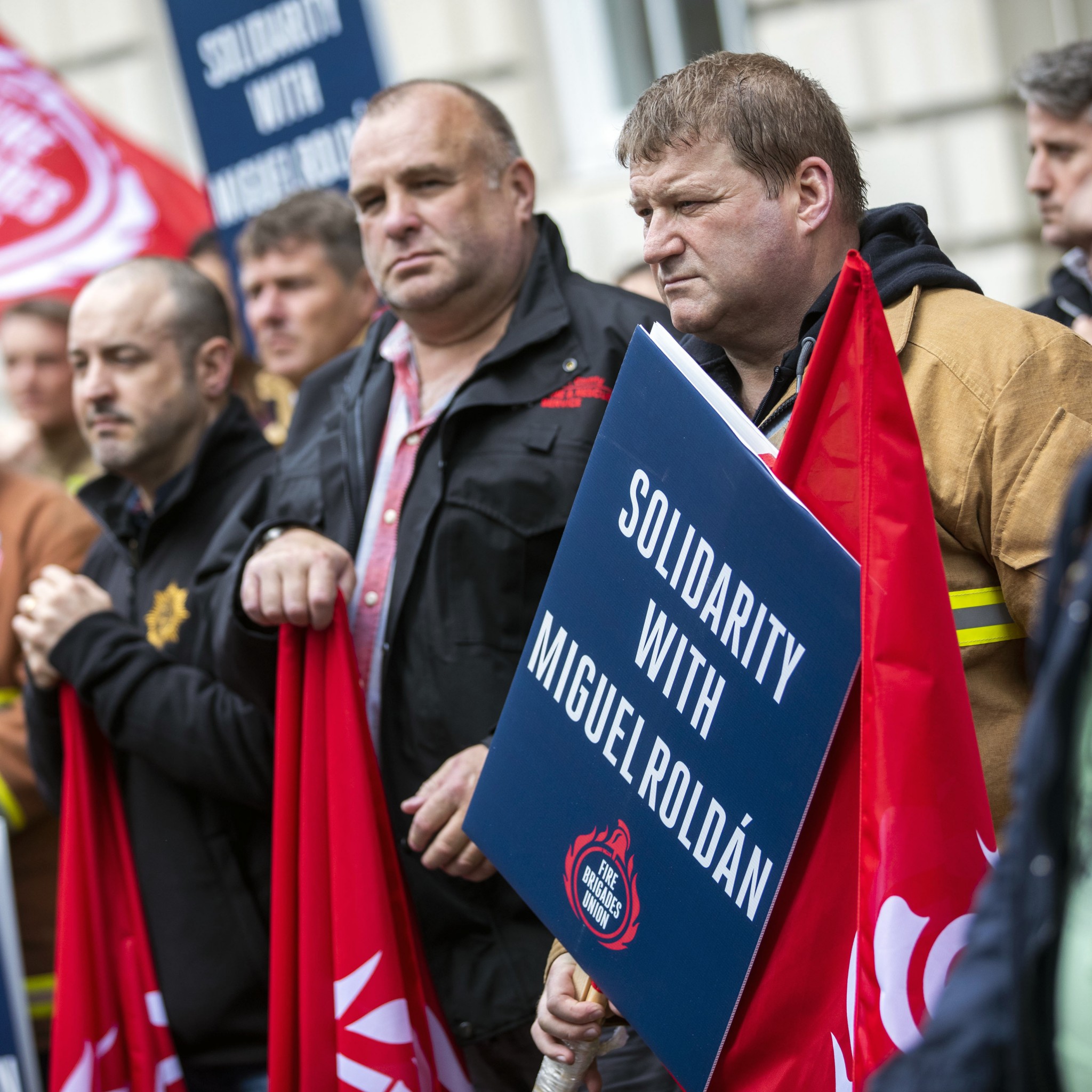 From daily News Line in Britain:
RELEASE MIGUEL ROLDAN! Spanish firefighter faces jail for rescuing refugees

11th May 2019

UK FIREFIGHTERS protested outside the Italian embassy in London on Thursday in support of a Spanish firefighter facing prison for rescuing refugees.

Fire Brigades Union (FBU) activists called on the Italian government to drop its investigation and end its anti-migrant crusade.

Spanish firefighter Miguel Roldan faces 20 years in prison for helping to rescue drowning refugees in the Mediterranean. Italian authorities have accused him of aiding illegal immigration and working with human traffickers, amidst pressure from far-right politician Matteo Salvini.

Matt Wrack, FBU general secretary, said: 'The charges against Miguel must be dropped. Firefighting is a humanitarian profession and Miguel was carrying out humanitarian work.

'We cannot stand idly by while one of our own is punished for trying to save lives.

'Across Europe, Salvini and politicians of his ilk are spreading hatred. We will not allow racists and fascists to divide us. We stand with those fleeing war and terror who seek safety, refuge and security.'

Nottinghamshire firefighter Brendan Woodhouse was previously held off the coast of Italy for 10 days in a refugee-rescue vessel, as port authorities refused to let the boat land.

The FBU called on Foreign Secretary Jeremy Hunt to aid in his release. Brendan spoke at Thursday's protest.

Brendan Woodhouse said: 'The criminalisation of humanitarian rescue has become all too commonplace. It's a stain on European politics to see rescuers threatened with prison.

'In January, I was part of a rescue crew threatened with prosecution for saving lives at sea. We had done nothing wrong. In the same way, Miguel is being taken through the courts. His crime? Saving lives!'

Italy has stepped up its hard-line stance against migrants since the appointment of far-right politician Matteo Salvini as Deputy Prime Minister and Minister of the Interior.

In response to pleas from humanitarian groups, the leader of the anti-immigrant League party tweeted that 'The ports have been, and remain, closed.'
CAPTAIN COULD BE JAILED FOR RESCUING MIGRANTS A German boat captain who claims to have rescued more than 1,000 migrants stranded in the Mediterranean Sea could face up to 20 years in an Italian jail on charges of aiding illegal immigration. [HuffPost]
Carola Rackete, 31, the German captain of the refugee rescue ship Sea Watch 3, was arrested at the Italian port of Lampedusa on Friday night after safely landing 42 people rescued at sea. The Italian government ordered her to be taken away in handcuffs and threatened her with heavy custodial sentences and fines: here.
GERMAN refugee-rescue charity Sea Watch won a legal appeal in an Italian civil court today freeing their ship, the Sea Watch 3, which had been impounded since the summer: here.
The acting Spanish Socialist Party (PSOE) government of Prime Minister Pedro Sánchez is threatening the migrant rescue charity boat Proactiva Open Arms with huge fines if it continues rescuing migrants. It is part of the mounting assault on migrants throughout the world by capitalist governments, which, facing mounting domestic political opposition, are promoting nationalism and xenophobia: here.