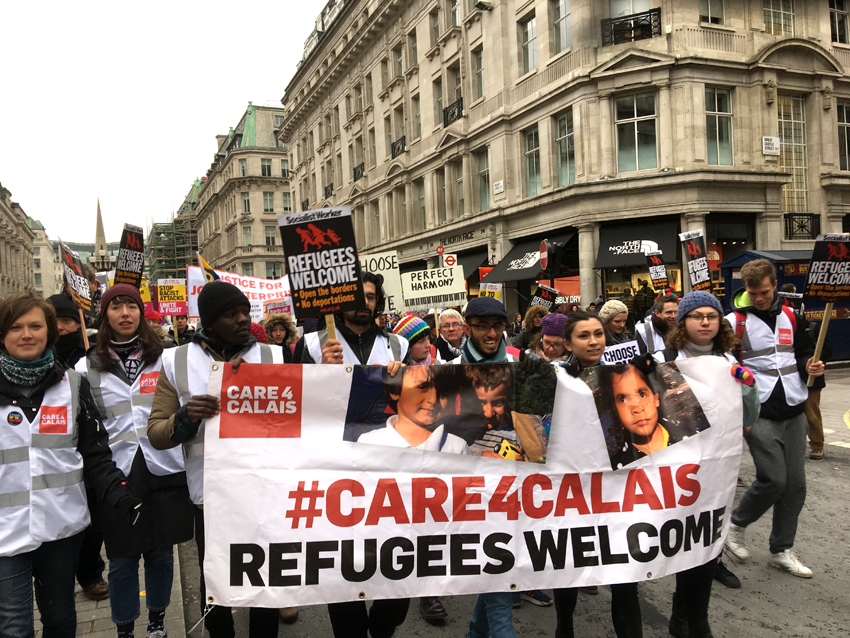 From daily News Line in Britain:
Javid's vicious anti-immigrant policies

7th May 2019

'It's Sajid Javid's first anniversary as Home Secretary, so we've taken a look at his track record,' Gracie Bradley, Liberty Policy and Campaigns Manager wrote last week.

So far he has:

1. Refused to end the hostile environment

Apart from pausing a few data-sharing agreements, promising a fairer and more humane immigration system, and rebranding to emphasise 'compliance' over hostility, this brutal set of policies has gone nowhere.

Without a firewall between immigration enforcement and essential public services, children's school records, patient data and police information on victims of crime are still handed to the Home Office.

And we now know that the government is secretly building a massive migrant database to embed border controls even deeper within our communities.

2. Left Windrush citizens facing continuing hardship

So far only nine Windrush citizens have been granted access to the emergency hardship fund.

The full compensation scheme was only launched a matter of weeks ago, to significant criticism.

Six hundred people have so far been refused leave to remain under the Windrush scheme and it's unclear what happens next: there is no legal aid for applicants, and no clear right of appeal.

An unknown number of people remain too fearful to come forward.

At least 12 Windrush citizens who were wrongly removed by the Home Office have since died.

3. Resisted calls to end indefinite immigration detention

Tens of thousands of people continue to be locked up without release dates every year on immigration grounds.

Ultimately, immigration detention must end.

In the meantime, the Home Office continues to resist calls for a 28-day time limit on detention which has support across every political party.

4. Continued the draconian and unnecessary practice of citizenship-stripping

The Home Secretary's reactionary treatment of Shamima Begum, and the subsequent death of her third child, have thrown citizenship-stripping into sharp relief.

This executive, extra-judicial measure is now routinely used in response to allegations of serious crime.

But there are more than enough offences on the statute books if investigations indicate that a person should be prosecuted for suspected involvement in criminal activity.

This is what the government has to do in the cases of British-born citizens who do not hold another nationality.

5. Introduced a counter-terror law that puts civil liberties at risk

The new Counter-Terrorism and Border Security Act criminalises mundane activities like clicking on online content, overseas travel, discussion of banned groups and publishing images – all without requiring criminal intent.

The new law also introduces intrusive suspicionless powers of search and detention at the border.

6. Accused critics of Prevent of being 'on the side of extremists'

Rather than engaging substantively with the breadth of concern about the government's discriminatory and counterproductive Prevent programme, that Liberty and many others have expressed over the years, instead, the Home Secretary accused these campaign groups of siding with extremists.

7. Backed the roll-out of spit hoods to police forces across the country

In his first major speech as Home Secretary, Javid called for these degrading and dangerous devices to be given to all frontline police officers.

8. Proposed criminalising children as young as 12 with new knife ASBOs

Police will now be able to apply for a knife ASBO where they suspect 'on the balance of probabilities' that someone has carried a knife in the last two years.

People – including children as young as 12 – may be limited in where they go, who they see, and what they watch online, based on a weaker standard of proof than they would face going through criminal proceedings.

Failing to comply with the orders is a criminal offence, funnelling children into the criminal justice system while doing nothing to address the root causes of serious violence.

9. Relaxed safeguards on stop and search – despite soaring race disproportionality

A black person is now nine times more likely to be stopped and searched than a white person, even though the rate at which prohibited items are found is similar across all ethnicities. Race disproportionality is even worse under suspicionless powers, but Javid has made them even easier to use.

10. Ignored police use of lawless facial recognition technology

Parliament has given scarcely any consideration to the impact that this inaccurate and discriminatory mass surveillance tool will have on our rights and freedoms.

This inaction has allowed South Wales Police to use it in public spaces at will, and the Met are considering whether or not to roll it out as an operational tool following a long and controversial trial.

Standing up to power

But the Home Secretary's inadequate performance has been met with acts of resistance across society.

More than 70,000 people have signed a Liberty petition to end indefinite immigration detention; and momentum is building across Parliament to amend the Immigration Bill to secure a 28-day time limit for everyone.

Liberty and Big Brother Watch have launched landmark legal challenges to stop unlawful police use of facial recognition technology. Liberty's case against South Wales Police will be heard later in May.

The Joint Council for the Welfare of Immigrants proved in court that the Home Office's landlord immigration checks cause discrimination and breach human rights.

And the movement for migrants' rights coalesced in support of the Stansted 15, whose peaceful direct action stopped a mass deportation flight.