This 19 April 2019 video about Paris, France says about itself:
The bees that live on the roof of Notre Dame are alive and buzzing, having survived the devastating fire that ripped through the cathedral on Monday.

Beekeeper Nicolas Geant told CNN that he received a call from the Notre Dame spokesman saying there were bees flying in and out of the hives. "Which means they are still alive!" Geant said.

"Right after the fire I looked at the drone pictures and saw the hives weren't burnt but there was no way of knowing if the bees had survived. Now I know there's activity it's a huge relief!"

Notre Dame has housed three beehives on the first floor on a roof over the sacristy, just beneath the rose window, since 2013. Each hive has about 60,000 bees. Geant said the hives were not touched by the blaze because they are located about 30 meters below the main roof where the fire spread.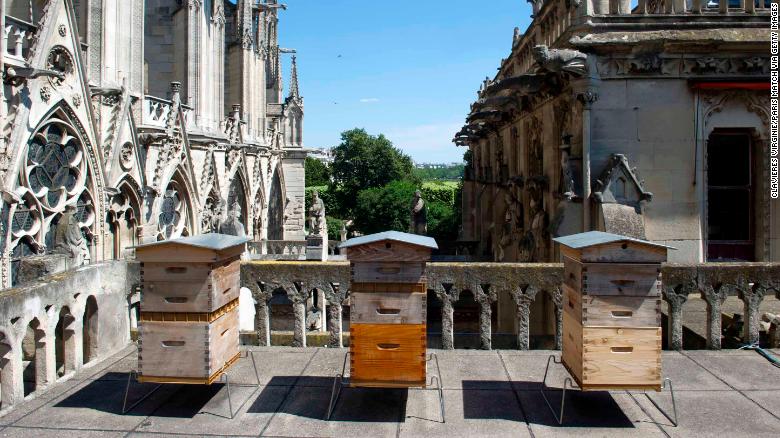 Translated from Dutch NOS TV today:
The bee colony that lives on the roof of Notre Dame also survived the fire. There was still uncertainty about this, but the three hives, in which 180,000 honey bees live, were not affected by the fire. The hives were placed on the roof in 2013 as a contribution to biodiversity in the center of Paris. They stood about 30 meters below the tip of the roof that burned down.

According to the beekeeper of Notre Dame, bees can survive a fire by filling themselves with honey as soon as they detect a fire. Insects have no lungs and cannot choke because of smoke. European bees will never leave their hive and will protect their queen at all times, beekeeper Geant says.