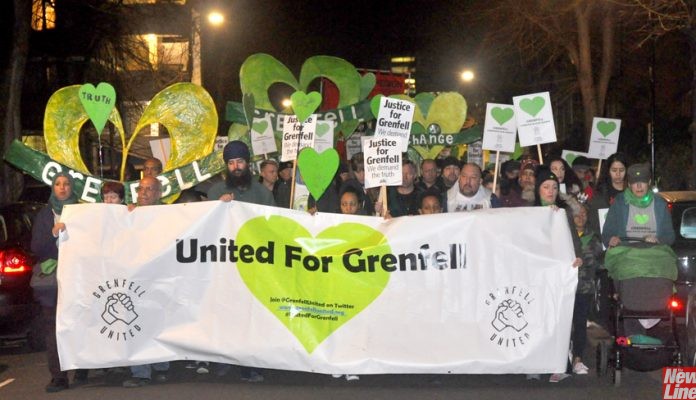 From daily News Line in Britain:
Saturday, 16 February 2019

'Grenfell must never happen again' – 500-strong Silent Walk

OVER 500 residents of north Kensington taking part in the 20th Silent Walk for Grenfell were joined by a large delegation of firefighters from the FBU Southeast region, from Oxford, and Hereford and south Wales.

A minibus with 15 students from Paignton in Devon travelled for over six hours determined to show their support. The students, all studying youth work at South Devon College were all moved by the Grenfell inferno and the loss of so many young lives.

Student Luke Ford told News Line: 'I'm angry that nothing has been done by the government to stop tragedies like this happening again. Whole families have died and we felt we must come here to give them our support.

'Our area is one of the most deprived in the country with a lot of our youth clubs cut.

'It's like north Kensington where there are hundreds of holiday homes empty most of the year and the cost of housing is high. With so many empty properties local businesses can't survive leading to more unemployment.'

A large number of local youth turned out for the walk. Riana Salman, who came with two friends said: 'I lost a number of friends and am here because we must not forget those who passed away.'

Youseff, a lecturer from Birmingham University said: 'It's important to show the connection Grenfell has made around the country and next march will have more students from Birmingham.' A solidarity Silent walk was also held in Milton Keynes last night.

Meanwhile, ahead of an extremely provocatively titled Channel 4 Dispatches programme, 'Grenfell: Did the Fire Brigade Fail?', to be aired on Monday, Matt Wrack, FBU general secretary, said: 'Firefighters risked their lives that night to save others, and were placed in an utterly impossible situation because of the failure of the building.

'Before any firefighter arrived, before any 999 calls were made, the building was a potential death trap. The building was wrapped in flammable cladding which caused the fire to spread at an unprecedented, and rapid rate.

'We have longstanding criticisms of fire and rescue policy in the UK, and have in the past made many criticisms of individual fire and rescue services, including the London Fire Brigade.

'The FBU has made urgent recommendations for a review of the stay-put policy, but we are clear that is a national matter which government should initiate. The government has been too slow to respond, both in terms of unsafe building materials and reviewing national fire and rescue policy.'
Monday, February 18, 2019. Channel 4 Grenfell documentary slammed for blaming firefighters for deaths: here.