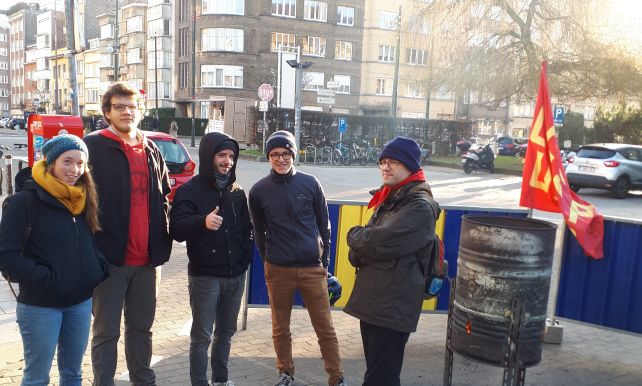 This photo shows Students for Climate students at a striking workers' picket in Brussels, Belgium on 13 February 2019.
Translated from daily De Morgen in Belgium, 13 February 2019:
Students for Climate talk to striking workers: "Solidarity is needed"

In Brussels, Ghent and Liège students of Students for Climate are visiting striking workers' picket lines today. While it is often suggested that pro-ecological change would make life more expensive. What happens when green and yellow vests meet? "We need solidarity today more than ever."

"I asked about their working conditions and why they were on strike today", says 21-year-old student Sacha Moens, who is just coming from a picketline at a Renault garage in Brussels. The reason why he is there today: "We believe that social justice and actions for the climate go hand in hand. The real polluters are the big corporations, not small people, so we have to support each other."

While some pro-climate students have gone to the Sint-Pietersstation [railway workers] in Ghent, the students travel in small groups through Brussels. It is a question of improvising, they say. Wherever there is a picket line, they want to ask what the striking workers want. "A few others have just moved to the South Station", says Montaine Kayaert (20), who studies at the Université Saint-Louis.

From a meeting point at the subway station Delta, the two Students for Climate will travel to the Solbosch campus of the ULB [university], while in the meantime a third student spontaneously comes along. On the campus, the two entrances are closed by a picket.

"For me, the most important reason to go on strike is the stalled wage negotiations", says Arthur Boriello, a young researcher at the Faculty of Political Science … . "But the government's pension measures also bother me. It is always said that the yellow vests and the green vests have opposite goals, because they march in France against a carbon tax, but that is not true. In fact, we all need solidarity today, only in this way can we take steps forward towards the future."
See also here.