This 7 January 2019 video from India says about itself:
2-Day Bharat Bandh As 20 Crore Workers Go On Strike Against [Central Government']s Anti-Labour Policies

Trade unions across India are observing a Bharat bandh as over 20 crore workers go on strike today and tomorrow in protest against the [central government']s anti-labour policies.
From daily The Morning Star in Britain:
Wednesday, January 9, 2019

All-India strikes continue on day two

INDIA was brought to a standstill for a second day today as an estimated 200 million people nationwide took strike action against the right-wing government.

Roads were blocked across the country and public transport was shut down in a number of areas, including West Bengal, Kerala and Mumbai.

Police responded by arresting scores of protesters, having already detained Communist Party of India (Marxist) leaders in West Bengal on Tuesday, on the first day of the strike.

Ten unions affiliated to the Centre of Indian Trade Unions (Citu) called the action after Prime Minister Narendra Modi's government rejected their 12-point charter of demands, which included a rise in the minimum wage and measures to boost the economy.

They are angry at "irrational" proposed amendments to the country's employment laws, warning that they threaten independent trade unions' ability to operate.

The Citu said the government has continued its "aggressive attack with arrogance on the lives and livelihood of working people."

Farmworkers joined the strike, as did large swathes of the public and private sectors. Marches took place across India and there was a large rally outside the parliament building in New Delhi.
From the World Socialist Web Site in India:
Mounting social anger seen in two-day strike against Indian government

By our correspondents

10 January 2019

Tens of millions of workers throughout India yesterday joined the second day of a 48-hour national protest strike against the hated pro-investor economic "reforms" of the Hindu supremacist Bharatiya Janatha Party (BJP)-led government.

While the capitalist media largely tried to black-out the strike, it was supported by broad sections of the working class, both in the so-called formal and informal sectors. Moreover, the strike cut across the caste and communal divisions that the ruling capitalist class has used for decades to channel social discontent along reactionary lines.

The large turnout reflects mounting working-class anger toward Prime Minister Narendra Modi's big business-backed government. During its four-and-a-half years in office, it has dramatically intensified a decades-long assault on the Indian working class, one of the largest in the world. This has included savage austerity measures, acceleration of privatisation, promotion of contract-labour, the gutting of environmental and workplace safety standards, and onerous tax increases on working people.

Chief among those taking part in the stoppage were coal miners, postal workers and dockers, as well as bank, insurance, telecommunication, transport and tea estate workers. Workers from government-owned industries were joined by those from global companies like Bosch, Toyota, Volvo, CEAT, Crompton and Samsonite.

Indicating the sharp class tensions and vicious response of the employers and governments, there were numerous reports of violent clashes, sackings and arrests of striking workers. In several states, such as West Bengal and Tamil Nadu, public sector workers defied government threats of dismissals, pay cuts and other disciplinary retaliation.

The most significant conflict erupted at the Daikin air-conditioning plant in the Neemrana industrial hub of Rajasthan, where 12 workers were arrested yesterday on trumped-up charges of rioting and attempted murder, with similar charges against some 700 unnamed workers. This was after police and security guards attacked a rally of about 2,000 strikers, using lathis (heavy iron-tipped sticks), rubber-coated pellets and tear gas shells on Tuesday.

This repression occurred less than 70 kilometres from the Maruti Suzuki car assembly plant at Manesar, in the neighbouring state of Haryana, where 13 workers have been sentenced to life imprisonment on frame-up murder charges. The 13 are the target of a company-government witch hunt for leading strikes and a plant occupation in 2011–12 against sweatshop conditions and precarious contract jobs.

According to reports, the impact of the two-day strike was substantial in key states, including Haryana and Rajasthan, as well as Maharashtra and Goa in the west, Punjab in the north, Kerala, Karnataka and Tamil Nadu in the south and West Bengal and Odisha in the east.

Private hospital workers and workers from the "unorganised" sector, including in the beedi and construction industries, as well as in retail and distribution, joined the strike in many states.

In Kerala, both state-owned and private buses were off the road. Public bus services were stopped in Karnataka and Haryana, where the Gurgaon-Manesar industrial belt is located.

In Mumbai, India's financial centre and second largest city, most banks and government offices were shut down and port operations were crippled. About 32,000 workers from the city's public transport service continued an indefinite strike for the second day, demanding higher wages and better working conditions, in defiance of a government Essential Services Maintenance Act (ESMA) order outlawing the strike. …

By joining the two-day strike, millions of workers have demonstrated their mounting hostility to the pro-market measures imposed by successive governments since 1991, when the Indian elite set out to transform the country into a cheap labour platform for global corporations.

This is the 18th national strike led by the CITU since 1991. …

India's much-vaunted "rise" has provided gargantuan wealth to a tiny capitalist elite while condemning the vast majority of people to poverty and economic insecurity, in which any misfortune—from illness to a job loss—can push a family into the social abyss.

Whereas India counted only two billionaires in the mid-1990s, it now boasts about 130—the fourth largest concentration in the world. Meanwhile, more than 70 percent of the population struggles to survive on less than $2 per day. Modi routinely seeks to entice global investors by emphasising that wages in India are no more than a quarter those in China.

The BJP won office in 2014 by pledging to create jobs. This has proven a cruel hoax. A Center for Monitoring Indian Economy study released this week estimated the unemployment rate rose in December to 7.4 percent. If those who have disappeared from the labour force since September 2016 are counted, the true rate is almost 13 percent—that is, more than 50 million unemployed.

To pursue the great-power ambitions of the ruling class, India also has formed a "global strategic partnership" with US imperialism and dramatically increased military spending. With the fifth biggest military budget globally, India now spends two-and-a-half times more on its military than on providing health care to its 1.3 billion people.

Underscoring the government's callous indifference to the concerns of working people, Finance Minister Arun Jaitley issued a tweet yesterday denouncing the strike. The multi-millionaire accused the "Left trade unions" of seeking "to manufacture a protest on non-existent issues."

The two-day strike is a part of an emerging international upsurge of the working class, from the Yellow Vest protests in France against the Macron government to US teachers and autoworkers, and Sri Lankan plantation workers who are demanding a doubling of their wages.
In another outbreak of massive working class struggles in India, about 700,000 teachers and state government employees in the southern state of Tamil Nadu have been on indefinite strike since Tuesday. They walked out over a list of demands that includes reversal of retirement pension cuts, pay increases and permanency for school teachers and anganwadi (day care centres) workers: here.
Thousands of striking Bangladesh garment workers continued demonstrations for a fourth day on Wednesday in the face of increasingly violent police attacks. The workers, who are among the lowest paid garment employees in the world, have long been fighting for decent wages to compensate for price increases in food and other basic necessities. On Tuesday, Sumon Mia, a 22-year-old garment worker, was killed and more than 50 others injured when police assaulted protesting workers. Sumon, who worked in the cutting section of the Anlima Textile factory in Savar's Kornopara area, was not involved in the demonstrations but was returning home from work: here.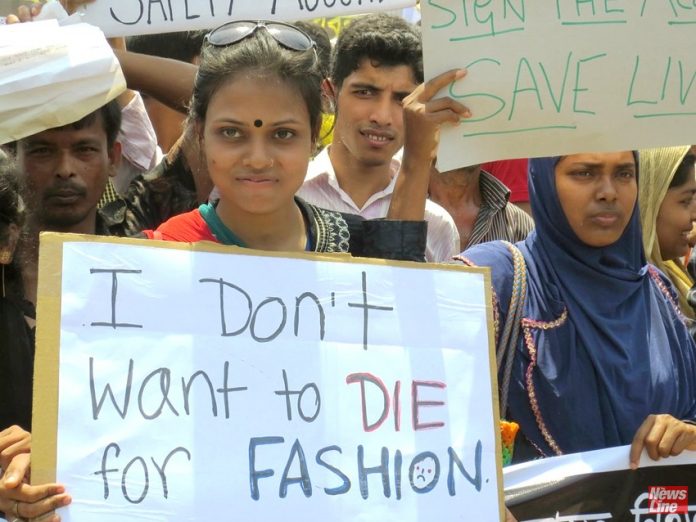 GARMENT workers have flooded the streets of the Bangladeshi capital, Dhaka, this week, clashing with police and denouncing the new wages structure introduced on 1st December last year: here.
Thousands of garment workers in the Ashulia district on the outskirts of Dhaka, the capital of Bangladesh, protested on Monday to express their opposition to a meagre wage rise announced by a government-appointed committee the day before. Heavily armed police backed by Bangladesh Border Guard troops dispersed the workers: here.
AS MANY as 11,000 Bangladesh garment workers were sacked in the wake of the pay strikes they waged in December and January, while many have also been physically threatened, attacked, arrested on trumped-up charges and blacklisted: here.