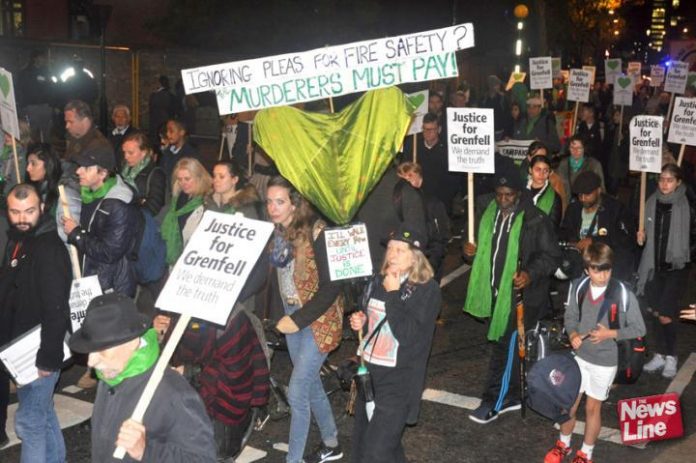 From News Line daily in Britain:
Friday, 14 December 2018

Grenfell fire 'could have been put out with an extinguisher' – Outrageous claim by cladding company!

CLADDING which burst into flames up the side of Grenfell Tower 'could have been put out with a simple extinguisher', cladding company Arconic has outrageously told the public inquiry, to the anger of survivors.

Arconic [aka Alcoa] is the company that made the Reynobond aluminium composite panels fixed to the side of Grenfell Tower which rapidly spread the fire. The fire rose 20 storeys in just 35 minutes to engulf the full height of the tower on 14th June 2017.

Straight after the fire, hundreds of tower blocks around the country as well as hospitals, schools and libraries were identified as having the same flammable cladding. However, 18 months later and there are still hundreds which have not been stripped.

Arconic made the Reynobond aluminium composite panels which were filled with plastic that burned with an intensity that has been compared to petrol. However, in a closing statement to the inquiry Arconic had the audacity to claim that it was possible no one would have died if other aspects of the refurbishment had been different.

Stephen Hockman QC, counsel for the US industrial firm, told the inquiry chairman, Sir Martin-Moore Bick: 'If the refurbishment of the interior window surrounds and the external envelope of the building had been carried out in a different way, it would have been possible for the firefighters to extinguish the fire in flat 16 before the fire even reached the cladding system.'

Referring to Behailu Kebede, the resident of flat 16, he claimed: 'A simple fire extinguisher in his hands would have made a big difference to the outcome.' From next Friday, use of combustible ACM panels such as the Reynobond PE 55 material that was used on Grenfell Tower will be banned.

However, the ban will only apply to new residential or school buildings over 18 metres tall, as well as new hospitals, care homes and student accommodation of the same height. Any building that is 17 metres tall or less can still have flammable cladding installed!

Andrew Morris, Assistant General Secretary of the NEU union: 'It is incomprehensible that there will not be a ban on combustible cladding on school buildings. The government has ignored the NEU's calls for urgent checks on all schools to look for combustible cladding and for a timeline for its removal. The government should take action to ensure that combustible cladding will never again be used in any school building.'
See also here.