This video says about itself:
Newly discovered video of public unrest on Austurvelli following the decision of the Icelandic government to join NATO in 1949, one of the most unpopular decisions in Iceland's otherwise peaceful political history (1944-2007).
After 2007 came more protests.
This video says about itself:
Public protest in Reykjavik, Iceland following the financial crisis. Public demands answers, unsettled regarding the state of the economy and prospects of the job market. Captured by BBC. Oct 26, 2008.
The 2008 financial crisis hit people in Iceland harder than anywhere else, because of the right-wing government's collusion with dodgy banking fat cats in an extremely Thatcherite economic policy.
Then, eight years later …
This video says about itself:
4 April 2016

Thousands of Icelanders "took to the streets" calling on the Prime Minister to resign, following allegations he benefited from offshore holdings in tax havens.

Sigmundur Gunnlaugsson and his wife are cited in the so-called Panama Papers as having hidden millions of dollars of investments in Icelandic banks through a company registered in the British Virgin Islands.

Read more here.
And now, in December 2018, there are again protests in Iceland against basically the same right-wing politicians. This time not only because of Panama and other financial scandals, but also because of misogyny, homophobia, etc.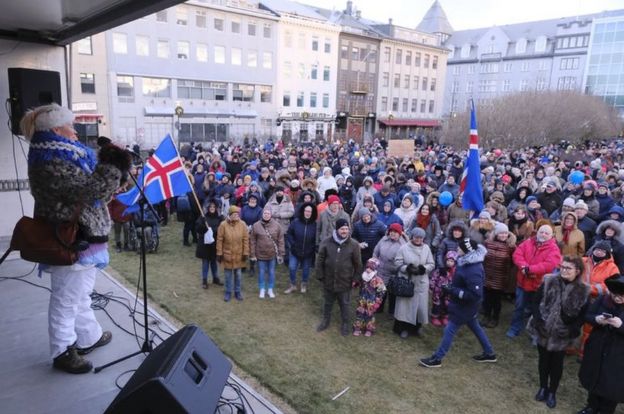 This photo shows the 1 December 2018 protest in Reykjavik, Iceland.
From the Iceland Monitor, 30 November 2018:
Furore has ensued as sound recordings of MP's of the Centre Party making comments about fellow women MP's were made public by newspaper Stundin. The male MP's made crude remarks such as one woman MP not likely to make it up the primary elections because she wasn't as "hot" as last year.

The MP's include Sigmundur Davíð Gunnlaugsson, who is the former Prime Minister of Iceland and hit headlines two years [ago] for involvement in the Panama Papers. He is now leader of the [right-wing] Centre Party.

Other MP's are Gunnar Bragi Sveinsson, Bergþór Ólason, Karl Gauti Hjaltason, and MP's for the [also right-wing] People's Party, Ólafur Ísleifsson and Anna Kolbrún Árnadóttir. Sveinsson is Iceland's former Foreign Minister and fronted the UN's "He for She " campaign, and wrote an article in the Guardian on the gender equality initiative. …

The recording was made at Klaustur bar on November 20th and the conversation, according to witnesses, was very loud, reports Stundin.

The comments, some of them very crude and using swearwords aimed at women discussed the looks and intelligence of female MP's.

Also in the recording, Sveinsson tells the others about how he appointed former PM Geir Haarde [of the right-wing Independence Party], found guilty of neglect after the economic collapse in 2008, as Ambassador in Washington DC.
From the BBC:
Iceland scandal over MPs' crude and sexist bar talk

By Laurence Peter BBC News

3 December 2018

There are calls for several Icelandic MPs to resign after they were recorded using crude language to describe female colleagues and a disabled activist.

Icelanders were especially shocked that the MPs' targets included ex-MP Freyja Haraldsdottir, a disabled woman and well-known disability rights activist.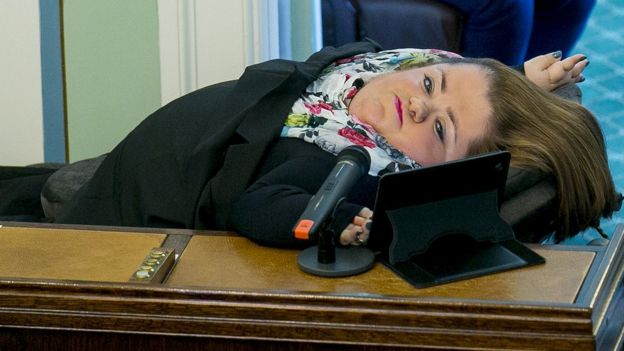 On Facebook Ms Haraldsdottir – who has osteogenesis imperfecta (brittle bone disease) – said former Prime Minister Sigmundur David Gunnlaugsson had apologised to her personally.

But she said the apology did not go far enough. "To apologise, while trying to explain, explain, and just lie about what happened, is not an apology."

"There are a thousand and one ways to express differences of opinion other than mocking a woman's body and appearance," she wrote on Facebook (in Icelandic).

Society in shock

The four Centre Party MPs and two MPs from the People's Party – all opposition politicians – were secretly recorded by a member of the public in a Reykjavik bar, Klaustur.

They are heard repeatedly using the word "bitch" and sexually charged language. A woman MP was in the group, but did not make similarly offensive comments.

The anonymous eavesdropper sent the recording to Icelandic media, and it then went viral on social media. He said he recorded them on his mobile phone because he was shocked by the language they used, the Iceland Monitor reported.

The MPs' conversation was more than three hours long. …

In the recording one of the group allegedly mocks Ms Haraldsdottir's disability by imitating a seal. According to Mr Gunnlaugsson, the sound came from a chair being moved, not from one of the MPs.
However, that proved to be a lie. And, like the Saudi absolute monarchy switched from lying that journalist Khashoggi was still alive to lying that Khashoggi was indeed murdered, but by 'rogue killers' who had nothing to do with Crown Prince Mohammed, ex-Prime Minister Gunnlaugsson switched from the chair lie to a bike lie. From the Iceland Monitor, 4 December 2018:
Centre party leader Sigmundur Davíð Gunnlaugsson said yesterday evening that the seal noise made at the Klaustur bar was not one of the MP's but probably a bike skidding to a halt outside the bar. His chair sound theory was proved wrong by journalists.

Disabled former MP Freyja Haraldsdóttir has responded on Twitter that it must have been the sound of the wheels on her wheelchair skidding outside the bar window.

The scandal of the recorded bar conversation by six MP's is being hashtagged as #klausturgate.
From the Iceland Monitor, 3 December 2018:
President of Parliament in Iceland, Steingrímur J.Sigfússon read a statement at Parliament today where he apologized on behalf of Parliament for the derogatory remarks made by six MP's about women, disabled people and the queer community. The matter is now under investigation by the parliamentary ethics regulations committee.

"The words used are inexcusable and indefensible. It is particularly indefensible how they spoke about women, women in politics, disabled people and gay people. It is important for a modern democracy to eliminate this kind of discourse, this uncultured talk from politics and we all have to help."
From the Iceland Monitor, 5 December 2018:
Iceland's Minister of Culture [Progressive Party member] Lilja Alfreðsdóttir appeared on the Kastljós news programme tonight, speaking for the first time about her reaction to the comments made about her in bar conversation two weeks ago, recorded by a witness.

"I experience this as violence. They are perpetrators of violence", said Alfreðsdóttir about the comments made by former PM Sigmyndur Davíð Gunnlaugsson, Bergþór Ólason and former Minister for Foreign affairs and MP for the Centre Party Gunnar Bragi Sveinsson.
The Klaustur bar politicians said about Ms Alfreðsdóttir, in Beavis and Butt-Head style, that they'd all like to 'do' her.