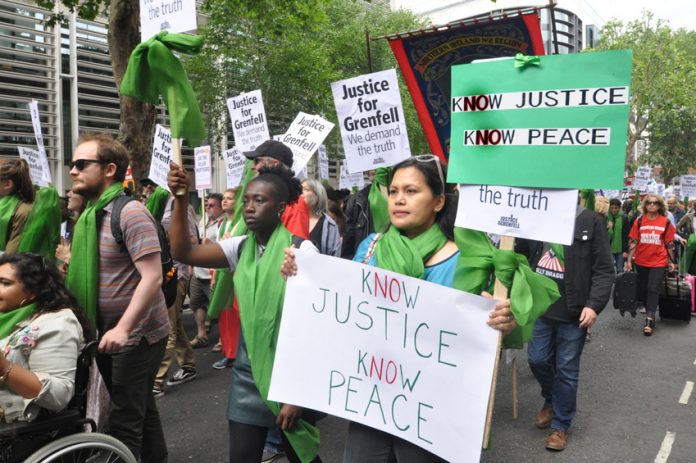 From daily News Line in Britain:
Tuesday, 9 October 2018

Grenfell survivors pressured to take sub-standard homes – alleges North Kensington Law Centre

KENSINGTON and Chelsea Council, rather than spend money doing up the 133 empty council-owned houses in the borough, has spent almost £30m on hotels for Grenfell survivors waiting to be re-housed.

Almost 16 months after the deadly blaze, more than 150 households that fled the inferno are still waiting to move into a permanent home. Grenfell Tower, which was built between 1972 and 1974, is estimated to have cost £500,000 to build. This is equivalent to around £6.2m in today's money.

In other words, the council has spent more money on hotels than it would have cost to build almost five towers the size of Grenfell. The North Kensington Law Centre, which has been helping a number of former Grenfell residents, claimed that council officers were pressuring traumatised residents to accept housing that overlooked the husk of the tower in which 72 of their neighbours died.

One woman was coerced into accepting a property that did not have any flooring, the law centre said. She was told she had to accept by 10am the next morning or she would be classified as intentionally homeless, the law centre alleged.

Local Labour MP Emma Dent Coad, meanwhile, said the council had tried to pressure disabled residents into accepting houses that did not have step-free access.

She accused it of 'bullying' survivors and claimed the authority was trying blame the hotel bill on them.

'This is a shocking waste of public money due to the council's failure to purchase properties suitable to Grenfell affected households', she said. 'Do traumatised people who have been through such a terrifying experience want to live six floors up? Do disabled people want to live with floor to ceiling windows so everyone can watch their daily struggles? 'It is clear that despite everything that has been said in the past year, senior officers and councillors still have little idea how ordinary people live.'

Meanwhile yesterday at the Grenfell Inquiry, Nadia Jafari described how she escaped from the 11th floor but became separated from her 82-year-old father who died. She said that she had complained to the council that her windows kept blowing open when it rained.

She described the night of the fire, grabbing two rugs and panicking. She saw the whole frame of window break and flames entering the kitchen. The fire covered the whole window area of the kitchen and she saw the glass break and that plastic was burning. She said the curtains were on fire.

There has already been strong evidence that badly fitted windows during the refurbishment of the tower contributed to the spread of the fire. Nadia and her father got up and looked out the middle window. They could feel the heat and saw the flames below. Her father had a heart condition. 'I bent myself out and the fire was just behind the window, underneath it'

She got out of the flat and entered the lift with others. The lift went down to the 10th floor, and then stopped. Nadia gave details about being trapped in the lift. She said: 'There was no lighting, it was terrifying and the smoke was horrible. It was a strong, bitter chemical smell. I tried to speak but I couldn't. A man was banging on the door with his legs. Then the doors opened and the lift filled with smoke. 'I wasn't able to see, so I closed my eyes and I was coughing and I fell like I needed to vomit.'

• Some residents from flats surrounding the fire were moved into temporary accommodation, hotels and B&Bs because many of them have children who were traumatised by the fire and could not bear to live beside it. The council have sent out a letter threatening them that if they do not return to their flats by October 25, they will lose their tenancy.

The Workers Revolutionary Party and the Young Socialists have called a lobby of the next Kensington and Chelsea full council meeting on Wednesday October 17 at 6pm.

The lobby demands:

Councils must not threaten families to end their tenancy if they do not return home! This is a disgrace!

Re-house all Grenfell families now!