From daily The Morning Star in Britain:
Wednesday, September 19, 2018

McDonald's workers stage walk out across the US over sexual harassment allegations

FAST-FOOD giant McDonald's was at the centre of a #MeToo moment yesterday after workers walked our across several US states over sexual harassment allegations.

Workers picketed the Chicago headquarters of the world's largest fast-food chain, chanting: "We're here, we're loud, sexual harassment is not allowed" and "Respect us, accept us, don't try to touch us."

McDonald's is facing charges from 10 workers who have alleged that sexual harassment is common in the workplace and covered up by managers.

One of the workers bringing the claim, Tanya Harrell, claimed that one of her colleagues touched her breasts and backside while another tried to rape her.

When she reported the incidents, she alleges that her manager dismissed her claims and said she was acting "like a little girl."

Others have claimed that managers have pressured younger staff members into having sex in the locker rooms and toilets of McDonald's restaurants, with many fearful of speaking out.

But Teresa Cervantes told the Chicago rally: "We're breaking our silence, we're making history. So youth will have a better future."

Staff at McDonald's sites in Durham, North Carolina; Kansas City, Missouri; Los Angeles; Miami; Milwaukee, Wisconsin; New Orleans; Orlando, Florida; San Francisco and St Louis, Missouri, walked out making it the biggest multistate strike in the history of the company.

They demanded that the company address sexual abuse and harassment by establishing a committee made up of workers, company representatives and national women's groups.
#MeToo and McDonald's: here.
What's next for #MeToo? The McDonald's strikes have an answer.Workers walked out of McDonald's restaurants to protest sexual harassment. By Alex Press. Updated Sep 19, 2018, 8:20am EDT.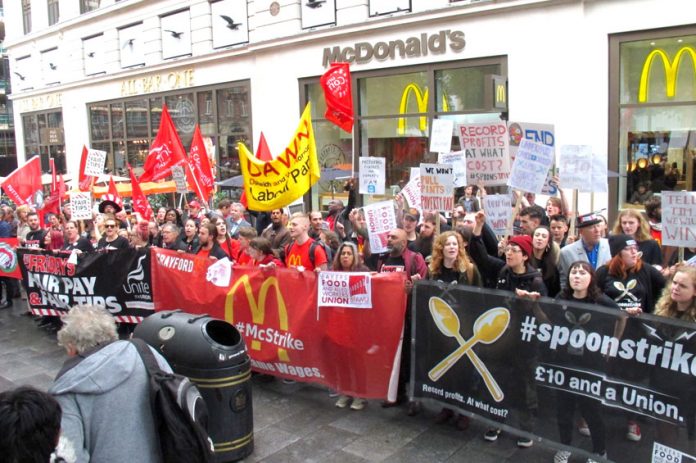 'WHAT do we want – fair pay! When do we want it – now!' shouted hundreds of striking McDonald's, TGI Fridays, Wetherspoons, and UberEats mostly young workers at a joint rally in London's Leicester Square yesterday: here. And here.
Bernie Sanders calls for McDonald's staff to get pay rise: here.