This Belgian TV tweet says (translated):
Our TV program shows the two faces of the conservative "Schild & Vrienden": a right-wing movement with a secret division full of racism, sexism and weapons.
'Scilt ende Vrient' (medieval spelling) is a slogan, a battle cry, from medieval Flanders. A watchword: people who did not know it, or, being French people or other foreigners, could not pronounce it properly, were considered to be enemies and were killed.
Dutch daily De Volkskrant writes about Schild & Vrienden today (translated):
In those closed [Schild & Vrienden Facebook] groups no message is rude enough. There is open emulation of Nazism, and extremely sexist and racist jokes are made. There is a picture of a black boy, with the text: 'This is Mumba, an eight-year-old negro boy. It takes him three hours every day to come to school. With your support of 5 euros we will buy a whip and we will make sure that this lazy nigger pest will be at school within fifteen minutes.'…

And there is a picture of a man chasing a black child on his bike with an automatic weapon in his hand. 'When you are barbecuing and your charcoal is running away', says the caption.
Translated from Dutch NOS TV today:
In Belgium, from left to right, people reacted shockedly to a TV report about the ultra-right youth movement Schild & Vrienden. The public prosecutor's office of East Flanders is conducting an investigation to see whether criminal offenses have been committed.

In the Pano program of the Flemish public broadcaster a picture was sketched of the movement around 25-year-old Dries Van Langenhove. Schild & Vrienden is a paramilitary movement of about 190 core members, which preaches physical and armed preparation for a coming civil war. The leadership encourages the members to get strategic and socially important positions.

The movement has a total of about 900 members, who exchange information in a closed Facebook group. The Facebook page has 14,000 followers. In the closed chat sessions radical, racist and violent statements are exchanged, according to the report.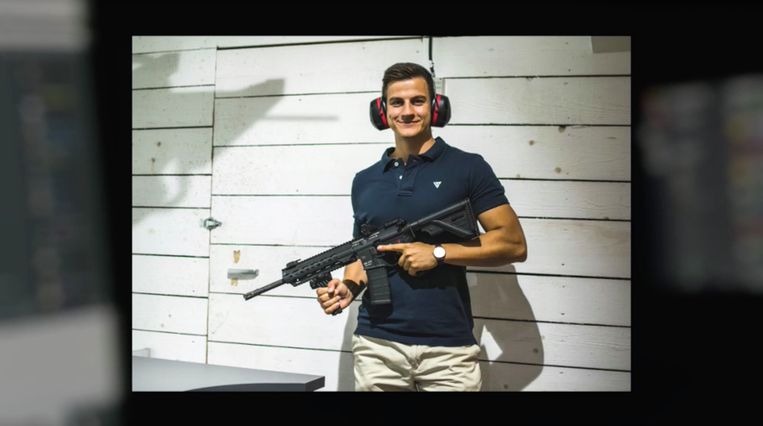 "Worrying, disgusting"

Flemish minister-president Geert Bourgeois of the New Flemish Alliance (N-VA) says that he is deeply shocked by the racist and anti-Semitic statements, which he calls disgusting and contrary to the foundations of society.
The right-wing N-VA party is in the Belgian coalition government. They are at least somewhat xenophobic. According to the Volkskrant report, the controversial anti-refugee N-VA immigration minister Theo Francken had Schild&Vrienden members as bodyguards. For the coming local elections in Belgium, at least three Schild&Vrienden members were N-VA candidates. After the bad publicity, they have been sacked or have resigned.
Schild&Vrienden fuehrer Van Langenhove recently was a speaker at a meeting of the Dutch far-right FvD party. Van Langenhove recently spoke to right-wing Hungarian Prime Minister Viktor Orban; after Schild&Vrienden firearms practice in Romania.
Party leader Chris Beke of the Christian Democrats warns that this should not be underestimated and that it should not be laughed about. "This is really worrying, not my Flanders", he says. Minister of Justice Koen Geens says that these people are entitled to free speech, but that it threatens to turn into xenophobia and racism.

Van Langenhove himself is a student representative at the University of Ghent, and four members of his movement have been elected to the Flemish Youth Council. Liberal party chairwoman Gwendolyne Rutten says "that fascism threatens to penetrate into the heart of the university and the Youth Council".
UPDATE January 2019: Van Langenhove Vlaams Belang election candidate.