This video from Scotland says about itself:
Powerful oratory: Dennis Canavan speaks out on SERCO's mass eviction plan. Saturday August 4 2018.

Sign the petition here.
Another video from Scotland used to say about itself:
30 July 2018

Sajid Javid urged to halt Serco eviction of Glasgow asylum seekers.

The home secretary, Sajid Javid, is being urged to intervene to stop a housing provider from locking hundred of asylum seekers out of their homes, leaving them destitute. Glasgow city council and MPs expressed "deep concern" that an imminent mass eviction of asylum seekers by Serco would trigger a humanitarian crisis in the city. Serco, a private firm which houses thousands of asylum seekers in Glasgow, says it will start evicting more than 300 people.
By Conrad Landin in Scotland:
Wednesday, August 1, 2018

Glaswegians rally to protest against 'mass eviction' of refugees by Serco

HUNDREDS of Glaswegians rallied last night in protest at the "mass eviction" of refugees by Serco.

The outsourcing giant has provoked a wave of outcry by proposing to change the locks on the front doors of 300 refugees' homes in Glasgow who have been refused asylum in Britain.

Serco, which provides asylum-seeker housing under a public contract, announced at the weekend that it would "be commencing with the issuing of lock-change notices" from Monday.

…

Serco said it was "considering" halting the plan, but SNP, Greens and Labour politicans have all co-signed a letter calling on Home Secretary Sajid Javid to intervene. They argued that that evictions would cause a "humanitarian crisis" on the streets of Scotland's largest city.

Yesterday housing associations and homelessness charity Shelter joined the condemnation.

"Homelessness is a damaging and horrific experience for anyone to face and it is something that should never be wilfully forced on our fellow human beings, particularly those that have come to Scotland seeking a new life and support", Shelter Scotland director Graeme Brown said. "This is a tragic and deplorable situation.

"We call on the Home Office and Serco to immediately cease this course of action and remember that these are people's homes and lives that are being treated with such contempt."

Scottish Federation of Housing Associations chief executive Sally Thomas said: "We are concerned now that Serco is in danger of putting profit before people, failing to work within the spirit of the law and letting down vulnerable households in the support and inadequate time they need to make alternative housing arrangements.

"Serco leases many of the homes they provide to asylum-seekers from housing associations in Glasgow. Speaking on behalf of members, we would be concerned if even lawful evictions were done in such a way that was inhumane and put vulnerable households on the streets, without support."

Scotland's Living Rent tenants' union said the evictions could be resisted through a mass programme of community engagement.

"As a tenants' union, we will not allow this brutal attack by Serco on some of the most vulnerable people in our city to become just another episode in the shameful history of housing in Glasgow", Craig Paterson said.

"Our position as a union is clear. We are against all evictions, we are against homelessness, we are against the victimisation and intimidation of tenants by those who hold power, wealth and property in their hands."

The Campaign for Socialism, a left-wing group which works within Scottish Labour, is holding a public meeting to rally support against the evictions tonight at 7pm at John Smith House, 145-165 West Regent Street, Glasgow G2 4RE.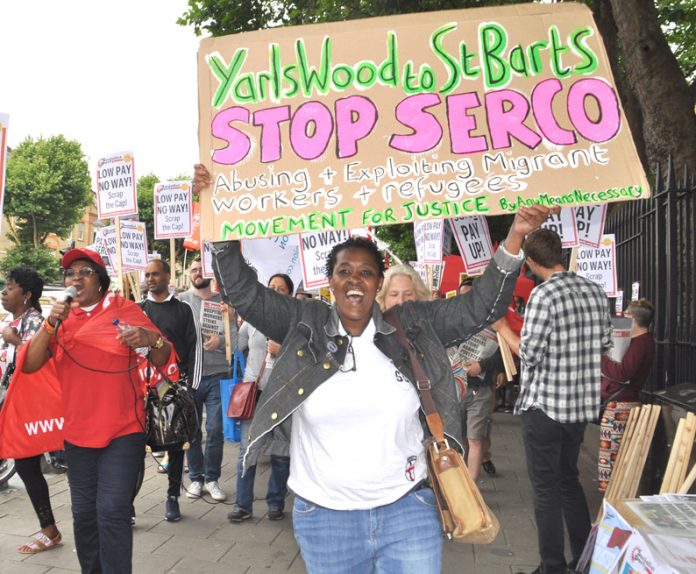 THREE hundred asylum seekers are threatened with eviction by private company Serco. It has already begun to change the locks, throwing them onto the streets of Glasgow. Serco, which houses thousands of asylum seekers in Glasgow, issued the first six 'lock change' notices on Monday, giving residents just seven days' notice to leave the properties: here.
Scotland: Protests force Serco to halt asylum seeker evictions: here.
By Sam Tobin in England:
A PALESTINIAN man fighting deportation to Gaza had his latest legal challenge upheld by the Court of Appeal today.

The 34-year-old, known as MI, said the upper tribunal that rejected his previous appeal had not properly considered the effect of deportation on his heavily pregnant wife, who suffers from depression, anxiety and post-traumatic stress disorder.

The tribunal heard medical evidence that MI's wife's condition had worsened due to the stress of the appeal and the threat of deportation.

MI also spoke of the difficulties his family faced in "re-establishing themselves following a two-year absence from Gaza" following Israeli military operations in July and August 2014. He said his own home had been destroyed, which had forced his family "to move to a small house without electricity or clean water."

Manjit Gill QC, for MI, told the court that, if deported, MI and his wife "would either be returning to Gaza with a very young baby or perhaps [his wife would be] giving birth on return to a child who would have to suffer the deprived conditions in Gaza."

The court also heard MI's family members living in Gaza have had "difficulties with Hamas", in part because of his father and sister's role working in Fatah's intelligence services.

Lord Justice Flaux ruled that the tribunal "failed to have proper regard to … the evidence as to the seriously worsened position after the Israeli military operation in 2014" and remitted the case back to the tribunal.

Permission to appeal against the decision to the Supreme Court was refused.
Home Office 'misled' High Court over child refugees, by Sam Tobin at the Court of Appeal.
OUTSOURCING giant Serco has lost the contract to house refugees in Scotland after an uproar over its evictions policy, but a Labour MP has warned that bad treatment will continue unless government policy is changed. The Home Office announced that Mears Group will take over the provision of asylum-seeker housing from September. Serco was slammed last summer for announcing that it would change the locks on the doors of residents who had been refused refugee status. After protests, a campaign to resist evictions and a hunger strike by two asylum-seekers, the company announced a "pause": here.
Glasgow: Lock-change evictions of asylum seekers restarted by Serco: here.
Scottish politicians hit out at Serco boss over company's attempts to boot hundreds of asylum-seekers from their home: here.
Refuse workers ballot on strike action against Serco: here.