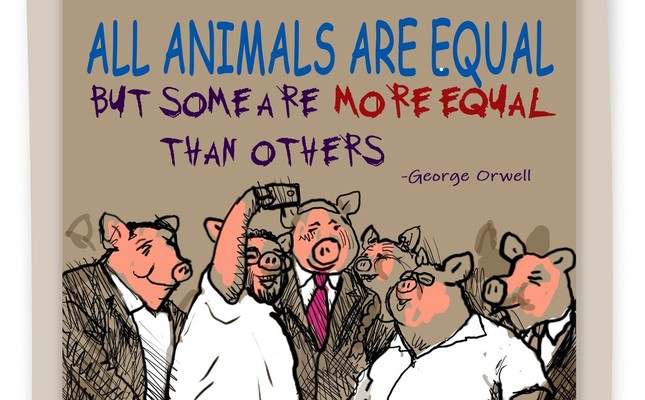 Translated from Dutch NOS TV today:
Cartoonist fired for pig image of Netanyahu

The Israeli cartoonist Avi Katz has been fired because of a drawing in which he depicts Prime Minister Netanyahu and other members of the Likud Party as pigs. At the top of the cartoon is George Orwell's famous phrase from Animal Farm: "All animals are equal, but some are more equal than others".

The cartoon appeared in the weekly journal Jerusalem Report and is a reference to the decision of the Israeli parliament last week to legally establish that Israel is a Jewish nation state.

Among other things, it stipulates that Hebrew exclusively becomes the official language. From now on Arabic is a language with a special status. The Arab minority and other critics in Israel call the law discriminatory and racist. Arab Israelis thus feel relegated to second-class citizenship.

Katz made the drawing modeling it on a selfie by the Likud deputy Oren Chasan, who after the adoption of the law took pictures with Netanyahu and other Likud politicians.
Animal Farm was written during the Second World War and published in 1945. It describes a revolution on a farm, where people are chased away. The pigs seize power whereby life gradually becomes harder for the other animals.
Jerusalem Report Cartoonist, Fired Over Nation-State Caricature, Tells Us What Happened: here.
NETANYAHU FACES INDICTMENT Israeli police recommended indicting Prime Minister Benjamin Netanyahu on bribery charges related to a corruption case involving the country's telecom giant, prompting immediate calls for his resignation. [AP]
NATALIE PORTMAN SLAMS 'RACIST' ISRAELI LAW Jerusalem-born actress Natalie Portman slammed Israeli Prime Minister Benjamin Netanyahu's controversial "nation-state law" formally recognizing the country as a Jewish state despite its large population of non-Jewish Arabs. "It's racist and there's nothing else to say about that", Portman told the BBC. [HuffPost]