This 13 July 2018 video is called UK opposition leader [Corbyn] says Trump's backing of Johnson "strange".
Another video, from the British parliament, used to say about itself:
Labour Leader Jeremy Corbyn Responds to Boris Johnson Resignation to Theresa [May] in Houses of Parliament, London, England, UK, July 9, 2018.
By Lamiat Sabin in Britain:
Tuesday, July 10, 2018

After Davis and Johnson quit: now it's time for the rest of them

THE resignations of Brexit secretary David Davis and foreign secretary Boris Johnson clearly show that Theresa May has "no authority", Labour leader Jeremy Corbyn told MPs today.

Their departures came in response to the Brexit blueprint that she cobbled together during a 12-hour Cabinet meeting at Chequers last Friday, which would see Britain agree a "common rule book" with the European Union.

Before Mr Johnson's resignation was announced, his Labour counterpart Emily Thornberry listed ministerial quitters since November last year — Sir Michael Fallon, Priti Patel, Damian Green, Justine Greening, Amber Rudd and David Davis.

"There have been six resignations in 249 days. That's one every six weeks", she pointed out.

Now with seven resignations — eight with the inclusion of junior Brexit minister Steve Baker, who quit shortly after Mr Davis — Ms May's government looks increasingly shaky.

Some Labour MPs shouted "resign", while others mockingly waved goodbye as Ms May took to the Commons despatch box.

Mr Corbyn told MPs: "There are now only a few months left until these negotiations are supposed to conclude.

"We have a crisis in government, two secretaries of state have resigned and still we are no clearer on what the future relationship with our nearest neighbours and biggest partners will look like.

"Workers and businesses deserve better than this. It is clear … this government is not capable of securing a deal to protect the economy, jobs and living standards. This government cannot secure a good deal for Britain."

He also criticised Mr Davis's replacement, Dominic Raab, telling MPs: "This new Secretary of State is on record as wanting to 'tear up people's rights'."

Shadow chancellor John McDonnell tweeted: "With a Prime Minister incapable of holding her ministerial team together and with such instability in government it's impossible to see how EU leaders could take Theresa May seriously in the next round of negotiations.

"It's time for her and her party to put country before party and go."

Reports suggested that Ms May could face a leadership contest, with Conservatives unhappy with the Brexit plan apparently planning to trigger one by sending letters to the 1922 committee of the party's backbenchers.

Leave-supporting Environment Secretary Michael Gove was reported to have pressed his Cabinet colleagues to back the proposals, under which Britain will remain subject to EU rules on goods.

Mr Johnson voiced support for the plan despite having previously said that to do so would be like "polishing a turd."

Green Party co-leader Caroline Lucas called for a vote in no confidence in the government to trigger a general election.

In a dig at Mr Johnson's resignation over the government's Brexit plan, she tweeted: "I guess it gives him more time to polish his turds…

"But what an utter tragedy that, at a time like this, the country is being led by such a bunch of selfish incompetents. None of them can be trusted."

SNP Westminster leader Ian Blackford wrote: "The foreign secretary should never have had the opportunity to resign. He should have been sacked months ago as a national embarrassment."

A replacement for Mr Johnson had not been announced when the Star went to press.
Now it has: Jeremy Hunt.
GMB union general secretary Tim Roache warned that Mr Raab's appointment as Brexit Secretary "signals a promotion of a hard-right figurehead who has shown contempt for working people in Britain.

"Theresa May has appointed someone who thinks British workers are lazy and have too many rights and he has already published plans to slash vital rights, from the minimum wage to rights for agency workers."
BORIS BOLTS The British government is close to collapse following the resignation of Foreign Secretary Boris Johnson over Brexit negotiations. Johnson's resignation came a day after Brexit Secretary David Davis and his junior minister Steve Baker also stepped down. Compounding the fraught situation, Trump is due to arrive in the U.K. on Friday. [HuffPost]
Yesterday, the Star predicted that the Chequers "agreement" on a post-Brexit negotiating stance would not last very long. Within 24 hours, David Davis and Boris Johnson have rushed to prove the Morning Star right. Their resignations as Brexit Secretary and Foreign Secretary, respectively, have plunged the minority Tory government into what could turn into a terminal crisis: here.
Pressure mounts on May as Tory vice-chairs quit: here.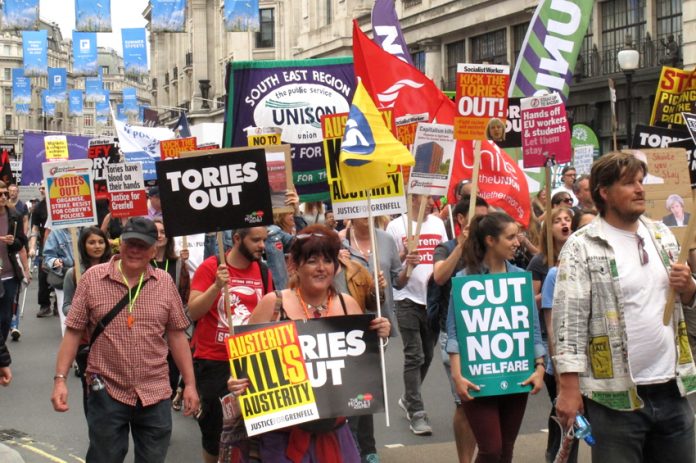 BORIS Johnson has resigned as Foreign Secretary, the third minister to walk out of the May government: here.
Davis resignation shatters Tories as May goes looking for Labour votes: here.
UK Foreign Secretary Boris Johnson resigns to prepare possible Conservative leadership challenge: here.
Concerted efforts to save May's government and the chance of a "soft Brexit": here.
BORIS JOHNSON was branded a "pound-shop Donald Trump" today after saying that Muslim women wearing burkas "look like letter boxes" or bank robbers: here.