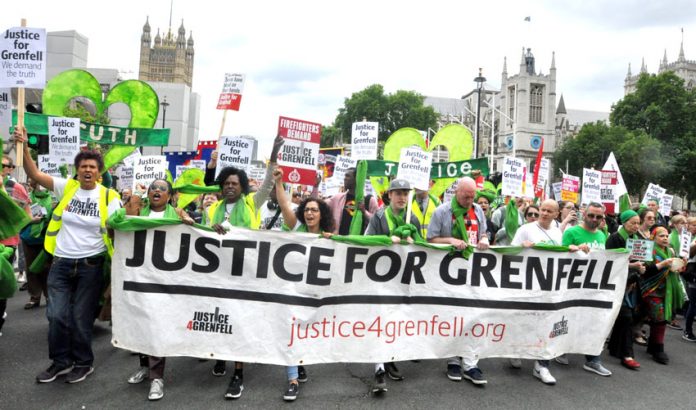 From daily News Line in Britain:
Monday, 18 June 2018

Joint Justice4Grenfell-FBU demonstration

'THERESA May we don't trust you, we trust the FBU', shouted over 3,000 marchers from Downing Street in London on Saturday. The joint march organised by the FBU and Justice4Grenfell attracted delegations of firefighters from as far as Ireland and Scotland.

A number of banners from the lecturers' union UCU were also on the march. Humberside FBU Brigade Secretary, Gavin Marshall, told News Line: 'We want to see justice done that's why we are launching our own inquiry. 'We see that the building regulations have been fragmented over the last decade. This government wants to privatise everything.

'We have seen job cuts coinciding with deregulation, meaning that safety inspections have been reduced. 'It's these cuts combined with inflammable cladding that led to why we are here today so don't point finger of blame in the direction of firefighters. We went above and beyond throughout the night. 'When you are asked to write your name and number on the top of your helmet you know you are in a difficult situation. 'That is done to identify you if you don't come out of the building, and that is what firefighters on that night had to do.'

Chris McGlone, FBU executive council member for Scotland said: 'We're here today to show our continuing support for the people of Grenfell.' Also from Scotland Denise Christie said: 'It reminds me of Hillsborough – as soon as there was pressure on the government they look for someone to blame. At Hillsborough it was the fans and at Grenfell they're trying to blame firefighters.'

Caron Morton, from South Shields, said: 'The truth needs to come out and stop blaming the firefighters. 'I'm here in London to look after my dad but I have had to come here to show my support. 'This government is responsible. I despise everything they have done.'

At a rally outside Downing Street before the march west London firefighter Lucy Masoud said: 'The fact that still over half of those affected by the fire have [not] been housed after surviving trauma and neglect shows the contempt that this government has for the residents. 'The Grenfell fire was like no other, it should not have happened. Why was there flammable cladding and combustible material around windows?

'Why were residents' warnings ignored? The victims never stood a chance. In Britain's unequal society the privileged can buy their safety. 'If it was down to the government and PM May Grenfell would be kicked into the long grass, this cannot be allowed to happen. 'We must all lead a fight to see those responsible be brought to justice. May and the government should be dragged to that building to see the consequences.' A 72 second silence for the victims of Grenfell was held at the rally.

Labour shadow chancellor John McDonnell, addressing the rally said: 'Never again will we allow this to happen, it is despicable that it had taken place in the richest borough in the country. 'We don't just want the truth from the inquiry, we want justice. 'We will end the austerity which has cost 11,000 firefighters' jobs in the last few years leading to cuts in inspections.

'5,000 people are now living on the streets in London and thousands more on housing waiting lists.

'Above all else, we will be proud to build council homes again and the big corporations and the rich are going to pay their taxes for a change.'

North Kensington resident Joe Delaney, who lived in flats next to Grenfell Tower said: 'I was there on the night and saw how awkward the situation was for firefighters. 'They had to get riot shields from the police to protect themselves from falling cladding which was in flames.

'The Blair government sold off the building research leading to deregulation of building. We should not be making short term savings. 'How many of the buildings around here have this cladding?

'Parliament is just getting an 8 billion pound makeover but all our lives are important not just politicians.' 'When riots happened in London in 2011 24-hour courts was set up to give exemplary sentences to those involved. They were to be seen as a lesson to the public.' 'Those responsible for Grenfell should not only be arrested but locked up in prison covered in cladding till they rot.'

Paula Peters from Disabled Peoples Action Campaign said: 'This government has blood on its hands.'

'We need to place the blame on Theresa May and ex-Mayor Boris Johnson. They need to be held to account, and we must make sure that the enquiry is not a whitewash. 'In a block of flats in Merton last week lives were in danger. The entry phone system in the block was locked and no one could get in or out for hours. This government needs to go!'

Tasha from Justice4Grenfell said: 'Silent marches had been held across the UK in over 20 cities and vigils were held in Australia and the United States. 'Today we call for change. They have heard our silence and now we will make some noise. 'We called for an absolute ban on flammable cladding and it to be removed from over 300 buildings across the UK.'

On the march News Line spoke to firefighter Matt Lamb from the West Midlands who reported: 'We have just had a ballot for industrial action against the imposition of unagreed contracts. 'On a turnout of 82 per cent we had a massive 90% vote for strike action. Because of this massive vote management has conceded talks to resolve the issue.'

The march stopped outside the Home Office and was addressed by NEU teachers' union joint secretary leader Kevin Courtney who told marchers: 'I was born 8 miles from where the Aberfan disaster took place where over 100 children and their teachers were buried as a coal tip slid down the Valley. 'The similarities are striking: the authorities ignored the warnings of the disaster.

'The community fought for prosecutions which never came, they still are ignoring the people. Justice must be seen to be done, we need prosecutions.'

On the march Tash Joyce from Bendigo, Victoria, in Australia told News Line: 'I made sure I would get here for this march. I got my flight brought forward a week so I could be here. I have brought books for the children of Grenfell.' As the march returned to Downing Street more speakers addressed the crowd.

Eileen Short from Defend Council Housing said: 'Grenfell is a result of 30 years of cuts and privatisation and condemned the first leader of Kensington and Chelsea council who said that residents were offered either sprinklers or decent home standards. How can you treat people in this way.'

Daniel Renwick, a local resident and filmmaker told the rally: 'When Hillsborough happened the police lied immediately and blamed fans, 24 years later the minute this fire got out the fire service are blamed when there was a complete breach of architectural safety. 'The Kensington and Chelsea Council and the tenant management organisation completely failed.'

FBU general secretary, Matt Wrack, told the rally: 'In 35 years in the fire service I have never seen anything on that scale, no one has dealt with a fire like this. 'From day one we said we want to see justice for the community. The FBU is not just about pay and conditions but for safety of the public. 'In the 1980s we campaigned to stop furniture being filled with dangerous materials. It is glaringly obvious we have a hostile environment for the people of North Kensington.

'The fundamental question is how and why a building can be wrapped in petrol in this day and age.

'We need to hold the criminals to account. All those who have advised and signed off regulations need to be held to account. 'Dozens of previous recommendations from previous fires have been ignored. 'The only thing we can rely on is ourselves, the only way we can get change is by organising it ourselves, this is a national issue. 'We need to build a mass movement, we need every trade union here, we need to stop the city in its tracks.'

Kensington MP Emma Dent Coad and Weyman Bennett from Stand Up to Racism also addressed the rally. Concluding the rally musician Niles Hailstones sang Bob Marley's 'Stand up for Your Rights' and Moira Samuels from Justice4Grenfell called for all at the rally go back to the areas and support their campaign for justice.
THE RESIDENT of the flat in which the Grenfell Tower fire started said yesterday that police wanted to place him in witness protection after "distorted" press reports. Behailu Kebede gave a statement to the public inquiry through his lawyer, saying inaccurate media coverage had portrayed him "like a criminal who was to blame for the fire": here.
FIREFIGHTERS were not to blame for the stay-put strategy in the Grenfell Tower, fire expert Dr Barbara Lane told the Inquiry, it is the refurbishment, she insisted, which was to blame for the spread of the fire which claimed the lives of so many men, women and children: here.