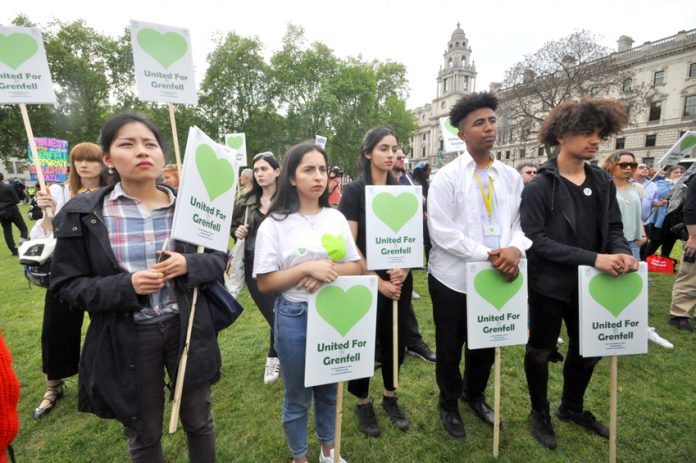 From daily News Line in Britain:
Tuesday, 15 May 2018 TOXIC GRENFELL INSULATION WAS BANNED!

MARKING eleven months since the tragic Grenfell Tower fire disaster, which claimed the lives of so many men, women and children, the community turned out for a silent march demanding justice for the survivors and their families and the truth.

Since the fire the truth has started to emerge. Recently evidence came to light which shows that Chelsea and Kensington council opted for a cheaper refurbishment. This meant that flammable cladding was installed, misfitting windows and foam insulation which let off poisonous cyanide gas when burned.

The firefighters union, the FBU, states that the same poisonous foam insulation was banned from use in furniture after years of campaigning. On 8th May 1979, toxic fumes from plastic foam-filled furniture killed 10 people and left 47 injured in the Woolworths store in Manchester city centre.

Vigorous campaigning by the FBU and other fire safety experts, including enlightened chief fire officers, paved the way for vital safety changes as the death toll from toxic plastic fumes continued to mount in the 1980s. But it took nearly nine years after the Woolworth's fire and the deaths of 17 more children, killed by toxic fumes in their own homes, for the government to act.

Mike Fordham retired from the FBU 12 years ago, after a lifetime campaigning for improved fire safety. As he watched the live TV footage of flames shooting up the sides of Grenfell Tower, his thoughts turned immediately to earlier fire tragedies. 'They've put the stuff we got banned from the inside of buildings on the outside of tower blocks … we got foam furniture banned for giving off horrendous toxic fumes and they went and lined the outside of tower blocks with similar stuff', he said.
Related articles