By Ceren Sagir in London, England:
Wednesday, May 2, 2018

Britain turns out for International Workers' rallies

THOUSANDS of people gathered in central London today to celebrate the victories of workers and to call attention to working rights still to be won.

Marchers marked International Workers' Day gathering at Clerkenwell Green by the Marx Memorial Library and heading to Trafalgar Square for a rally.

Demonstrators chanted for international peace as well as better pay and conditions at work. Many expressed anger at the Tory government's racist treatment of British citizens who arrived on the Empire Windrush after the second world war, the scandal that forced the resignation of home secretary Amber Rudd on Sunday.
Trade unionist and founder of Black Activists Rising Against the Cuts Zita Holbourne said: "Windrush is something that makes me very angry. The immigration policies were put in place by the government when Prime Minister Theresa May was the home secretary.

"It is the most racist piece of legislation I have seen in my lifetime.

"It is not amnesty that the Windrush generation require. They are already British citizens, they were recruited to come and work here. None of those people are illegal."

Ms Holbourne reminded the crowd that there had been no definitive response from the Home Office about the cancellation of the charter flight to Jamaica taking place this week.

She said: "We have to also think about the people who have already been deported and the destitution they are in. They have lost their homes and their jobs.

"We need to stand up for workers' rights and we need to stand up for justice for all."
Transport union RMT general secretary Mick Cash called for solidarity with McDonald's workers taking strike action today and talked about his own union's battle against the rail operators' drive to strip away safety-critical staff. "It has been three years of our fight to keep guards on trains", he said. "This dispute is about making sure they do not place profit before safety.

"If the government have their way, there will be millions of guard-less trains running, making it less safe and less accessible.

"We are not giving up and will fight till the last person to keep railways safe.

"We need a railway for the benefit of the country and passengers and not for the spivs and profiteers.

Mr Cash said the way to do this was to renationalise the railways, as the Labour Party intends to: "If other nations can run our railways, so can we. Bring it back to public ownership.

"We need a party for the many, not the few."

British film-maker Mehmet Aksoy, who was killed in September while filming in Raqqa, Syria, was also commemorated as a lifelong workers' rights activist. Mr Aksoy had spoken many times at Trafalgar Square May Day rallies.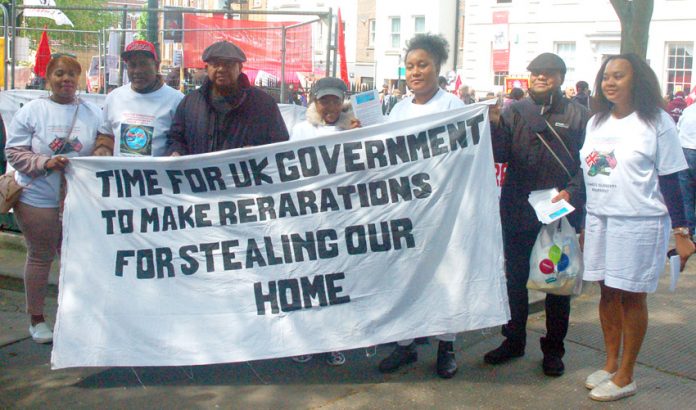 Report of 2018 London May Day demonstration: here.
Related articles