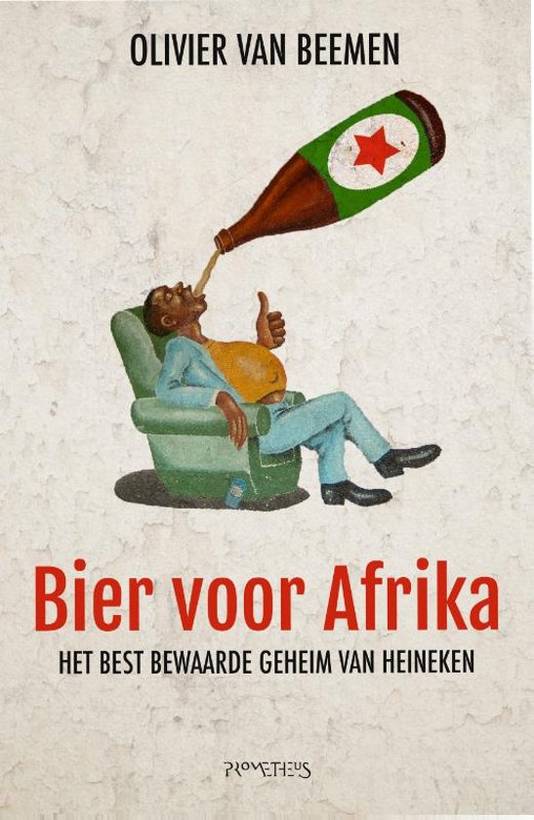 Translated from Dutch daily Algemeen Dagblad today:
Mass murderers drinking beer: Heineken brews turbid drinks in Africa

During the genocide in Rwanda the local Heineken brewery kept brewing cheerfully, and murderous soldiers day after day enjoyed the beer bottles, which are extra large in Africa. It is just one of numerous revelations from the book Beer for Africa about Heineken's African business by journalist Olivier van Beemen.

by David Bremmer

After Heineken in Africa in 2015, investigative journalist Olivier van Beemen (38) received so many new tips that there is now a sequel, which will also be published in English and French translation this autumn. ,,My first book was incomplete considering what I know today. The new book contains twice as much information, but is half the size."

What is special is that Heineken, which has its annual shareholders' meeting today, is fully cooperating this time. Even CEO Jean-François van Boxmeer, in the 1990's general director in Congo, gave an interview. "It is trendy for companies to open their doors and be transparent", explains Van Beemen.

Heineken probably regrets that, because Van Beemen's' second book, Bier voor Afrika, is much more explosive than the first. Chapter after chapter he opens a cesspool of corruption, sex and relationships with dubious murderous regimes. In this way he debunks the reputation as an ethical business that Heineken is so keen to propagate.

How does a correspondent for France get involved in Heineken's African business?

,,I was for the Financieele Dagblad daily in Francophone Tunisia when dictator Ben Ali fell and the Arab Spring broke out. I discovered how big Heineken was in Africa and how they worked closely together in Tunisia with the clan of Ben Ali's wife Leïla Trabelsi. That's how it went. "

Heineken's public image is going well in Africa. The free provision of HIV inhibitors to local staff received praise from NGOs, with the Heineken Afrika Foundation combating malaria and jaundice.

"Heineken presents itself as a benefactor in a sea of ​​poverty. They say: as a principled multinational corporation you can do business ethically and you do not have to participate in corruption."

There is a different story in your book.

"If you zoom in, then little remains. Heineken boasts about all jobs they say that they create in Africa, but uses inflated figures. Their stated aim to buy sixty percent of the raw materials locally is far from being achieved. They buy even less locally than when they started, and they also count barley that travels thousands of miles before it disappears into the brewing kettles. Yet they receive subsidies from the Netherlands and the UN."

Actually, those are innocent details …

"Heineken also has beer promotion girls in Africa, probably thousands, some of whom are sexually abused. They often have to go to bed with managers to keep their jobs. Abuses have been known for twenty years, but Heineken is not doing much. Yes, they rented taxi buses for a short time to bring the women home. Only that turned out to be too expensive and it was reversed. "

It is shocking that Heineken's local brewery continued to flourish during the mass murder in Rwanda.

"Heineken admits that Hutu murderers drank their Primus beer during the slaughter and that they knew it. Every day soldiers received a beer ration. But the company now claims that they had lost control of the brewery. It had supposedly been taken over by radicalized staff members. Van Boxmeer started this story himself without me asking. While nobody mentioned that before during my conversations in Africa. Even the director for Africa at the time says it is not true."

In the Congo, President Kabila stayed on domestic journeys in the villa of Heineken's Bralima subsidiary.

"A smart strategy, because by providing free accommodation Heineken ensures access to the highest circles. That is gold in case of problems. Any Heineken manager always has the phone numbers of both those in power and the local police commissioner at hand."

A remarkable fact is that beer bottles in Africa contain twice as much beer as in Europe.

"In South Africa and some other countries it is even 75 centiliters, the same as a bottle of wine. At Heineken they tell us that Africans are social beings who traditionally like to share beer."

That is not true?

"Perhaps that is historically correct, but I have never seen one African share his beer. It is meant to encourage customers to drink as much as possible. Did you know that Heineken sometimes also contributes to the national alcohol policy of countries where it is active? There are hardly any rules."

Some revelations from Beer for Africa:

–Heineken uses beer promotion girls in at least ten African countries, including Nigeria. Many of those women are sexually abused during work. Also, some have to go to bed with executives to keep their jobs. The salaries are so low that part of them have to work as prostitutes as well.

-A former senior director in Africa sent women on whom he had set his sights first through the medical service. For an AIDS test.

-Heineken admits that its own beer played a role in the Rwandan genocide, which killed at least 800,000 people. Many soldiers were drunk and Heineken had the monopoly on the beer market. The brewer claims they has lost control of the brewery to radicalized employees.

– Big boss Nico Vervelde became involved in a large-scale corruption case last year in Nigeria, with his wife as the center. He risked three to seven years in prison because of abuse of power. Heineken arranged the case and Vervelde was offered a new job in Singapore.

-In Congo, Heineken signed an agreement with rebel movement RCD-Kisangani in 2003. The brewer promised to generate as much tax revenue as possible and in turn got permission for a mass layoff of workers. in that way, a movement was financed that murdered and raped on a large scale.

-Heineken is officially headed in Burundi by one of the most important judges of the country. He strongly advocates ethnic lists because he thinks that Tutsis dominate the company. Because of excise payments, Heineken is the most important source of income and support of the regime in Bujumbura.

Your book gets little publicity given all the striking facts. No TV talk show invited you, even your old employer FD does not write anything.

,,That is probably the magic of Heineken. Many Dutch people are proud of the VOC [Dutch East India Company, colonialists and traders of the 17th-18th centuries] mentality and believe that you will spoil the party if you are critical of national pride. Shell is a corporation about which people know how filthy it is, but one is supposed to keep one's hands off Heineken."

Does being bored of hearing about Africa play a role?

"Certainly, but Heineken also has a well-oiled marketing machine. They like to profile themselves as world improvers and their audience swallows that uncritically: NGOs like working with Heineken, for example in the fight against AIDS and agricultural projects. They contribute to the image of Heineken as a benefactor instead of a company that soils its hands. "

The Dutch government actively contributes to that image.

"Ex-minister Ploumen was one of the biggest fans and ran to a Heineken brewery on every Africa visit. Prime Minister Rutte praises Heineken's agricultural projects at the UN in New York, Queen Maxima praises the work with local farmers in Ethiopia."

The question you raise is: can a Western multinational do business in Africa?

,,I think it is possible in most countries, but in some countries you have to wonder if you do not contribute to human rights violations. What I blame Heineken for is that they do not ask themselves that question at all. They unconditionally believe in the frame they created themselves of a company that does great work for Africa under difficult circumstances."

Can such an understanding be expected of a commercial company?

,,It is already a big step when companies are open and honest. Admit that Africa is a lucrative market and acknowledge that the local population does not benefit from it. Stop that rhetoric about win-win situations. And acknowledge that you have to make soiled hands in many countries. Then a more realistic image is created."

Should Heineken have withdrawn from Africa?

"In individual countries they should consider it. Burundi would be a good example: that is Africa's second-poorest country, Heineken is keeping a dictator in the saddle and paying by means of excise duty the soldiers and policemen who oppress their own population. In Rwanda, Heineken should have done everything to stop production during the genocide. "

Heineken is now under scrutiny because of your book.

"The biggest fear of any company is that its name is dragged through the mud on the basis of solid research. Donor organization Global Fund, which combats diseases such as Aids and malaria with the support of the Gates Foundation, suspended their partnership with Heineken because of my research. "

"Perhaps ASN Bank will no longer decide to see Heineken as a sustainable investment. They had already started an investigation twice, but then limited themselves to an interview with Heineken.

Furthermore, a motion from the VVD party [in the Dutch parliament] was adopted almost unanimously. Minister Kaag is called on to see if she can get back the state subsidies that Heineken received in Africa because of the excesses with the beer girls."
This 4 April 2018 video from the Dutch parliament is about proposals critical of Heineken by MPs Bente Becker (VVD) and Mahir Alkaya (Socialist Party).
The arrival of French and English translations should worry Heineken headquarters.

"Heineken is the Coca Cola of beer, the world's most international beer brand. That attracts attention. And Heineken is extra vulnerable because the company name coincides with the brand name. If there is bad AB Inbev news, then people will not drink less Jupiler or Budweiser."

How did Heineken react to your book?

"They deny very little, but say that I take issues out of context. I also noticed that they always come up with a different term for me. In the beginning I was a sensationalist, then an individual with an opinion, then a stakeholder and now I am an activist again."

Is Heineken finally free from you after two books?

,,I am working on a thesis at the department of political science at the University of Amsterdam, but in principle it has been enough. What I will do next, I do not know. I regularly get the suggestion to dive into Unilever, but I do not want to repeat the same trick."
UPDATE: Heineken admits beer girls scandal, will investigate.
Related articles