From the World Socialist Web Site in the USA:
"If you have one bad illness and go to the hospital, that wipes your income out"

West Virginia teachers demand the right to affordable healthcare

6 March 2018

The World Socialist Web Site spoke with many of the thousands of striking teachers, school bus drivers, custodians, aides and other school employees who rallied at the West Virginia state capital on Monday as part of their continuing strike, which has closed schools across the state since February 22.

… Affordable healthcare, for teachers, is the most urgent and pressing issue.

In virtually every case, workers described the same basic situation. The insultingly low offer of a five percent wage increase, which the unions assert would constitute a major victory, would be eaten up by annual increases in their healthcare insurance premiums, deductibles and co-pays for doctors' visits.

Gwyn, a teacher with 25 years from Cabell County, carried a sign bearing the slogan, "Will work for healthcare." "Maybe it's not popular now", she joked, a reference to the fact that any mention of the Public Employee Insurance Agency (PEIA) has been dropped from the union's public statements. Last week, the American Federation of Teachers-West Virginia (AFT-WV) updated its Facebook profile picture to remove any reference to "fixing" the PEIA.

"They're going to hike PEIA", Gwyn said. "I've seen it go up steadily over 25 years. So, a five percent raise isn't a raise at all. I had to drop my husband from my health coverage because it was so expensive. Now he is getting ready to retire so I'm going to have to pick him back up. I was paying over $200 per month."
Like many other workers, Gwyn spoke with distrust of the latest union-government "task force" announced by the union and billionaire governor Jim Justice to supposedly discuss funding proposals for PEIA. Workers organized to continue their strike against the order by the union to shut down the strike on February 27. "When they proposed the task force, and the union said to go back to work, I didn't trust it. I really think we need to fight until we get what we deserve," she said.

Gwyn rejected the claim by both Democrats and Republicans that there is "no money" to fund healthcare for the working class. "Where is the money?" she asked. "I'm thinking tax some of these coal companies would be a start."

Gwyn's grandfather was a coal miner and her father worked for coal companies in West Virginia. There was "absolutely" a mood among coal miners, she said, for a united fight with teachers. "They know what it's like", she said. "The coal companies come in, rape our land, break our roads, poison our water, and then take off. People were in their 40s and were left to start over again. And many of them didn't.

"There are a lot of health problems," she added. "My dad got black lung. They're denying people affordable healthcare in a state riddled with pollution, poor drinking water and a poor quality of life. On top of that you don't have insurance, or you have insurance you can't afford, that's not right."

Katie, a school bus driver, spoke about the union's effort to shut down the strike. "The 'cooling off' day on Wednesday they announced just made everybody hotter", she said. "It gave us time to think and say, 'Hey, we're getting screwed. Now man up!' When the union said to go back I thought, 'We're going to stay on strike and be here.'"

Katie explained the main issues in the strike. "We need to improve the whole situation, PEIA and wages. I went to the doctor because I injured my leg and they wanted me to pay $340 upfront or they wouldn't see me. I just don't go.
Her colleague Linda, a teacher, added, "You don't go to the doctor unless you really have to because you have to pay $40 a visit."

Katie replied, "If you have one bad illness and have to go to hospital that wipes your income out. So, we're in this fight for the long haul, whatever it takes." As far a wages, she said the raise "ought to be a $10,000. There's money for it, but it's in their [the companies'] pockets. Look at their houses and look at what I live in.

"What if we shut down for a week across the whole country? It would be great. Shut it down and let them see where their money comes from. We give it to them.

"When you retire, you haven't got anything left to turn back on", Katie said. "You just retire and hope you can make it. They're getting rich off the American workers. That's where they get their money—what they don't steal from other countries." When asked what she thought about uniting with workers internationally in a common struggle, Katie responded, "It should be like that. Everybody is starving everywhere."

Shauna has been teaching since 1990, and currently works as a part-time teacher. "My health insurance started at $103 eight years ago and it's up to $180 per month now. But I get half the pay of a regular teacher even though I'm in a classroom every day and do two teaching blocks. That's two thirds of a regular teacher. So, when there is talk about raising the premium, that will swallow a whole paycheck of mine."

Shauna said she believed the proposal for a 16-month freeze of PEIA and a taskforce was being used to get workers back to work and what would follow would be another insurance price hike. "They froze the PEIA for 16 months, so it will hit us in the summer when we're off of school and we can't organize like we are doing now," she said. "They're going to throw that one on us and raise our premiums or cancel our insurance altogether."

A WSWS reporter noted that the union's slogan concerning the task force was to "trust us." She responded, "Since 1990 we've been trusting them! We were promised better benefits instead of a raise. So, we've been working at low wages, but we had good benefits and we included that in our salary. It's been changing over the last eight years. Our co-pays are going up and our premiums are going up. So enough is enough."

Shauna commented on the so-called "debate" between Democrats and Republicans about a proposed four or five percent wage raise for teachers. "The more you sit in on these meetings, the more frustrated you get at what's going on in this building. The more you realize it is a game. Even this delay is a game. They say there's no money but they're really good at finding tax cuts for big business."
Thousands converge on state capitol to show support for West Virginia teachers strike: here.
Chicago Ford workers speak out in support of West Virginia teachers: here.
Walking off the job for the first time in nearly thirty years, West Virginia teachers are channeling the spirit of their state's historic, militant labor movement: here.
Reject the sellout deal that robs Medicaid from school children. West Virginia Teachers have the right to vote on any return to work: here.
United States: West Virginia teachers stage eighth day of strike action over years of pay cuts: here.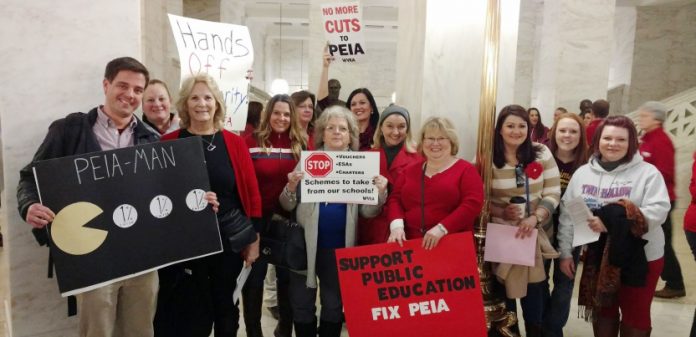 From daily News Line in Britain:
Tuesday, 6 March 2018

Thousands of West Virginia teachers on indefinite strike

…

It's actually illegal for teachers to strike in West Virginia. They're doing it anyway.

West Virginia's 680 public schools employ 19,488 classroom teachers and have enrolled 277,137 students.

All 55 counties in West Virginia have closed schools for more than a week. In 2016, the average salary for West Virginia teachers ranked 48th in the country, according to the National Education Association, ahead of only Oklahoma, Mississippi, and South Dakota. In a moment in which public unions are under an increasingly heavy threat, West Virginia teachers have shown why they matter and what they can do.

The Supreme Court this week heard arguments in a case, Janus v. AFSCME Council 31, on whether employees can be required to pay dues to a union they don't belong to. Katie Endicott, 31, a high school English teacher from Gilbert, W.Va., stated why she and many other teachers are not yet prepared to return to school. The interview has been edited and condensed.

'They told us that essentially if you weren't a single person, if you had a family plan, your health insurance was going to rise substantially. 'As a West Virginia teacher – and I've been teaching 10 years – I only clear right under $1,300 every two weeks, and they're wanting to take $300 more away for me. But they tell me it's O.K., because we're going to give you a 1 per cent pay raise. That equals out to 88 cents every two days.

'They implemented Go365, which is an app that I'm supposed to download on my phone, to track my steps, to earn points through this app. If I don't earn enough points, and if I choose not to use the app, then I'm penalised $500 at the end of the year. People felt that was very invasive, to have to download that app and to be forced into turning over sensitive information.

'Go365 was thrown out. Of course they decided to give a freeze (on insurance rates), and I think people thought that might be enough. But we understand that this is an election year. They can freeze it right now, but what happens after the election? The feeling is, we have to get this fixed, and we have to get it fixed now.' 'I take care of the bills in my family and knew I can't afford it, I can't. I have two children, I live paycheck to paycheck. When I realised that they were taking hundreds of dollars and then they tried to tell me they were giving me a pay raise of 1 per cent, I knew I can't just sit back. I can't be complacent, something has to change.

'We went to the Capitol on Feb. 2, we stood in solidarity, and they would not talk to us.

'When we walked out of there, my husband looked at me and he said, "I feel so defeated." They didn't listen to anything that we had to say. 'We were just walking silently from the Capitol and one teacher said, "Guys, we're really going to have to strike." At that point, I knew.'

'I teach seniors and 10th graders, my kids are aware of everything that's going on. I'm the pep club leader at my school, the prayer club leader, on the prom committee. 'My first period senior class, I started crying and I said, "Guys, I legitimately don't know when I will be back." I have an A.P. exam on May 9, and that is not going to change.

'We have been having local rallies as well as going to the Capitol. Our son is a little confused because we've been wearing bunny ears because the governor called us dumb bunnies.

'He's been telling everyone that if his mommy and daddy are dumb bunnies he's a dumb bunny, too. He insists on wearing bunny ears in public like we've been doing at the protests.'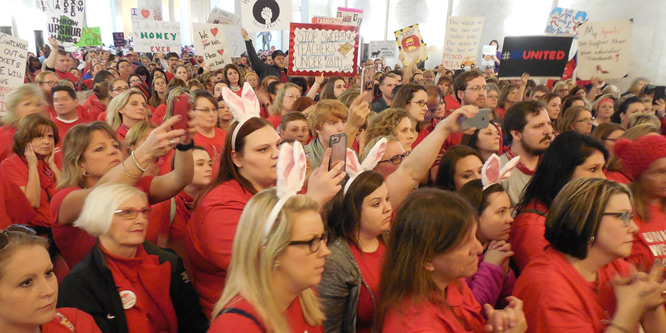 'Initially a lot of people around me were very happy, because we thought we won. I was excited. And then the union leaders came out and talked to us and we realised really quickly we did not win anything. 'The crowd turned very angry very quickly. Just because the governor suggests a 5 per cent pay raise doesn't mean it's going through.

'Now they're saying you get 5 per cent and well P.E.I.A. the public insurance offered to teachers and state employees is still frozen. At that point the crowd starts chanting, "A freeze is not a fix."

'Everybody was very angry, very angry that we were told to go back to the classroom when we felt like had not achieved what we set out to achieve. 'Our county said we would not be returning to the classroom. We did not want to go back with a promise. We wanted it signed, sealed and delivered. We wanted it to be fulfilled, not just empty words. We knew that if we went back and there were not details of a plan and a true commitment, then we could easily lose everything.

'They are telling us that P.E.I.A. cannot be fixed overnight. While we understand that, simply saying there will be a task force is not enough. We need to know who is going to be on this task force. We need specific details about how this is going to be fixed. 'The governor mentioned, I think, three different sources of possible revenue to fix it. Which one? How much? We feel like the plan is too ambiguous right now. We need to know.

We know that we come from these mountains and we are strong and we have pride and we love this state. We come from an area that is known for standing up for what they believe in. The union wars, they originated in the south in Mingo County. 'We believe we're following in their footsteps. We believe the movement was started years ago through the mine wars. We're just reviving the movement that was started years ago.'
Lessons, Successes, Failures of the West Virginia Teachers Strike: here.
As Trump's education secretary threatens deep education cuts. Teachers' struggle spreads to Oklahoma, Kentucky and Arizona: here.
Related articles