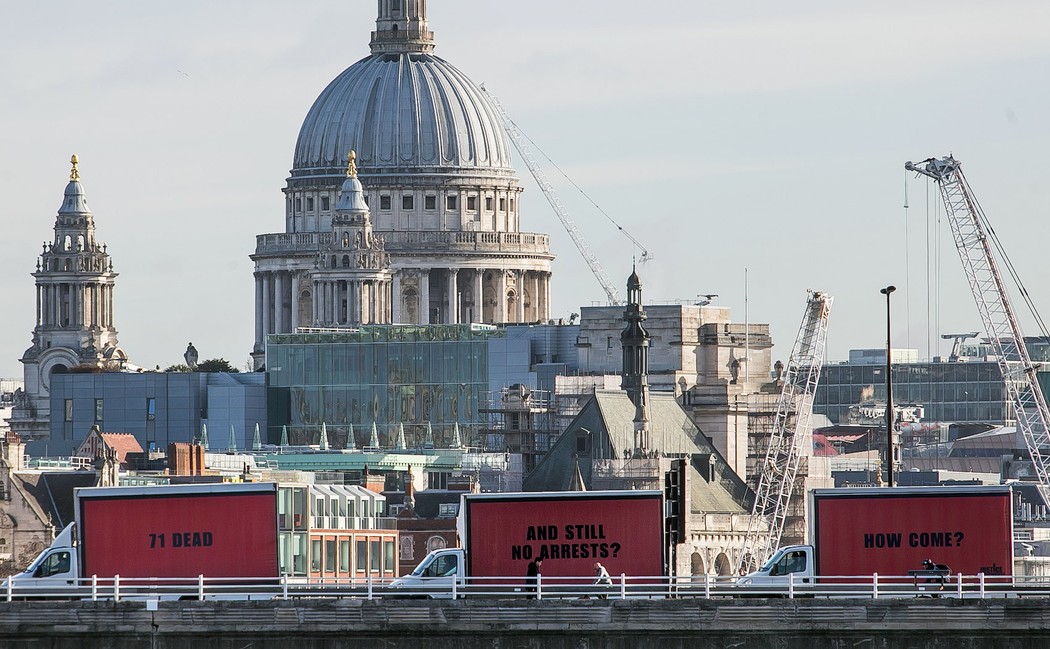 By Sam Wolfson in London, England, Feb 15 2018, 5:32pm:
Grenfell Campaigners Park Three Billboards Outside Parliament

They read: "71 DEAD", "AND STILL NO ARRESTS?", "HOW COME?"

Eight months after a fire tore through Grenfell Tower, killing at least 71 people, campaigners have parked three billboards calling for justice outside the Houses of Parliament.

In a nod to Martin McDonagh's Three Billboards Outside Ebbing, Missouri, each of the three signs makes up a part of the campaigners' message: "71 DEAD", "AND STILL NO ARRESTS?", "HOW COME?"

Speaking to VICE, Yvette Williams, an organiser from campaign group Justice 4 Grenfell, said, "The reaction has been incredible, we've driven everywhere. People have been so supportive, which is exactly what we want – to keep Grenfell in people's minds."

Williams said that members of the campaign group were fans of the film and its message about demanding justice from authorities. They worked with an advertising agency to create the billboards, which have been driven around all day from the tower in west London up to Parliament. When VICE spoke to Williams, she was in the cab of one of the vans, driving through Hyde Park.

Williams says the group's biggest fear is that people will forget about Grenfell before justice has been served: "We were told that even as the public inquiry is ongoing, there was going to be an interim report by Easter. Now that's not happening. We want the truth. We want prosecutions. People up and down the country need to feel safe in their homes. None of that is happening. We think they're playing with time, hoping that the story will be downplayed."

Williams says they have a number of demands, chief among them the prosecution of those responsible, housing for those made homeless and the removal of dangerous cladding from other buildings. "We need the state of social housing to be part of the public inquiry – otherwise the same thing is just going to happen again. Change only comes from action."

The Justice4Grenfell group was formed by survivors of the tragedy and members of the local community, with the goal of holding "all responsible authorities and individuals to account".

Today, they posted some stark facts about government inaction since the fire on their website: "Eight months on from the tragedy of the Grenfell Tower, the issue is being ignored. 71 people died in the Grenfell Tower. And still no arrests. And still 297 flammable towers. And still hundreds of survivors are homeless. And still they are not represented on the inquiry. And still there is no justice."

In July, the Metropolitan Police published a letter which claimed there were "reasonable grounds" to suspect that Kensington and Chelsea council, and the Kensington and Chelsea Tenant Management Organisation that managed the tower block, could be found guilty of corporate manslaughter.

That was followed in August by an interview given by the director of public prosecutions, Alison Saunders, who said that "gross negligence manslaughter" was one of the offences that prosecutors will consider if there is sufficient evidence.

Then, in December, in the opening session of the public inquiry into the disaster, Jeremy Johnson QC, representing the Metropolitan Police, repeated that charges of criminal offences of manslaughter and corporate manslaughter were being considered.

Despite these comments, no one responsible for the disaster has been arrested or charged so far.

I put it to Williams that the police may feel like they need more time to collect evidence before they can make arrests. "We're not asking to rush things. We want a thorough criminal investigation", she said. "However, if you or I had a hand in burning downing Grenfell, we would have been brought in for questioning a long time ago. We'd probably be sitting on remand or on the way to Wormwood Scrubs.

"We know who had a hand in it – why are these people still living their normal lifestyle? The disparity between what would happen to you or I during a criminal investigation, and what happens to elected officials… Their priority has been to check the immigration status of survivors and prosecute a fraudster, rather than looking at what happened here and who's responsible."

The Grenfell billboards mirror the ones Frances McDormand's character erects in the Three Billboards film after she becomes frustrated with the police investigation into her daughter's murder. In the movie she puts up three billboards on the edge of a small town that read "RAPED WHILE DYING", "AND STILL NO ARRESTS?", "HOW COME CHIEF WILLOUGHBY?"

I ask Williams whether, like in the film, the billboards have created a quick response from the authorities. She says they haven't heard anything new today from the police or the council, "but there's such a powerful line in that film – she says, 'The more you keep a case in the public eye, the better your chances of getting it solved.' So we'll continue to keep the case in the public eye."
See also here.
Related articles