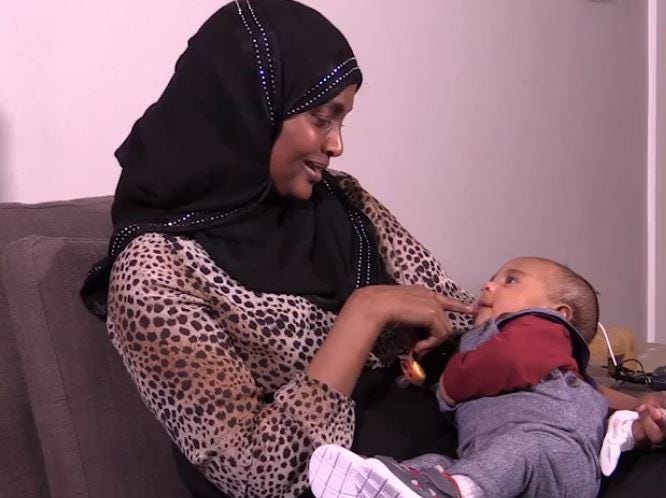 From daily The Independent in Britain:
Grenfell Tower survivor who suffered two miscarriages gives birth to 'miracle' baby

Maryam Adam believes son Mohammed is youngest survivor of disaster

Tom Embury-Dennis

Thursday 25 January 2018 13:39 GMT

A pregnant Grenfell Tower survivor who previously suffered two miscarriages has given birth to a "miracle" baby boy.

Maryam Adam said she believed her son, Mohammed, was the youngest survivor of the blaze.

But the mother feared her child would never arrive after she was left traumatised by the fire, which claimed 71 lives.

"We lost our home, we lost friends, we lost everything," she told The Mirror. "I was so worried I was going to have another miscarriage. We saw everything. I had many friends there."

Ms Adam said Mohammed's birth in November had given her and husband, Abdulwahab, a reason to be positive again.

"He is a miracle", she said. "When I first saw his face I was so, so happy. I think he is the youngest survivor. I will tell him when he is older – I will tell him to thank God that he's alive."

Ms Adam was three months pregnant when the fire broke out at the tower block in North Kensington, west London, on 14 June.

The 40-year-old said she "saw everything from beginning to end", as she was one of the first to escape due to living on the fourth floor.

"People were shouting, crying, asking for help – and you can't do anything. So much happened in front of our eyes. Too much."

She said her husband woke her up shortly after 1am and forced her to leave the building, despite protests she was feeling unwell.

"I didn't think it was too serious," she added.

Once the couple were outside, they watched the tower go up in flames so quickly "it was like petrol had been put in it".

Ms Adam said she initially had no idea which friends had survived, as her phone had been destroyed in the inferno.

To her delight, a few weeks ago she discovered that a friend she assumed was dead was actually alive.

Ms Adam and her husband stayed in a Premier Inn hotel for the next three months before they moved to a temporary one-bedroom flat at the end of September. They are still waiting for permanent accommodation.

Almost 100 families whose homes were destroyed by the fire remain in hotels seven months on from the disaster.

Royal Borough of Kensington and Chelsea (RBKC) [Conservative] council leader Elizabeth Campbell told a recent meeting that 54 families forced to flee the deadly inferno now had new houses, while 56 were in temporary accommodation.

A total of 98 households remain in hotels, she added …
The Grenfell victims are forgotten people the politicians have failed, by Seraphima Kennedy: here.
Housing: Grenfell borough's Earl's Court gentrification plan in crisis after Tory U-turn: here.
Related articles