From daily The Morning Star in Britain:
Monday, January 15, 2018 – 18:51

CARILLION'S collapse into administration spells failure for the neoliberal approach to renewing infrastructure and running public services, but working people are expected to pay the price once again.

The company began life as a merger of construction companies but has spread through the mechanism of private finance initiatives (PFI) into management of public services, including schools, hospitals, libraries and prisons, acting, with a number of similar conglomerates, as government contractors of choice, and engaging subcontractors for particular services.

This PFI model commended itself to Tories, Liberal Democrats and New Labour for two stated reasons.

It was supposed, first, to defer public expenditure and make savings by spreading financial risk involved in new projects to private partners, which were, allegedly, more efficient.

Second, private expenditure on public projects was reputed not to count against public expenditure totals.

Both justifications have proven to be codswallop. Financial savings made by cutting staff numbers and wage levels were absorbed by private partners while the Office for National Statistics scotched the public expenditure reduction pipe dream.

A third reason, never voiced but nonetheless real, was that breaking up public structures and introducing greater economic "flexibility" and insecurity would weaken the ability of trade unions to defend jobs, pay and pensions effectively.

We are seeing those particular chickens coming home to roost now with Carillion's implosion.

The government utters soothing words to Carillion workers, telling them to continue working and expect to be paid by the official receiver, but this is no comfort for substantial numbers of workers employed by the company's subcontractors who can expect nothing.

Union officials calling for a public inquiry into the demise of this conglomerate are entitled to know why Tory ministers continued to feed it with public contracts when hedge funds had spotted Carillion's structural weaknesses five years ago and were speculating against it.

Workers need to know why those running the company pretended that all was hunky-dory, handing out shareholder dividends and eye-watering bonuses to the chief executive and other corporate top brass.

Disregarding a succession of profits warnings, belated as they were, lays bare government complacency bordering on negligence.

Labour and the unions must keep the pressure on the government to do everything necessary to protect essential services by returning them to the public sector.

Jeremy Corbyn's fighting declaration that a Labour government will ditch PFI and similar con-tricks, relying on public ownership and management, merits widespread support.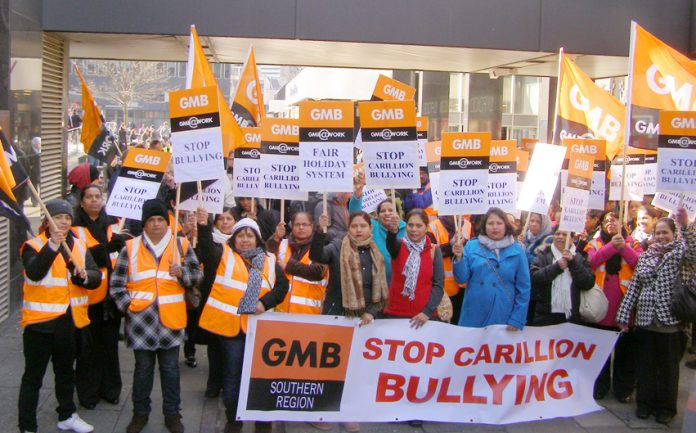 See also here.
UK: Carillion collapse threatens jobs and pensions, exposing plunder of social assets: here.
Related articles